Zen 2.0 2021 | Zen & Mindfulness Conference: A NEW EARTH -Space to Flourish- (Program content in English or w/ English Interpretations)
About this event
*******All program content will either be in English or have English Interpretations*******
Zen 2.0 is pleased to announce that the 2021 event will be held on the 18th & 19th of September (JST), online with limited seating at Kamakura, Kencho-ji Temple.
Theme: "A New Earth" ~Space to Flourish~
〜About the Theme〜 
We invite you on a journey to co-create a new civilisation, starting from "Space", where each one of us flourish together with earth.
We define Space as:
空(ku) or 無(mu) - Nothingness, emptiness
間(ma) - Space between the sounds
場(ba) - Space of community, place on earth
宇宙 (uchu) - Universe
無限(mugen) - Eternity
We used the word "Space" as"Ku" or "emptiness" often expressed in Buddhist Sutras and teachings, as space within ourselves, not reacting to the things that happen around us, but connecting to our true selves. space for community and connection, and space as the nature and the universe. It signifies both nothingness and infinite possibilities at the same time. We invite participants to make this "Space" so that each one of us can flourish and create a new earth together.
As every year, we will bring Academics, Businesspeople, Technology experts/Scientists, and Spiritual teachers (not limited to Zen Buddhists) to speak as guest speakers and instructors to inspire and start this dialogue. It is a very unique event being held at the historical Kencho-ji Temple, the oldest Zen Temple in the world.
This year, we are excited to introduce two alliance partnerships to heighten the global presence and experience of the conference, with Inner Peace Network in Amsterdam, and with the Buddhist Community at Stanford and the Stanford Zen Society.
We invite you to join us in the Mindful Planet Movement, where you will be able to hear from a variety of speakers not only online, but also in a way that allows participants to connect with each other and create a community together.
*******All program content will have English Interpretations*******
*******All video recordings will be provided to ticket purchasers*******
[Event Summary]
■Date & Time:
DAY1: Sept 18th(sat) 9am t10:15pm JST, 2am to 3:15pm CET, Sept 17th(fri)5pm to Sept 18th(sat)6:15am PDT
DAY2: Sept 19th(sun) 9:00-17:00 JST, 2am to 10am CET, Sept 18th(sat)5pm to Sept 18th(sun)1am PDT
■Location: Online and limited seating at Kencho-ji Temple in Kamakura (co-hosted from California and Amsterdam)
■Language: English and Japanese (all content available in 2 languages)
■Access : Zoom *The URL of the day's event will be notified in a confirmation email sent the day before.
■Broadcasted from : Kenchoji Temple, head temple of Rinzai Zen Buddhism, the first of the five Kamakura Five Temples(Gozan) (8 Yamanouchi, Kamakura-shi, Kanagawa-ken, Japan, URL: https://www.kenchoji.com/)
■Speakers: Announced as fixedl (in alphabetical order)
Chenxing Han (author of "Raising the Voices of Asian American Buddhists")
Elaine Lai (Co-President of the Buddhist Community at Stanford)
Emi Sato (Gagaku Flutist)
Fumito Takekura (Anthropologist)
Fumiya Otonashi (Gagaku Sho player)
Hiroshi Yamada (Professional Coach, Yamabushi)
Issho Fujita (Soto Zen Monk)
Jude Currivan (PhD Cosmologist, healer, futurist, author)
Kaichi Sugiyama (creator of Heliograph)
Kodo Nishimura (Makeup Artist / Buddhist Monk)
Lenzan Kudo (Shakuhachi player / composer)
Lobsang Tenpa (Tibetan Buddhist Monastic, meditation instructor, translator)
Manami Sato (Gagaku flutist)
Momoe Nishimura (Zen Eating Coach)
Satish Kumar (Peace & Environmental Activist, former monk)
Shokei Matsumoto (Modern Buddhist monk. Cleaning Hijiri)
Steven Murphy-Shigematsu (Psychologist, Professor at Stanford University)
Takashi Maeno (Professor at Graduate School of System Design and Management, Keio University)
Tamio Nakano (Professor at Tokyo Institute of Technology)
Tiokasin Ghosthorse (Nobel Peace prize nominee, International Speaker, Radio Host/Producer, Musician)
Toryo Ito (Representative Director Monk of InTrip Inc., Deputy Chief Priest of Ryosokuin Temple)
Yogetsu Akasaka (Buddhist monk, beatboxer, handpan player)
Yukari Tatsumura (Producer of Gaia Symphony)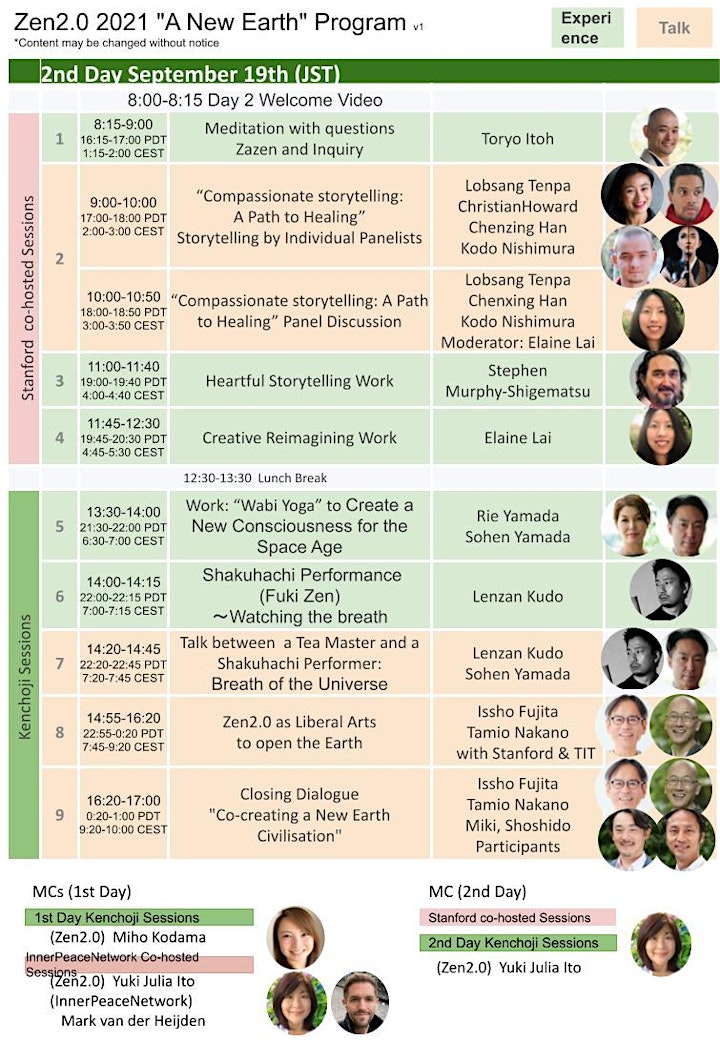 The official program will be posted on the Zen2.0 HP
as soon as it is finalized (scheduled for the end of August).
■Facilitators: Zen2.0 Co-Founders Koji Miki, Mikio Shishido
■Ticket price : Early Bird $75, Student/Corona Relief Ticket $65, General Admission Ticket $115, Donation Ticket $190 (2 day ticket and access to recording within one month.)
■Capacity: 500 people
■Application deadline: Friday, September 18, 2020, 23:55(JST)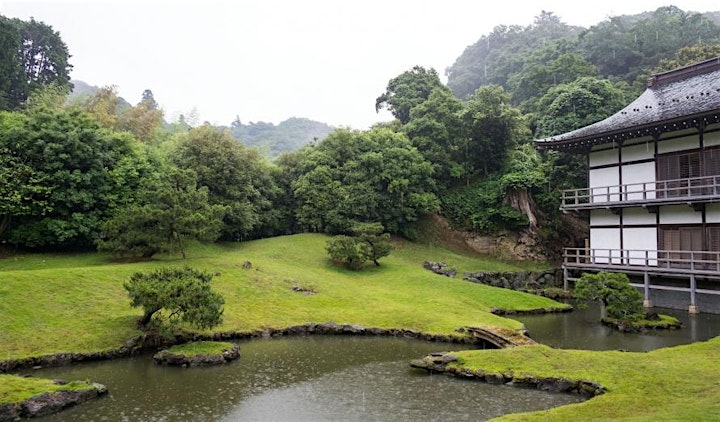 [About Kenchoji]
Kenchoji Temple, the first of the five mountains of Kamakura, was founded in 1253 by the fifth regent of the Kamakura shogunate, Hojo Tokiyori, and its first chief priest was Rangye Dōrong (Taikaku Zenji) of the Southern Song Dynasty, and the principle deity is Jizo Bosatsu. The precincts of the temple are a national historic site, and the garden of Kenchoji Temple, which was created by Rangye Dōrong and Muso Soseki, has been designated a national place of scenic beauty. It is the head temple of the Kenchoji School of Rinzai Zen Buddhism, and is located in North Kamakura.
Zen 2.0 events have been held at this historic venue of over 760 years since its start in 2017. Anyone who steps foot into the holy ground of Kencho-ji can really feel its incredible energy and the refreshing atmosphere contained - the whistling of the pure wind, the rustling of leaves carried by the breeze, and the chirping of birds all blow through the halls of Kencho-ji.
Zen 2.0 will have the privilege of borrowing the sublime energy of Kencho-ji to host an event to bring to the people of the world together. We will be showcasing the Kenchoji venue and surroundings in our sessions.
[About our Alliance Partners]
Inner Peace Network- Inner Peace Network is a global platform that allows you to connect live with teachers and instructors of traditional wisdom around the world. It is a global community that holds "Inner Peace Conferences" in Amsterdam and New York. The Inner Peace Conference in Amsterdam and New York in 2020 was a huge success, attracting 3,000 people, and they have created an online space for people to experience inner peace.
Stanford Zen Society- The Stanford Zen Society is a student community devoted to the creation and cultivation of a platform to support Zen and Buddhist meditation practice. SZS hosts group meditation sessions with professional teachers once a week in addition to other special programs such as guest lecturers and retreats.
Buddhist Community at Stanford- The Buddhist Community At Stanford (BCAS) supports members of the Stanford community who are interested in engaging with Buddhism and practicing Buddhist meditation. BCAS provides opportunities on campus for everyone, regardless of religious affiliation and prior experience or knowledge, to engage with and learn more about what the many Buddhist traditions have to offer.
[About the "ZOOM" session]
This session will be done online. Please connect to Zoom using the URL that will be sent to you in advance. If you are new to Zoom, please download the Zoom app in advance. https://zoom.us/download#client_4meeting
*The Zoom URL for the day will be included in the confirmation email and we will contact you.
*There will be a briefing session on how to use the tools that will be used on the day, including the breakout function and the interpretation function of zoom, so if you are not sure how to use it, please join us. We will inform you of the schedule at a later date.
*All the lectures and conversations with participants will be interpreted in English and Japanese. Those who are not confident in their use of the language are welcome to join us.
[About the "Zazen" Instruction]
You will experience the practice of zazen in some of the sessions, so please wear comfortable clothing. In order to prepare carefully, we will help you to "prepare your mind beforehand".
[Cancellation Policy]
Cancellations will not be accepted.
[Organised by]
Zen2.0 Foundation https://en.zen20.jp/
-------------------------------------------------------------------------------
Please contact Zen2.0 Foundation Office for any inquiries regarding the handling of personal information: info@zen20.jp