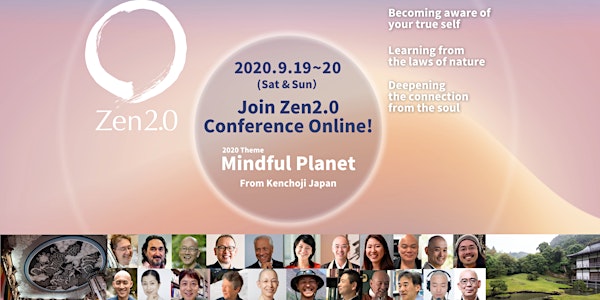 Zen 2.0 2020 | Zen & Mindfulness Conference -Mindful Planet-
Zen 2.0 2020 | Zen & Mindfulness Conference "Mindful Planet" (All program content will have English Interpretations)
Refund Policy
Contact the organizer to request a refund.
About this event
*******All program content will have English Interpretations*******
Zen 2.0 is pleased to announce that the 2020 event will be held on the 19th and 20th of September, entirely online. We have been hosting the International Zen & Mindfulness conference in Kamakura since 2017, and now in our fourth year, the Zen2.0 conference will be an online event this year, broadcasted from Kenchoji in Kamakura, and available for the world, to connect the world of mindfulness and Zen.
Theme: "Mindful Planet" ~ Rebuilding Mother Planet Earth by living life mindfully each day~
〜About the Theme〜 
All human beings on earth are suffering from the corona disaster. However, we have taken this opportunity to reflect on the way we have lived our lives, and we believe that we may be able to rebuild Mother Planet Earth by "living our lives mindfully, each day". We offer you the opportunity to deepen this hypothesis through "dialogue rather than discussion" and to find and share joy.
With this in mind, we have invited guest speakers from a wide range of fields, starting from zen monks from Kenchoji Temple, the historical Zen temple in Kita-Kamakura, to Christian sister, mathematical engineers, geo-scholars, happiness scholars, mindfulness researchers, mathematical engineers, and experts in leadership education, to bring new possibilities to light for the new era with & after corona.
Some Highlight Talks: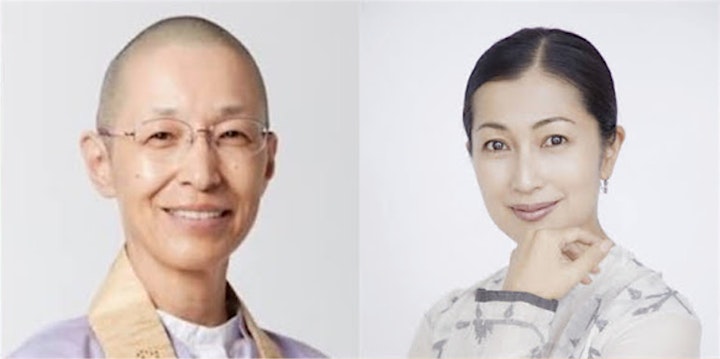 Day 2, Session 2
"To Live and to Die"
Mayu Tsuruta (Actress) x Myouyu Tamaoki (Zen priest/ Terminal care nurse instructor)
Day 1, session 4 "Physicality
"
"Zen, Consciousness, and Body: Conversation between an ALS Patients and a Somatic Zen Monk"

Hajime Takano (ALS patient & Founder/President of Souhatsu-Keikaku) x Issho Fujita (Zen Monk)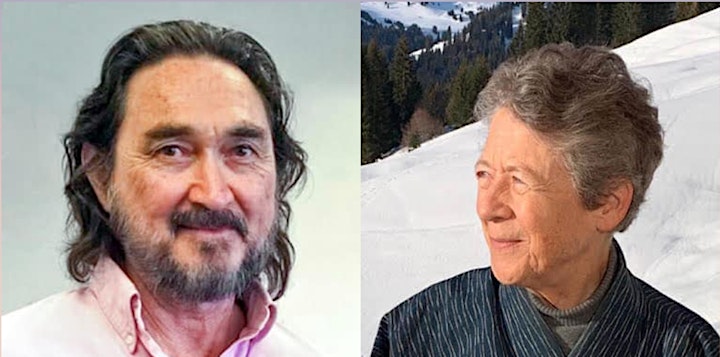 Day 2, Session 3, Compassion

"From Mindfulness to Heartfulness"

Stephen Murphy-Shigematsu (Professor of Psychology at Stanford) × Kathleen Reiley
 (Sister)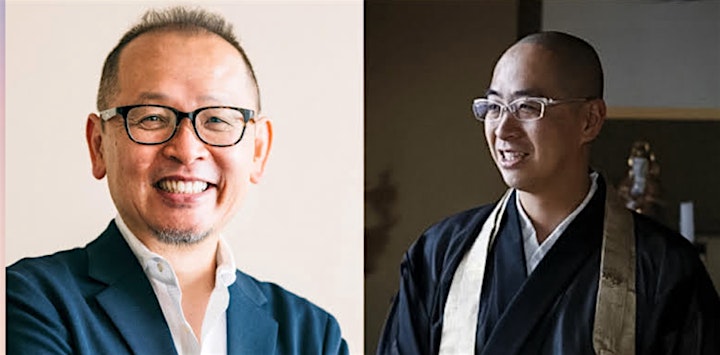 Day 2, Closing session
"Creating a Mindful Planet--
Integrating Eastbound and Westbound, Macro and Micro"
Guest Speakers + Participants

Facilitator:Takashi Maeno (Dean at Keio Graduate School) x Taishu Kawano (Psychiatrist/Zen Monk)
We invite you to join us in the Mindful Planet Movement, where you will be able to hear from a variety of speakers not only online, but also in a way that allows participants to connect with each other and create a community together.
*******All program content will have English Interpretations*******
*******All video recordings will be provided to ticket purchasers*******
[Event Summary]
■Title: Zen 2.0 2020 Conference "Mindful Planet"
■Date & Time:
(Day 1) Sept 19th (sat) 9:30 am to 5:00 pm(JST) /
  Sept 19th (sat) 2:30 am, to 10 am (CET) /
Sept 18th (fri) 5:30pm to Sept 19th(sat), 1:00 am (PDT)
(Day 2) Sept 20th(sun) 2020, 8:40 am - 5:00 pm(JST)
Sept 20th(sun) 2020 1:40 am, to 10 am (CET)
Sept 19th(sat) 4:40pm to Sept 20th(sun), 1:00 am (PDT)
■Access : Zoom *The URL of the day's event will be notified in a confirmation email sent the day before.
■Broadcasted from : Kenchoji Temple, head temple of Rinzai Zen Buddhism, the first of the five Kamakura Five Temples(Gozan) (8 Yamanouchi, Kamakura-shi, Kanagawa-ken, Japan, URL: https://www.kenchoji.com/)
■Speakers: 20 people in total (in no particular order)
Koudou Nagao, Head of Temple office of Kencho-ji School 
Issho Fujita, Former Director of Soto Zen Buddhism International Center in San Francisco, Reverend at Masenji Temple
Takashi Maeno, Professor, Graduate School of Keio University
Stephen Murphy Shigematsu, Professor, Stanford University  
Katherine Reilly, Sister of the Mission Sisters of Maryknoll
Noboru Yasuda, No Actor
Mayu Tsuruta, Actress
Yogetsu Akasaka, Improvising musician/Buddhist monk
Juan Humberto Young Founder of MBSAT / Professor at Singapore Management University
Hajime Takano, President, Emergence Planning Corporation
Hiroaki Kumano, Professor and Vice President, Faculty of Human Sciences, Waseda University / Vice President, Japan Mindfulness Society
Soho Machida, Professor Emeritus of Hiroshima University / Director of Arigato Temple
Shoukei Matsumoto, Monk, Specially Appointed Associate Professor, Graduate School of Engineering, The University of Tokyo
Shunji Mitsuyoshi, Professor at Tokyo University Graduate School of Engineering
Tamaoki Myoyu, nurse, priest, representative of non-profit corporation Daji Gakuen
Satoshi Ikeno, Professor at Kansei Gakuin University/ Visiting Scholar at UCLA Institute for Asian Studies
Noriko Uchida, UCLA Certified Mindfulness Facilitator
Toryo Ito, Deputy Chief Priest at Ryosokuin
Hisashi Oiwane, Environmental Activist , Founder CEO of Musubi, Inc., Professor of Environmental Studies at Tokyo University
Kaku Suzuki, Draw Down for Japan co-founder
Kazuha Ogasawara, Bodyworker
Masahiro Fujino, Profeessor at Kyoto University Open Innovation Institute

* others are being finalised and will be added as they are confirmed.
■Program Schedule (tentative)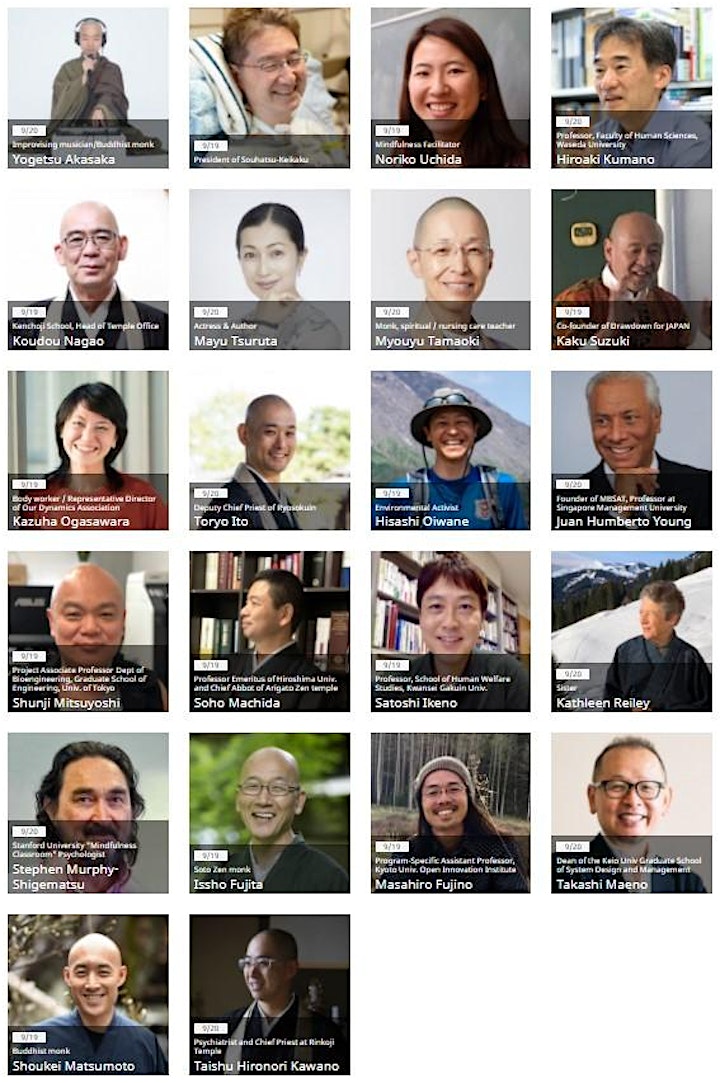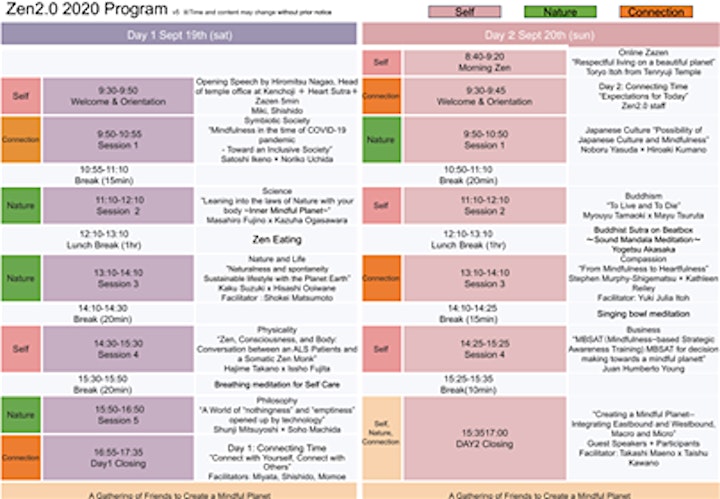 Check program detail with PDF file. 【PDF】
The official program will be posted on the Zen2.0 HP
as soon as it is finalized (scheduled for the end of August).
■Facilitators: Zen2.0 Co-Founders Koji Miki, Mikio Shishido
■Ticket price : Early Bird $75, Student/Corona Relief Ticket $65, General Admission Ticket $115, Donation Ticket $190 (2 day ticket and access to recording within one month.)
■Capacity: 500 people
■Application deadline: Friday, September 18, 2020, 23:55(JST)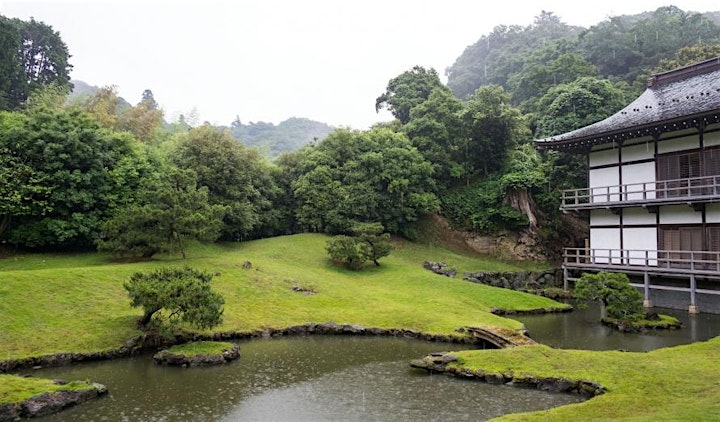 [About Kenchoji]
Kenchoji Temple, the first of the five mountains of Kamakura, was founded in 1253 by the fifth regent of the Kamakura shogunate, Hojo Tokiyori, and its first chief priest was Rangye Dōrong (Taikaku Zenji) of the Southern Song Dynasty, and the principle deity is Jizo Bosatsu. The precincts of the temple are a national historic site, and the garden of Kenchoji Temple, which was created by Rangye Dōrong and Muso Soseki, has been designated a national place of scenic beauty. It is the head temple of the Kenchoji School of Rinzai Zen Buddhism, and is located in North Kamakura.
Zen 2.0 events have been held at this historic venue of over 760 years since its start in 2017. Anyone who steps foot into the holy ground of Kencho-ji can really feel its incredible energy and the refreshing atmosphere contained - the whistling of the pure wind, the rustling of leaves carried by the breeze, and the chirping of birds all blow through the halls of Kencho-ji.
Zen 2.0 will have the privilege of borrowing the sublime energy of Kencho-ji to host an event to bring to the people of the world together. We will be showcasing the Kenchoji venue and surroundings in our sessions.
[About the "ZOOM" session]
This session will be done online. Please connect to Zoom using the URL that will be sent to you in advance. If you are new to Zoom, please download the Zoom app in advance. https://zoom.us/download#client_4meeting
*The Zoom URL for the day will be included in the confirmation email and we will contact you.
*There will be a briefing session on how to use the tools that will be used on the day, including the breakout function and the interpretation function of zoom, so if you are not sure how to use it, please join us. We will inform you of the schedule at a later date.
*All the lectures and conversations with participants will be interpreted in English and Japanese. Those who are not confident in their use of the language are welcome to join us.
[About the "Zazen" Instruction]
You will experience the practice of zazen in some of the sessions, so please wear comfortable clothing. In order to prepare carefully, we will help you to "prepare your mind beforehand".
[Cancellation Policy]
Cancellations will not be accepted.
[Organised by]
Zen2.0 Foundation https://en.zen20.jp/
[Special Cooperation from ]
Drone footage courtesy of Drone Kamakura and JINSOKUTSU Inc.
Video Technical Assistance: Glide Path Hiroto Maeba
-------------------------------------------------------------------------------
Please contact Zen2.0 Foundation Office for any inquiries regarding the handling of personal information: info@zen20.jp