Description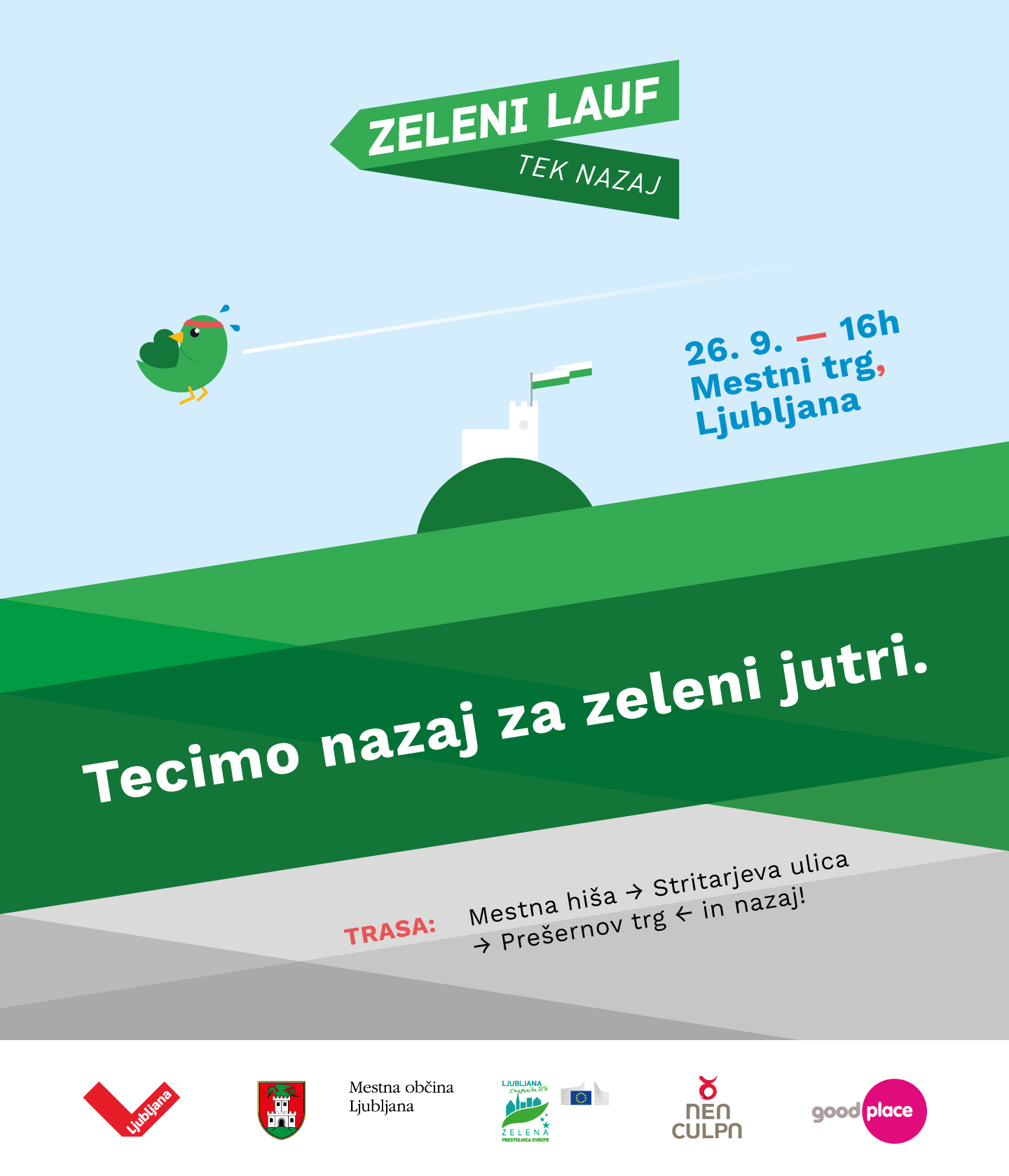 Ujemimo skupaj val zelene energije in odtecimo nazaj v zeleni jutri! Za vas imamo čisto posebni zeleni team building v trojkah :)
Vabimo vas, da se nam pridružite na ZELENEM LAUFU ali TEKU NAZAJ v ponedeljek, 26. septembra ob 16h pri Točki.Zate. na Mestnem trgu v središču Ljubljane.
V Ljubljani, Zeleni prestolnici Evrope 2016, bomo na predvečer svetovnega dneva turizma TEKLI NAZAJ V ZELENI JUTRI. Med Mestnim trgom (Točka.Zate.) in Prešernovim trgom se bo odvil prvi tek vzvratno v Sloveniji, ki bo promoviral zeleni turizem in trajnostno življenje, prijazno človeku in naravi.
Lauf bo zelen OD CILJA DO (RE)STARTA. Progo bodo namesto ograj označevale legendarne Zmajčice. Navijaške transparente in startno-ciljno areno bo iz recikliranih in odpadnih materialov ustvarilo društvo Smetumet. Še merjenje časa bo zeleno in zabavno.
Na dogodek se lahko prijavite prek spleta www.zeleni-lauf.eventbrite.com ali e-naslova zeleni.lauf@nea-culpa.si. Sodelujete tako, da prek spletnega obrazca prijavite ime ekipe 3 udeležencev. Če nimate ekipe, lahko zelene somišljenike najdete na dogodku, ki bo namenjen tudi promociji zelenih aktivnosti v turizmu, izobraževanju in prostem času. Za Zelenim laufom stojijo Turizem Ljubljana, Agencija za marketing v turizmu Nea Culpa, Zavod trajnostnega turizma Goodplace, društvo Smetumet in partnerji.
Naj vam prišepnemo - pravijo, da je vzvratni tek 100-krat bolj zdrav od navadnega. Na zdravje in zeleno življenje!
-----------------------------------------------------------------
Catch the wave of green energy and run back into a green tomorrow!
On the day before Global Green Day Destinations - Monday, 26th September at 16h - the GREEN LAUF will take place in Ljubljana, the European Green Capital 2016.
Under the slogan RUN BACK INTO A GREEN TOMORROW, the first backward running race in Slovenia will take place between two of the most beautiful squares - the Mestni trg Square and Prešeren trg Square - with the purpose to promote green tourism and sustainable living, friendly towards people and nature.
The Green Lauf will be green from FINISH TO (RE) START. By promoting the friendly living in Ljubljana, the European Green Capital, we are spreading awareness about healthy and active leisure time. We run to support a green future and a clean, safe and nature-friendly environment. The organizers want to attract as many running groups from sports associations, institutions, organizations, businesses, local authorities and green destinations, which spread the green mindset across Slovenia and the world.
Together we create a green tomorrow! Instead of iron fences, the route will be marked by the legendary cheerleader team, the Dragon Ladies. Fan banners and the start-finish arena in front of the City house will be made entirely from recycled and waste materials by the Society Smetumet. Also the timing of the race will be green and fun.