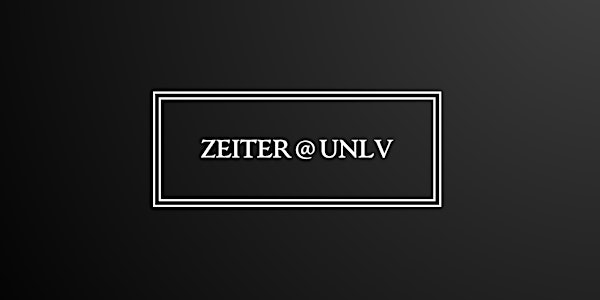 Zeiter Microcredential for CCSD - Fall 2022
Fall Session 2 - October 3rd to October 27th. Registration must occur before 8:00 a.m. on September 28th.
Refund Policy
Contact the organizer to request a refund.
About this event
The Zeiter Literacy Development Center in the UNLV College of Education currently offers five microcredential courses that educators can choose from to support educators working or interested in Title I settings. Participants are welcome to take as few as one and as many as all five courses. Courses are offered multiple times a semester with defined start and stop data, and participants will have one month to complete their work for credit.
Facilitated by a support team from the UNLV College of Education, participants work through these units in an asynchronous and individualized manner. Feedback on key assignments is provided and there will be instructional support provided through email and Zooms as necessary. Activities throughout each course support reflective thinking on practice for Title I settings, and each unit has an individualized growth and development planning process embedded. All activities with the exception of the Course Orientation (see below) are asynchronous.
Course Orientation: On the first Monday of the course (Oct. 3), you will be expected to attend a virtual (web-live) orientation that introduces you to the course format, instructor/s, and walks you through strategies that will help you be successful. Time choices are 5-6 PM PST and 6-7 PM PST. You will be provided a Zoom link via your registration email the Friday prior to orientation.
Please note: Eventbrite is used for registration ONLY — noted event times are NOT related to courses, they only indicate times when registration closes for a given session. You will receive additional information regarding your selected courses after you have completed registration.
Each course has a fee of $60 payable on Eventbrite. An additional fee ($15 for CCSD and $20 for Non-CCSD) will be payable to the Professional Learning Education office for those wanting PDE credit. Please make sure that you attend to the registration deadlines.
CCSD Teachers: when enrolling for the classes on Eventbrite, please use your CCSD email address.
Courses Available:
#1A: Homelessness & Housing Vulnerability - Self Pay
#1B: Homelessness & Housing Vulnerability - Funded*
#2: Engaging English Language Learners
#3: Engaging Learners with Literacy
#4: Engaging Students with Learning Data
#5: Engaging Students with Science & STEM
*CCSD Teachers: For the #1 Homelessness and Housing Vulnerability course, there is one-time support from Title I Hope for a limited number of licensed personnel. If you are licensed and wish to be considered for this course, please register using the "Funded" ticket and your eligibility will be verified.