Description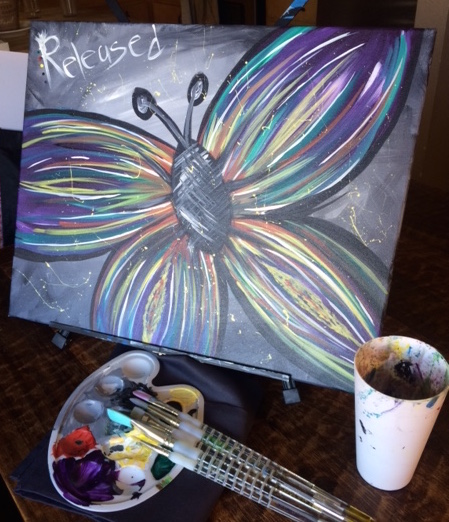 **Please note LOCATION CHANGE - This is a personal residence. There are DOGS that will be kenneled. **
This event is hosted by Zee Tompkins and Be Bold Art for two purposes, to raise funds and to take some time to relax and get creative! Zee has been accepted to the Manhattan Film Institute for an intensive 2-week training program – a big dream for hers – BBA is partnering with her to host a fun paint party where 40% from every $45 ticket goes towards her dream being fulfilled! Everyone has dreams but being able to fund them means getting creative and asking others for help – which is hard to do! Will you help a very talented Mama fund her dream and paint?!
You will be instructed by owner and artist Jess Layne as she takes you step-by-step, through the process of painting this easy abstract butterfly - Released.
Join us Saturday, June 17th 2017 from 5:00pm to 8:00pm.
Please arrive at: 6414 Kansas Street Vancouver WA 98661 5:00pm to save your seat!! We will be sitting outside if the weather is sunny. Seats are not saved by Zee or BBA, please arrive early to sit with your friends.
- 5:45pm Painting instruction will begin.
It will take roughly two hours to complete the painting. Please wear paint friendly clothing. An apron will be provided for you during the party. All of the brushes and paint needed to fully complete the above painting will be provided for you, including the 16 X 20 canvas.
- 7:45pm The painting party will be concluded
We want to pack out this event to help send Zee to NYC. Please make your purchase quickly if the date and time are desirable for your schedule and share this event as much as possible.
Please email Be Bold Art with any questions - BeBoldArtAndEvents@gmail.com (Bold letters just for clarity)
You can reach Jess Layne, Owner/artist at (503) 805-0010 if you have any questions.
A full refund will be issued to anyone that gives Be Bold Art 48 hours notice. This means that you must call Jess at the number above BEFORE 5:00pm on June 15th, 2017.
**Please take a moment and read a note from Zee:
I am Zee Tompkins. I am an actress in the pacific northwest and I have just been blessed with an amazing opportunity. I have been accepted to MFI (Manhattan film institute) for a two-week intensive training program that is SURE to take my career to the next level. Acting has been my passion for as long as I can remember, after having children and getting married I took a bit of a break and have been back at it for about a year and a half my career has grown tremendously from winning the Portland CW's new face contest to being accepted to a competitive diversity initiative program put on by Cast Iron studios and TNT. I am excited to continue that growth.
Here is a small portion from MFI's website to show just a portion of what I will be doing "IMAGINE having two full weeks to work exclusively with three world renowned acting teachers: one who taught stars like Rooney Mara, John Slattery, Josh Duhamel, Laurie Metcalf, AND, one who acted with Diane Weist, Hugh Laurie, Jason Alexander and Ben Afleck."
Although this is not easy for me to do, I am raising funds through go fund me and this BBA event because as a family of six this cost would take a huge toll on our household. That being said, I believe in my talent, I believe in my future and I cannot let this opportunity pass without at least trying, so here I am. The funds would be used as follows: 4,195 for tuition (includes room, board and all meals), 600-800 for airfare, the remaining would be used for cab, uber, or jitney fare, loss of wages for two weeks (I work part time) and spending money. I am so excited and blessed to have this opportunity and I look forward to continue sharing this amazing journey with you all.
Thank you so much for whatever you can contribute, even if it is just a share on Facebook...I APPRECIATE YOU, more than words can express! If you have ANY questions, please do not hesitate to ask! Thank you and God bless.