ZB by the Sea 2018

Friday, January 26, 2018 at 8:00 PM

-

Saturday, February 3, 2018 at 11:00 PM (PST)
Event Details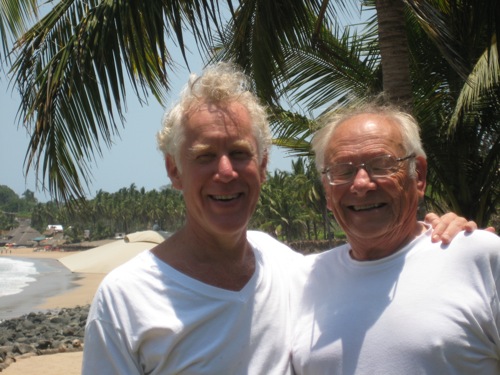 ZB by the Sea - 2017
"A Restorative Experience"

with Dr. Fritz Smith & Michael Oruch
Mar de Jade Retreat Center

Chacala, Mexico
January 26 - February 3, 2018

ZB by the Sea is the annual residential ZB program in Mexico. The name stays the same, but the context ever evolves. The program is designed to be a multidimensional experience of deepening one's understanding of ZB  and creating a container for personal growth, rejuvenation and change. This is all done in an atmosphere and environment of support, both by nature and your peers, while using time-honored rituals to enhance the wonders and intensity of the retreat.

Highlights include a Day of Conscious Choice, a Temescal (sweat lodge), whale watching, and a night of music and dancing.

ZB by the Sea is designed for both the returning and new participants. Prior to the workshop we suggest you spend some quality time reflecting/meditating on what you would like to gain from the program -- both in terms of developing yourself as a Zero Balancer as well as enhancing your personal growth. This will help you gain maximum benefit from the program.

Class will begin Friday, January 26, at 8 p.m.
and end on Friday, February 2 after the evening program.
Plan departure after breakfast on Saturday, February 3.
We have come to realize that from the moment you register for this program, the Universe begins to act on your behalf providing insights and events around your intentions. We encourage you to make an early $350 registration deposit (refundable less cancellation fee until September 1, 2017)  to advise us and the Universe of your intention.
 
Cost information:
Tuition Cost: $1150. To pay by check, please make payable to ServeWell, c/o Michael Oruch; and mail to 137 Bowery 4th Floor NY, NY 10002. To pay by credit card choose your payment above. Full tuition payment is due by November 15.

Tuition Refund Policy: Tuition is fully refundable less a $100 cancellation fee until September 1, 2017. After September 1 until October 15, 50% of payments made are refundable. After October 15, no refunds.

Accommodations: All rooms must be booked with the spa and a 50% deposit made. Room information may be found at www.mardejade.com. Email info@mardejade.com or call 800-257-0532 for reservations. All of the rooms are lovely and most have an ocean view. Prices below are for an 8-night package including room, board and taxes. Prices are per person. Prices and cancellation fees from room and board are per Mar de Jade guidelines and are subject to change. These are current prices.

Guest Room/Loft:                  Garden Room:                    Ocean Room:
Single $1710                             $1935                                    $2170

Double $1200                           $1370                                    $1485

Triple $1000                              $1085                                    $1200

Quad $900                                $1000                                    $1085

Class Registration Information:
For further general workshop and registration information, please contact Michael Oruch at 212-219-8145 or MOZB33@gmail.com.
General Information:  Mar de Jade is located near the fishing village of Chacala, Mexico on the Pacific coast 60 miles north of Puerto Vallarta. Transportation will be arranged by Mar de Jade when they have your pertinent travel information; the price is contingent on how many people are in an individual taxi.This lovely center features a beach, swimming pool, hot tub, steam room, Aztec sweat lodge, maid-attended rooms with ocean views, massage, hiking, whale watching and yoga.
The program emphasizes both in-depth teaching and practice of ZB along with rest, rejuvenation and fun, to counter the stress from our busy hectic lives at home.
Traveling in Mexico:  You need proof of citizenship to return to the US: passport, birth record, voter's registration card, etc.  We use our passports.  No vaccinations are required.  You can get pesos at your local bank, most international airports, or at the airport on arrival.
Please join us for this special retreat with Dr. Fritz Smith and Michael Oruch.

When & Where

Mar De Jade Retreat Center

Chacala, Nayarit, Mexico
Mexico

Friday, January 26, 2018 at 8:00 PM

-

Saturday, February 3, 2018 at 11:00 PM (PST)
Add to my calendar
Organizer
The Zero Balancing Health Association (ZBHA) was founded in 1991 to help people experience health, wellbeing and wholeness through the study, practice and development of Zero Balancing touch therapy.
The ZBHA offers advanced study continuing education programs to health care professionals who want to use skilled touch in their practices. Combining Eastern and Western approaches to healing, Zero Balancing is a powerful body-mind therapy that addresses the relationship between energy and structures of the body. In a session that typically lasts 30 to 40 minutes, the practitioner uses finger pressure and gentle traction on areas of tension in the bones, joints and soft tissue to create fulcrums, or points of balance, around which the body can relax and reorganize.
Find more information at www.zerobalancing.com