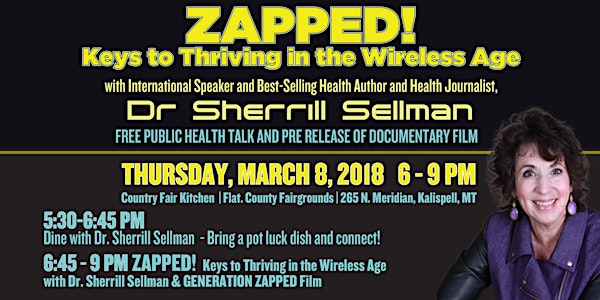 ZAPPED! Keys to Thriving in the Wireless Age, with best selling health auth...
Location
Country Fair Kitchen, Flathead County Fairgrounds
265 North Meridian
Kalispell, MT 59901
Description
ZAPPED! Keys to Thriving in the Wireless Age, is a FREE public health talk & forum, with special pre-release screening of the new documentary film, GENERATION ZAPPED.
5:30-6:45 PM Join us for potluck dinner, discussion and Q & A with international speaker and best selling health author & radio host, Dr. Sherrill Sellman. Dr. Sellman is the best selling author of Hormone Heresy: What Women Must Know and What Women Must Know to Protect Their Daughters From Breast Cancer. Fot the past 12 years she has been researching, writing and lecturing about the dangers of our WiFi world as well as offering practical solutions. Bring a potluck dish to share and connect!
6:45-9 PM Special pre-release screening of documentatry film, GENERATION ZAPPED, a new documenatary that revelas the high cost of our addiction to our wireless devices. In this film you will be hearing from scientists, public health doctors and researchers about the mounting evidence linking wireless technology to a variety of common and growing health disorders. You wil also learn about what some communities schools and countries are doing to mitigate exposure for the most vulnerable, our children.
Dr. Sellman is a Naturopathic Doctor, Board Certified in Integrative Medicine, health educator, psychotherapist, and journalist. She is a much sought after international lecturer, host of a weekly radio show, senior editor and contributing writer to numerous health publications. Her website is www.whatwomenmustknow.com