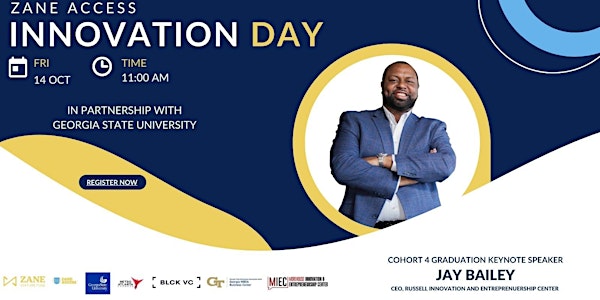 Zane Access Innovation Day in Partnership with Georgia State University
In partnership with Georgia State University's Entrepreneurship and Innovation Institute, we present Zane Access Innovation Day 2022!
When and where
Location
Center Parc Credit Union Stadium 755 Hank Aaron Drive Southeast Atlanta, GA 30315
About this event
It's Innovation Season here in #Atlanta and we are ready to play our part to educate + innovate with the next generation of changemakers.
Join us Friday, October 14th at as we graduate our first ever Capital Readiness Program Cohort 4 participants with an IRL Innovation Day.
Thanks to our partners at The Entrepreneurship and Innovation Institute at Georgia State University, we have designed a two-day summit kicking off with Demo Day for the Main Street Entrepreneurship Fund, led by Musaddeq Khan - MK, on Thursday, October 13th.
Friday, we will launch our first in person Innovation Day with lunch and:
* Workshops to Attract the Next Generation of Investors, moderated by Nicole Morris, Director of Innovation & Legal Tech at Emory University and will include Julian Smith from Peachtree Minority Venture Fund, Jennifer Cruz from StartupGSU, Divine Linus from Morehouse College, and GenZ investor, Graham Gintz.
* Programming to Inspire Future Entrepreneurs, panel moderated by LaVon Davis, a succesful founder who started his company in college, founders Veralyn Bingham, Rahmel Bailey, Ashley Bella will discuss their journey as early stage founders building a company in a university ecosystem.
* Fireside Chat on "Contracts + Customers = Capital" with Vickie Irwin, CPA, PMP of Southern Company Gas
We will end the day graduating our cohort 4 founders, with a keynote by Jay Bailey, CEO of the Russell Innovation Center for Entrepreneurs, followed by a wine reception to celebrate our founders.