ZAMFEST Kids Festival 2012

Sunday, September 23, 2012 from 10:00 AM to 5:00 PM (PDT)
Event Details

ZAMFEST 2012
Explore Inspiration

Come experience some of the best creativity and fun that
Los Angeles has to offer as we create an experience to inspire and engage
University High School campus, West Los Angeles
Sunday September 23, 2012
10:00am - 5:00pm 
Inspiration brought to you by:
Art Works Studio 
Art Works Studio classes are taught by award winning, real artists who inspire their students and teach techniques such as drawing, painting, and mixed media
Books and Cookies* 
An enchanting blend of literature, learning activities and sweet treats, they bring wonder and excitement back to reading, to take a break from television and video games. Check out their booth for awesome merchandise, books, and of course, cookie decorating
Chalk Preschool Westwood/Los Angeles
Providing an environment where children thrive …
Creativity abounds,
Hands-on early childhood learning experiences incorporate
Art,
Laughter and
Knowledge, in a safe and inspirational preschool setting
Dramagination
Queen Laura from Dramagination and A Glittery World returns with her enchanting story time readings for young children. Combining make-believe pretend play with magical wands, classical music and pixie dust both boys and girls are invited into a magical world. Queen Laura entertains all royal subjects with classic literature and modern fairy-tales 
Hoopitup! Kidz
Launch into an action-packed, fun-filled health and fitness journey inside the hoop. Kids will learn over thirty hoop tricks with the latest dance music, the coolest dance moves, and their F.U.N. approach. Hoopitup! Empowers the kids with messages of nutrition from the USDA food pyramid, the ABC's of Self-esteem and insights about preserving the plan 
HRA Studios
Founded with the belief that when it comes to achieving greatness, kids are not only capable – but immensely superhuman in their fresh creative strengths, determination, and imagination. A creative community launchpad for artists of all ages, including aspiring musicians, filmmakers, producers, illustrators, and photographers
Kidville
Rock out to Kidville's Rockin' Railroad children's band during a 30 minute performance featuring original hits and cover songs sure to get you and your little one on your feet! Join the band before and after the show at Kidville's activity table for arts, crafts, and more! Scoop, sift and search for hidden gems in the Digging Bins, and create a fun take-home project 
LA Dance Fit
Following their belief that dance is the ultimate inspiration to living a happier, healthier, and fuller life, they are dedicated to encourage greatness and to provide the keys to finding that zest for life through the movement of dance. Bolstered by a knowledgeable staff of celebrity trainers -- including a music video choreographer and professional dancers -- this West LA studio will rope you into Zumba, a Latin-inspired dance-fitness groovin' to bongo beats, or a hip-hop session that'll teach you the latest hip-hop and jazz funk dance moves
PaperAirplanes.net by James Kendall
Jim Kendall read 1967's "The Great Airplane International Paper Airplane Book" and decided he could do better. So at the age of 9 he started designing paper airplanes, and became the creator of the K-19 Sharky, K-20 Moth, and K-21 Dragonfly. Come see a demo and learn paper airplane making from the master himself (seating may be limited) 
Samy's Camera Photo Camp
Samy's wants to educate and inspire the next generation of photographers by sharing their love and belief that photography can and does change the world 
Santa Monica Hip Hop Dance
Famed choreographer and dancer Lisa Kellogg brings her high-energy, charismatic style consisting of hip hop, pop, and street dance to teach and entertain kids and families
School of Rock
Inspiring kids to rock on stage and in life for more than a decade by developing both their confidence and musicianship 
Sessions Songwriting
A place for kids to experiment, create, and express themselves through the fun and interactive world of music

Sing Out Loud Karaoke
Using the latest karaoke technology and armed with all the latest hit songs, DJ Gina has been helping people explore their inner American Idols since 2001 
Trash For Teaching 
Join us as we collide science & sustainability into large scale engineering projects.  Students and families will design and build the "Ultimate Recycling Invention," and in the process re-imagine what we overlook every day. Trash for Teaching repurposes materials that local businesses discard, and transforms them into inspiration 
Zimmer Children's Museum 
An interactive space for learning, play, imagination, and exploration with a mission to make a better society through interactive learning, creative self-expression and art experiences 
Plus more fun: 
PicFlips Flipbooks*
A unique, super fun experience to create your own awesome photo flipbook, starring your whole family, you, or you and your friends
Super Inflated* 
Back for their second consecutive year, the uber kid-pleasing balloon twisters will awe you with their truly incredible balloon creations 
Melissa's Airbrush Tattoos*
How will you choose to express yourself with an always fun, high-quality airbriush tattoo? Hundreds of designs to choose from such as butterflies, gecko, sharks, tribal, hearts, fairies, and more!

Graffiti Art

Learn about graffiti art and create your own graf t-shirts, brought to you by artist Shane "Mr. Hoodbrush" Horrell
Ellie the Elephant*
Ellie, the inflatable elephant, combines a jumper with an exciting slide exit down her trunk and portholes for parents to watch the kids having fun 

Turntablism and Music Production

Kids get to try their hand at the wheels of steel and being a DJ! Brought to you by the Youth Edutainment League (YEL), an interactive program that encourage kids to actively pursue their interests in music, film, and sports

Jumbo Bounce House*

The classic bounce fun for all ages to jump, bounce, flop and dance around while allowing for fun and safety
Ocean of Balls*
There's nothing quite like diving and swimming through an ocean of clean, brightly colored balls in an extra bouncy, fully enclosed ball pit
Face Painting*
Because kids love to have their faces painted of course
Food vendors
and MORE (check our Facebook page for all of the latest updates!)
 
* Requires purchase of additional activity tickets
Proceeds help benefit an important non-profit whose work is 
a true example of "no child left behind":
Create Now helps transform the lives of youth through creative arts mentoring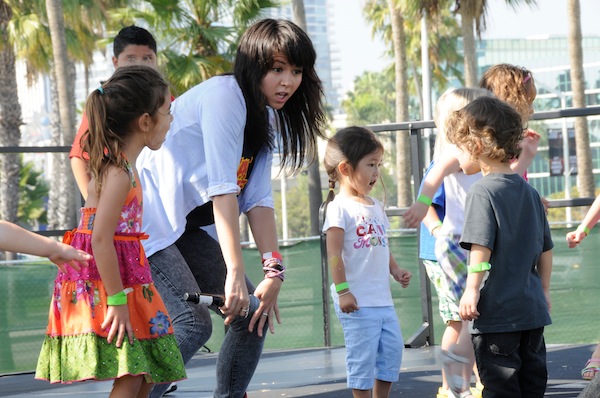 FOOD
The Bun Truck
The Crispy Truck
Happy Inka Peruvian
Mickey Momma's BBQ
Carnival Catering
Sno Biz Snowballs 
 
TICKETS
Early bird (online only): $5 per person (Early bird ticket prices end on Wednesday 9/19/12)
Regular bird/At the gate: $8 per person
Kids 3 and under free

Admission includes 5 Activity Tickets for each child (activity tickets will be distributed at the event). Some activities may require additional Activity Tickets to participate. Activities will range between 5-10 tickets each

PARKING
Entrances to ZAMFEST will be from Ohio Avenue (south) and Barrington Avenue (east). See overview map on our Facebook page for reference.

Free, limited parking will be available in 4 of the University High School lots on a first come, first serve basis. Entrance to the south parking lot is located on Ohio Avenue, the other three lots are located on the east side of the school off of Barrington Ave. Street parking also available (make sure to read the street signs). 

FAQs
Check out the FAQ section on our website

CONTACT
We welcome all feedback via the "Contact the Host" link in the 'Hosted By' box to the right
We'll do our best to respond to every inquiry in a timely manner 

PRESS
Contact KC Lehman 
KC@ByrdPublicity.com


THE LATEST 
Keep up to date on the latest news, announcements, and updates 
Like us: Facebook
Follow us: Twitter
Read our blog
See you at ZAM FEST 2012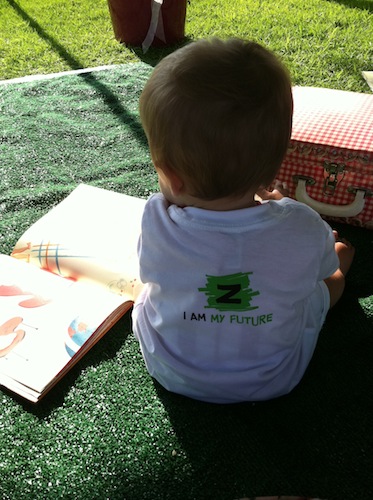 When & Where

University High School, West Los Angeles
11800 Ohio Ave
Los Angeles, CA 90025


Sunday, September 23, 2012 from 10:00 AM to 5:00 PM (PDT)
Add to my calendar
Organizer
We're on a mission to inspire kids to explore their passions.