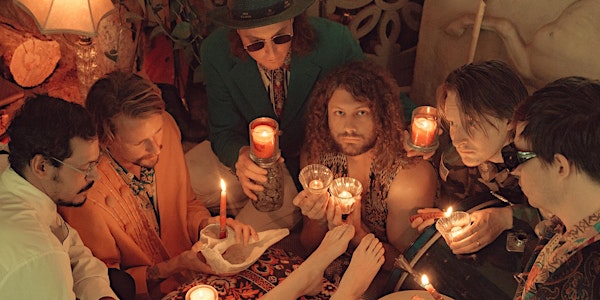 Zack Mexico w/ Stagbriar + Axxa/Abraxas
ALL AGES
Presented by The Grey Eagle and Worthwhile Sounds
Zack Mexico, Stagbriar, and Axxa/Abraxas take The Grey Eagle stage in Asheville NC on Monday December 6! All ages show at 8pm, doors at 7pm.
When and where
Location
The Grey Eagle 185 Clingman Ave Asheville, NC 28801
Performers
Headliners
More Performers
About this event
COVID-19 POLICY UPDATE: The Grey Eagle requires all patrons attending performances to provide proof of vaccination or negative test within 48 hours prior to the event. Currently Buncombe Co. mandates that masks be worn indoors. THIS MEANS YOU NEED TO MASK UP. Patrons will need to provide physical or digital documentation of COVID-19 vaccination or negative test. Professional negative test results must be dated no more than 48 hours prior to the event. At-home testing will not be accepted.
7PM DOORS / 8PM SHOW
ALL AGES
STANDING ROOM ONLY
Zack Mexico is a ferocious Psychedelic POP /Indie Rock band whose original songs are a collaboration of the technical prowess of multi-instrumentalist band members and their visceral love affair with creating music.
In 2011 the North Carolina based Experimental Rock band Zack Mexico was formed in Kill Devil Hills by John Saturley, Jamie Brumbeloe, Joey LaFountaine and TJ Harrington.
Sharing common interests and their passion for creating music; Matt Wentz joined Zack Mexico in 2012, Josh Martier and Stephen Brown in 2014 and Tyler Byers in 2015.
With two outstanding drummers, Joey LaFountaine and Josh Martier, Zack Mexico emerge from a slim and moving line of sand in the open Atlantic proving they are a force that can make some noise.
Sibling duo, Alex & Emily McCollum, backed by a band of spacetime manipulators from Columbia, SC.
Based out of Asheville, NC, Axxa / Abraxas is the longstanding art-psych project of songwriter/ artist Ben Asbury. Hitting on a wide sonic array from psych-pop to post punk to shoegaze, the band has currently released 3 LPs, Axxa/ Abraxas (2014), Family Altar (2017), and Get Weird or Die Boring (2019), and has a new 7" single out as of September 3rd, 2020. Over the years Ben has been accompanied live by a revolving cast of characters with several long-standing iterations.
----
TICKET DISCLAIMER: This ticket is a revocable license and may be taken up and admission refused upon refunding the purchase price appearing hereon and is grounds for seizure and cancellation without compensation. Holder of this ticket ("Holder") voluntarily assumes all risks and danger incidental to the game or event for which this ticket is issued whether occurring prior to, during, or after same, including, but not limited to, contracting, and/or spreading the COVID-19 virus, and agrees that the organization, venue, presenter, agents, participants, or players are not responsible or liable for any injuries, sickness, or death resulting from such causes. Holder acknowledges that the COVID-19 pandemic remains a threat to individual and public health, COVID-19 is a highly contagious disease transmitted through human contact and respiratory droplets (including through the air and via common surfaces) and it is possible that Holder may contract COVID-19 while at the game or event for which this ticket is issued. Holder agrees by use of this ticket not to transmit or aid in transmitting any description, account, picture, or reproduction of the game or event to which this ticket is issued. Breach of the foregoing will automatically terminate this license. Holder agrees that the license comprised by this ticket may be removed and Holder may be ejected from the game or event for which this ticket is issued in the event that Holder violates any law, ordinance, or venue regulation. Holder grants permission to the organization sponsoring the game or event for which this ticket is issued to utilize Holder's image or likeness in connection with any video or other transmission or reproduction of the event to which this ticket relates.