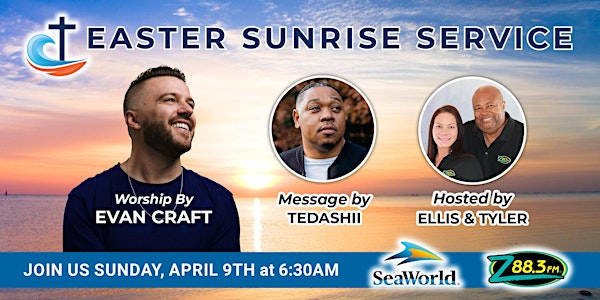 Z88.3 Easter Sunrise Service 2023
You're Invited to the Easter Sunrise Service at SeaWorld Orlando
Date and time
Starts on Sunday, April 9 · 6:30am EDT
Location
SeaWorld Orlando's Bayside Stadium or Orca Stadium. Entrance located at Sea Harbor Pavilions, to the right of Ports of Call. 7007 Sea World Drive Orlando, FL 32821
About this event
Parking lot opens at 4:15 a.m. Gates Open at 5:00 a.m. Admission to the service and parking are completely free, no ticket necessary. A Love Offering Will Be Taken* You can give early by clicking here.
Easter Sunrise Service is live in-person at SeaWorld Orlando only and will not be broadcast. Seating is first-come, first-serve and we expect the venue to reach capacity early. Reservation does not guarantee a seat. Bags are NOT permitted.
Easter is around the corner, and we are excited to worship and fellowship with you at SeaWorld Orlando for Easter Sunrise Service! There's something special about being together to watch the sunrise Easter morning. We are incredibly grateful and honored to be a part of so many families joining in worship.
Z Artist, Evan Craft, will be leading us in worship this year! He sings Be Alright and Fight on My Knees on your Z. HOT95.9 Artist and Public Speaker, Tedashii, will bring the Easter message. He has a powerful testimony and is ready to share his message and the Gospel with you and your family.
We hope you'll consider joining your Z family on Easter morning for this service. It's completely free to attend, and SeaWorld also donates the parking, so there's no cost to you.
As an additional blessing to Z listeners, SeaWorld is offering a special 20% off discount to visit SeaWorld Orlando. Admission visitation for this offer is valid now through 4/9/23. Guests can purchase up to 4 tickets valid for visits between 4/9/23 – 5/21/23. Click here: https://seaworld.com/orlando/special-offers/z883/
We invite you to make this beautiful worship service part of your family's Easter tradition if you haven't already. We'd love for you to invite your friends and family to join us, as well. We hope to see you there bright and early!
* A love offering will be taken at the end of the service as you leave the park. This service is sponsored by Easter Sunrise Service, Inc., in conjunction with Z88.3 and SeaWorld. No goods or services will be received in exchange for your gift and Easter Sunrise Service, Inc. has complete discretion and control over the use of all donations. If you would like to be a financial partner to support the worship and community outreach activities of Easter Sunrise Service, Inc., you can go to Paypal or mail your tax-deductible gift to: Easter Sunrise Service, Inc., 1065 Rainer Drive, Altamonte Springs, Florida 32714-3847. (FEIN 59-2986735) an IRS-recognized 501(c)(3) tax-exempt organization.