Event Information
Refund policy
Contact the organizer to request a refund.
Eventbrite's fee is nonrefundable.
Z-Arts and Kayenta Arts Foundation are pleased to present 3hattrio in a virtual performance.
About this event
About "The Lost Sessions"
3hattrio makes recordings of their informal music in the way that some people chronicle dreams. It was a summer chock full of wonderful recordings, creative ideas, 3hattrio at its best, all hidden and safe on the hard drive. At least that is what the group thought until that day a piano accidentally fell on the hard drive smashing it to smithereens.
Greg Istock, keeper of the music, looked on as the summers work lay in wreckage. He observed, "Lost can carry different meanings. It can be something misplaced with hopes for resurfacing but this loss was brutal and final, a cruel twist of fate."Later that year Greg found a company that specialized in retrieving lost data from crushed hard drives. They did not promise much but after examining the drive they surprisingly were able to restore some of the data and said we would get a new hard drive soon. When it arrived, there was nothing on it. It was blank. We alerted the company but they said that due to a Covid lockdown there was little chance of finding the illusive lost data. After another couple of months a second hard drive showed up unexpectedly. As the new drive loaded Greg saw recognizable file names. It was the music, the scorched data, almost sacred in its mysterious loss. The lost music is this recording.
Unfortunately, 3hattrio had hoped to be able to launch this new CD with this Z-Arts performance, but the CD "The Lost Sessions" will be released on March 26, 2021. We hope you will mark your calendars so that you can be among the first to get your CD.
This event will be held on Wednesday, February 24th with the virtual concert. A link will be available at 3:00 PM MST to watch the performance at your convenience. The concert link will be available for viewing from 3:00 PM MST to 12:00 AM MST. A live Zoom reception will be hosted by Z-Arts at 8:00 PM MST and the Zoom link will accompany the performance link.
Tickets are $10 per household for both the concert link and live reception.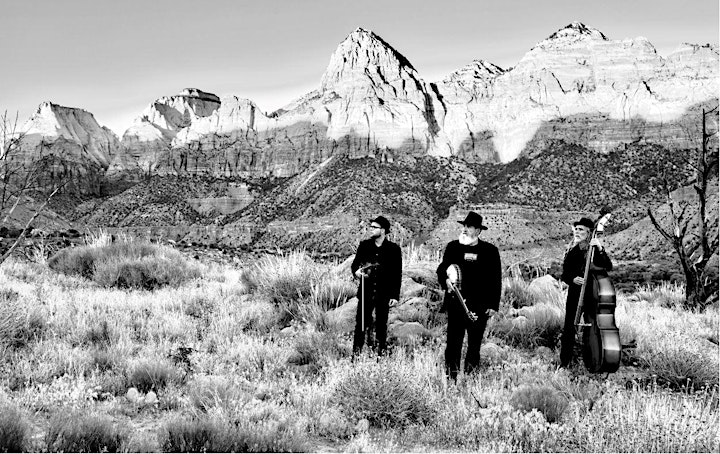 Date and time
Location
Refund policy
Contact the organizer to request a refund.
Eventbrite's fee is nonrefundable.