Description
Young Women Social Entrepreneurs is proud to announce this year's retreat theme: "Awareness, Advocacy, and Building Community" with a focus on being an effective advocate for yourself, your business, your allies, your community, and your cause.
The world can be a scary, difficult place and the Young Women Social Entrepreneurs - SF community is hell-bent on making it better. Creating social impact and change requires participation, collaboration, and compassion of all community members. The purpose of the YWSE-SF 2016 Retreat is to bring together women who are working toward positive change in the world around us, through entrepreneurship and in our work, to collaborate, learn, and build a supportive community together.
At this year's retreat, participants will focus on self-care, self-love, mindfulness, compassion, and consciousness to unlock the potential we can and must bring to our work. We will explore how best to develop and leverage influence, identify and embolden advocates, and find and enable allies. We know that progress can only be made when we are our unapologetic, authentic selves, we bridge the chasms in our communities by working together, and we encourage and honor diverse perspectives.
WORKSHOPS
We are honored to bring on a number of inspiring women to lead workshops throughout the weekend - see more information on www.YWSESF.org/retreat
Awareness
Life Model Canvassing with Ayori Selassie, Inventor and Creator of Life Model Canvas
Advocacy
The Best Things Come to Those Who Create with Andrea Clark, Creative Coach
Where is the Love? with Joy Hightower & Kulwa Apara

Feminist Allyship with #BlackLivesMatter, Anna Nti-Asare, Writer and Teacher​

Building Community
Building Global Communities with Kelli Soll, Director and Co-Founder of Global Service Partnerships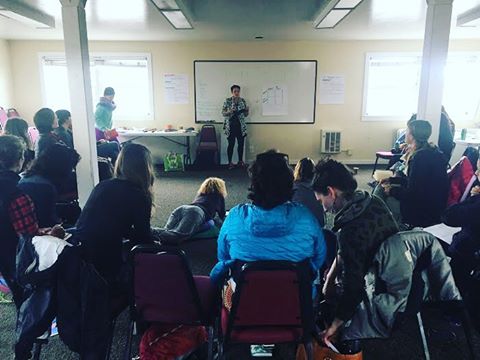 LOCATION
NatureBridge in the Marin Headlands is only 30 minutes from the city and right next to the beach. Our goal is to disconnect from our electronics and connect within the community.

We will also have down time to enjoy the beautiful natural surroundings, take walks on the beach, and just enjoy time with each other. The retreat price includes lodging and 6 meals (Friday dinner through Sunday lunch).
This is YWSE-SF's signature event and there are many opportunities for learning, experiencing, and engaging with a group of inspirational women. Register today as space is very limited. We look forward to seeing you this October!
Questions? Contact Retreat Directors Jessica at jessleesharp@gmail.com or Miki at miki.yamamoto@gmail.com. Please note, no refunds will be given after September 21.
Save
Save