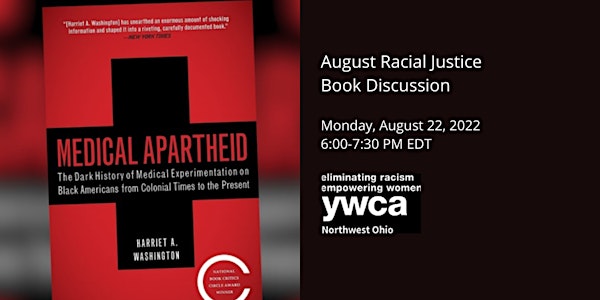 YWCA NWO August Racial Justice Book Discussion of Medical Apartheid
Join us for a virtual discussion of the book, Medical Apartheid by Harriet A. Washington
About this event
Among our many programs are the monthly Racial Justice Book Discussions. All are welcome! This is a brave space where participants can come together to hold conversations surrounding books that bring attention to racial disparities and the history of racism in the United States.
ABOUT THE BOOK
NATIONAL BOOK CRITICS CIRCLE AWARD WINNER • The first full history of Black America's shocking mistreatment as unwilling and unwitting experimental subjects at the hands of the medical establishment. No one concerned with issues of public health and racial justice can afford not to read this masterful book.
"This groundbreaking study documents that the infamous Tuskegee experiment, in which black syphilitic men were studied but not treated, was simply the most publicized in a long, and continuing, history of the American medical establishment using African Americans as unwitting or unwilling human guinea pigs . . . Washington is a great storyteller, and in addition to giving us an abundance of information on 'scientific racism,' the book, even at its most disturbing, is compulsively readable. It covers a wide range of topics—the history of hospitals not charging black patients so that, after death, their bodies could be used for anatomy classes; the exhaustive research done on black prisoners throughout the 20th century—and paints a powerful and disturbing portrait of medicine, race, sex, and the abuse of power." —Publishers Weekly
ABOUT THE ORGANIZER
The YWCA of Northwest Ohio's Mission is Eliminating Racism and Empowering Women. The Racial Justice Department is dedicated to educating the community and working on soultions to create a more equitable world for all. Visit our website for more racial justice programs.