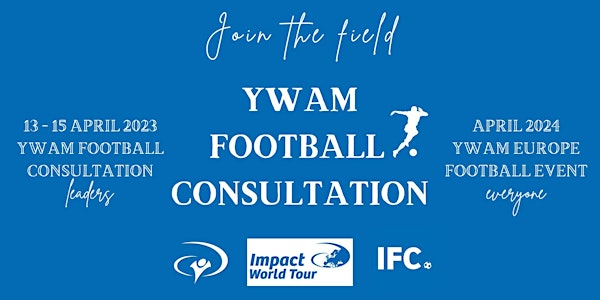 YWAM FOOTBALL CONSULTATION | 13 - 15 April 2023 | The Netherlands
BRING TRANSFORMATION IN YOUR AREA THROUGH FOOTBALL | 13 - 15 APRIL 2023 | BRAINSTORM WEEKEND FOR EUROPEAN FOOTBALL EVENT IN 2024 |
Date and time
Thu, 13 Apr 2023 17:00 - Sat, 15 Apr 2023 17:00 CEST
Location
Melkweg Melkweg 2971 Bleskensgraaf Netherlands
About this event
The first edition of the YWAM Football Consultation is about to happen this Spring in The Netherlands. A 3 day event where leaders, (football) ministry leaders who love football from all over Europe come together. A time of connecting where we will brainstorm together as YWAM on how we bring transformation in our area through football and make plans to organize a YWAM Europe Football Event in the Spring of 2024.
Do you long to bring transformation to your area through football, or do you do that, or do you have a passion for football? Then we would love it if you come to be involved as a partner in pioneering this weekend and the YWAM European Football event. This letter is an invitation to come and participate in what God is doing through football in Europe. There will be stories of what God has done worldwide in the past and what He still does today through YWAM.
Jesus said to them, "Follow me, and I will make you fishers of men." Matthew 4:19
Program 13 - 15 April 2023
April 13 Thursday | Arrival day |Connecting & worship
April 14 Friday | Brainstorming day |Brainstorming for a YWAM European Football Event in April 2024.
April 15 Saturday | Feast / Departure day |Activation to bring transformation in your area through football.
* Optional preparation
April 11 & 12 Fast |Preparing our hearts to receive God's heart and vision for the time to come.
Accommodation & Transportation
Location: Impact World Tour, YWAM Alblasserwaard
Address: South Holland, The Netherlands, Melkweg 16, 2971 AE Bleskensgraaf
Transportation pick up is possible: Nearest airport: Rotterdam | Nearest train station: Dordrecht
Who are we?
Impact World tour is a ministry of YWAM. Founded in the Netherlands in 2000 IWT has reached thousands with the gospel of Christ, trained hundreds of young people in Evangelism. Our location in the Netherlands is dedicated to discipling young people to be radical followers of Jesus. Inspiring a new generation to be salt and light bringing the gospel of hope to Europe, transforming the world we live in.
Want more info? Registration & Costs
Please contact Christiaan if you are interested in being a part of the event christiaan@impactworldtour.nl.
You can find more information about who we are on:
Instagram at @impactfootballcommunity & @impactworldtour.
Registration closes on the 12th of March 2023. The cost will be around € 100,- per person. The Main Language will be English.
Come together in God's presence, and be inspired to herald in a new time for God's Spirit to move across Europe! We would love to hear from you and have you join the YWAM Football Consultation this Spring. It would be amazing to host you, your friends, your team, your DTS school or Football Ministry on the European Football Event in the Spring of 2024.
Come and join the field, see the windmills and taste the cheese. The Netherlands and Europe awaits!
Blessings and greetings,
Christiaan Visser & Steve Smith + Impact Football Community
On Sale 1 Sep 2023 at 00:00