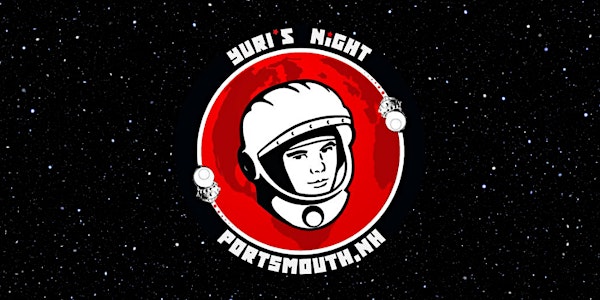 Yuri's Night Portsmouth
Now on sale!
Date and time
Friday, April 21 · 6 - 10pm EDT
Location
3S Artspace 319 Vaughan Street Portsmouth, NH 03801
About this event
Yuri's Night Portsmouth
Friday, April 21
6-10pm
Partially seated
$15 Admission
Get "spaced out" at Yuri's Night Portsmouth: a social, educational, and artistic celebration of humanity's first steps into the "final frontier."
It was April 12, 1961 when the first human (Yuri Gagarin) was shot into space completing one lap around the Earth and firing the imagination of humans around the world. Twenty years later on April 12th, 1981, the first Space Shuttle mission launched! Looking back since that first day, we've landed humans on the moon, explored the outer reaches of the solar system, and are talking about the possibility of a real "warp" drive—currently under study at NASA-- that could one day take us to the stars.
So make plans to join us for an evening of fun and exploration featuring real astrophysicists, rocket scientists and astronomers. On tap for the evening are special speakers talking about our future in space, short videos featuring current and future missions to the beyond.
A free giveaway will be held in between speakers, so dress in out-of-this-world attire and bring your friends!
----
About the speakers:
Speakers to be announced soon!
----
About the organizer: Caleigh MacPherson is a local NASA Ambassador and mechanical engineer who previously worked on the NASA Magnetospheric Multiscale (MMS) satellite mission. She is a co-founder of the Astro Advocates and Allies group, which aims to prevent sexual harassment and bullying in the space industry. She has been honored as one of the state's Rising Star Young Professionals, 40 under Forty, and 10 to Watch award winners for her STEM volunteer work. She currently works as a Program Manager in the defense industry, and attends rocket launches any chance she gets.
----
Click here to learn about our Health & Safety policies and measures.
Masks are strongly encouraged but not required during your visit to 3S Artspace.
By purchasing a ticket and/or visiting 3S, you are agreeing to follow 3S Artspace's health & safety requirements as they are on the date of your visit (not at the time of purchase). There may be exceptions or changes to our requirements for upcoming events, based on factors such as artist requirements and public health mandates.
Attendee Promise & Health Acknowledgement
All attendees agree to follow 3S Artspace policies and posted instructions during their visit. All attendees should evaluate their risk in determining whether to visit 3S. By entering the building, attendees voluntarily assume all risks related to exposure to COVID-19 and confirm they will adhere to both local and CDC quarantine requirements.
COVID-19 Warning
There is risk of exposure to COVID-19 in public spaces and there is no guarantee those attending an event will not be exposed to COVID-19.
About the organizer
3S Artspace is a 501(c)(3) non-profit grounded in an unwavering appreciation for the vital role that contemporary arts play in the health of a community, both locally and globally. We believe that art has the power to transform individual lives, bridge divergent perspectives, and establish meaningful connections between and across communities.
Please consider adding on a donation to 3S during checkout while making your ticket purchase. Thank you for your support!