Location
ENXARA Community
N9-2, km13
2665-053 Enxara do Bispo
Portugal
Refund policy
Contact the organizer to request a refund.
Eventbrite's fee is nonrefundable.
Come join Yum Tantra's 4-day Evolution Retreat, where you shift your imperfect life to your dream life
About this event
✨🏵️ Tantric Evolution 🏵️✨
Join us on August 4 - 7, 2022 in Lisbon, Portugal!
Shift your life from imperfect to everything you dream of.
You deserve love, bliss, abundance, and freedom of every kind. Uncover your shadows, set yourself up for success, and have a blast doing it!
✨ If you:
Are looking for deep transformational work at a soul level
Are ready to discover who you are without all of the external influences
Are ready to live the life you truly deserve
Are ready to liberate your sexuality
Desire to find a community of brothers and sisters who will encourage you to be fully self-expressed
➡️ Secure your slot in the Tantric Evolution or book a discovery call!
✨ Through guided practice and teachings we will:
Release shame around our bodies and sexuality
Channel our sexual energy to create powerful manifestation magic
Release stuck emotions and traumas from our bodies
Discover ways of being that no longer serve us
Release ways of being that no longer serve us
Change how our parents show up for us
Dharma (life purpose) guidance
Embodying your masculine and feminine on a visceral level
Explore conscious touch
✨ You Will:
Discover the freedom to fully self-express
Liberate your sexuality
Heal past wounds
Discover your ultimate power
Transform your relationships with your parents, partners, friends, and community
Embody your truest self
Learn your purpose
Find your center and learn how to continue to return back to it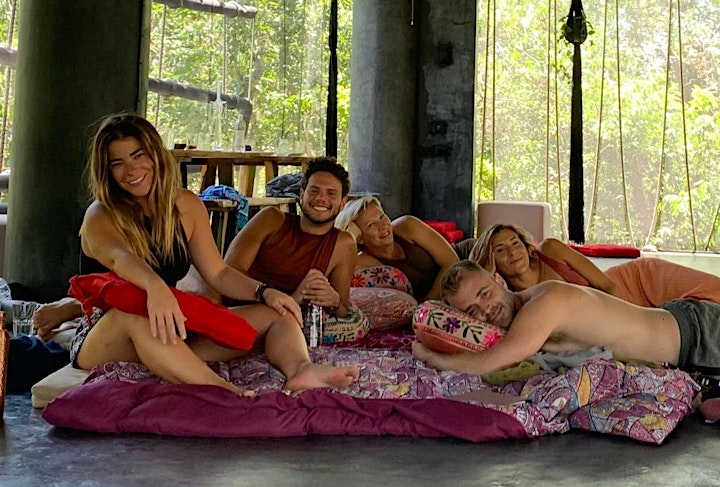 ✨✨✨✨✨✨✨✨✨✨✨✨✨✨✨✨✨✨✨✨✨✨✨
If you are ready to release the unconscious thought patterns of behaviors, embody your truest essence and receive all of the gifts that go along with that including love, bliss, abundance, and freedom, secure your spot in the Tantric Evolution workshop, or book a discovery call today!
✨✨✨✨✨✨✨✨✨✨✨✨✨✨✨✨✨✨✨✨✨✨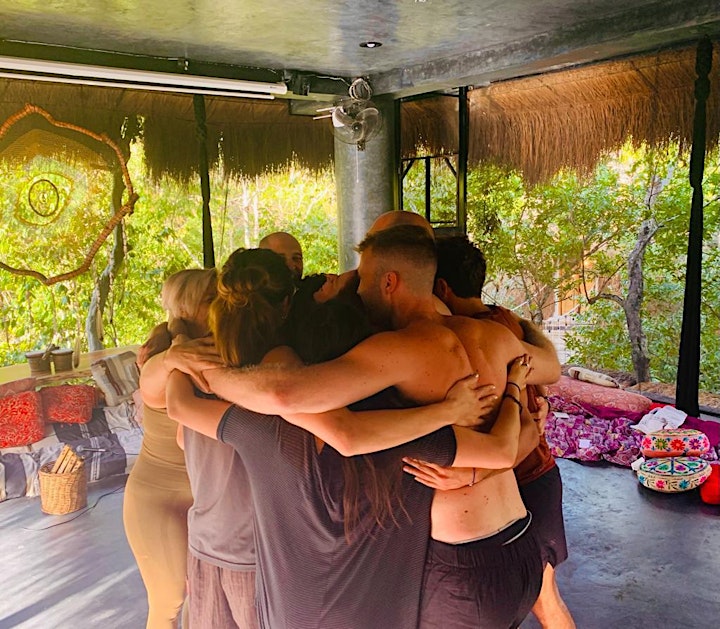 The workshop will take place in the gorgeous Enxara Community Temple in Portugal's Southwest Atlantic Coast, 30 minutes away from Lisbon. This isolated evergreen valley creates an abundant oasis with beautiful terraces, fields and a biopool.
The Enxara Community run a retreat centre, nestled in nature and privacy. The luxury at Enxara is its Natural setting, the loving food and its inclusive informal atmosphere.
With these gorgeous accommodations, panoramic terraces, a biopool and delicious plant-based and organic meals you will be in bliss! 🌴☀️🥥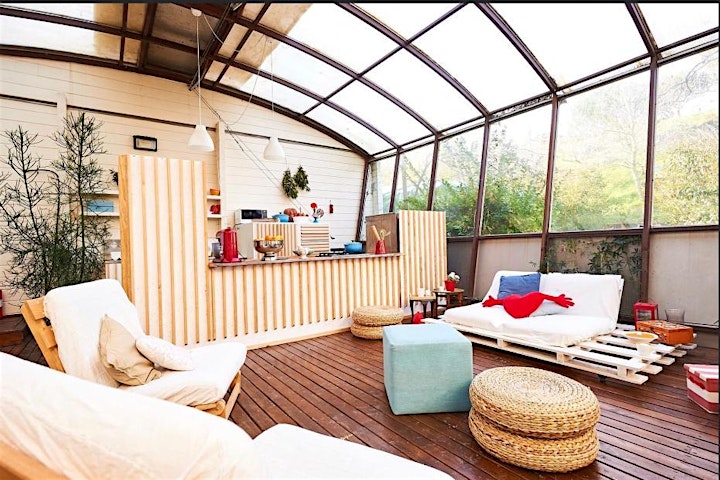 The Typical Day:
8am-9am: Active Meditation
9am-10am: Breakfast
10am-1pm: Tantric Practices
1pm-3pm: Lunch
3pm-6pm: Tantric Practices
6pm-8pm: Dinner
8pm-10pm: Tantric Practices
10pm-11:30pm: Celebration & Connection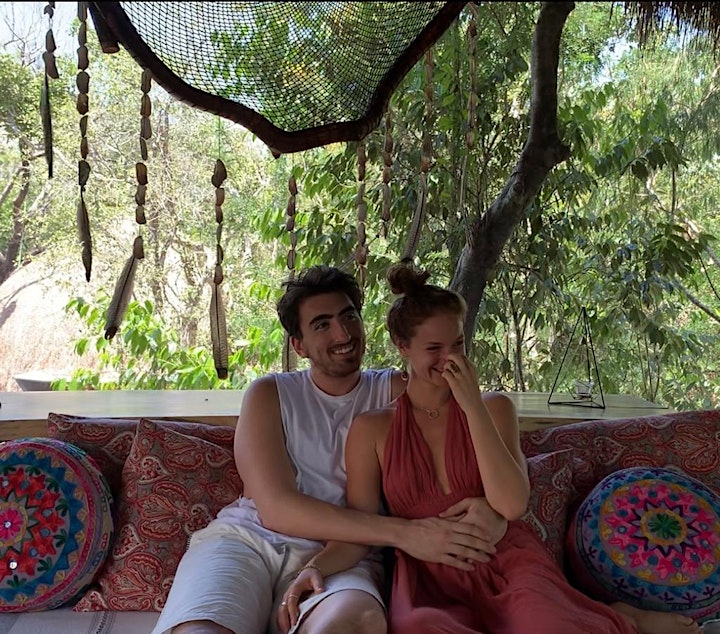 Harrison & Alisa Yum
Harrison & Alisa met in the middle of their tantric journeys at a tantra retreat in the middle of Rome.
They continued their tantric work together exploring 4 more lineages (schools of tantra) before feeling like they came to a peak in their tantra journey.
At that time, they felt a strong sign that the next step in their tantric journey was as facilitators, sharing this medicine with others
Since then they've completed a 10-month facilitator program and have hosted over 20 workshops and retreats transforming 100's of lives!
Harrison and Alisa combine their backgrounds in science (clinical psychology), business, health, sex and relationship coaching, and personal development with their 5 lineages and package it all into powerful and unique life-changing experiences and coaching.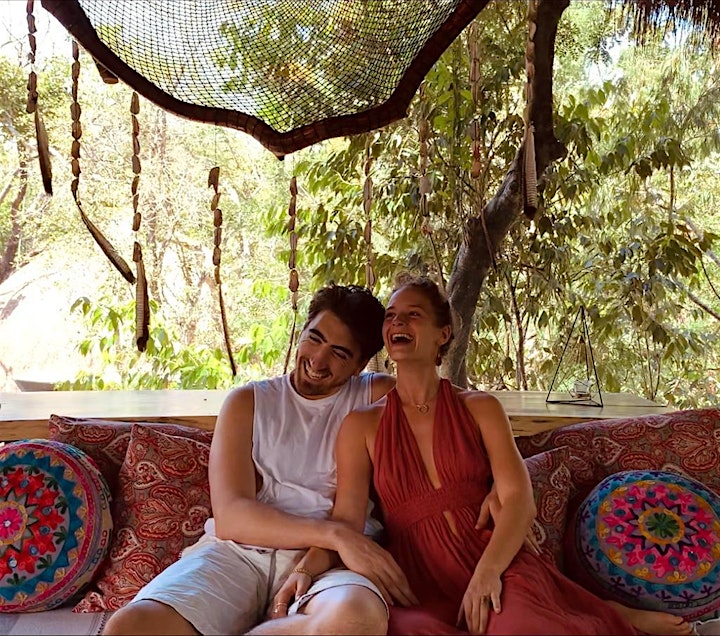 WHAT IS THIS RETREAT ABOUT?
The evolution retreat is for the person who wants it all. They want freedom, love, abundance, happiness, inner power. They want to be seen in their full vulnerability, they want to be loved for exactly who they are, they want to develop phenomenal inner stength to take any action they desire. They want to have control of their emotions, they want to have freedom in their sexuality, they want to love and be connected to their body.
The challenge is we are so influenced by cultural beliefs, experiences in our childhood and traumatic experiences that we cant quite put everything together for one reason or another. We feel judged when we express your self. wefeel tired, or bored, or distracted when completing work. We feel uneasy approaching or asking out the partner of our dreams. Life just isn't headed in the direction we want it to and we're not sure why or how you can fix it.
We understand these struggles. We spent many years facing failure, toxic relationships, depression, monotony. We tried everything to help - asking friends, reading online, therapy, spirituality, but it wasn't until we discovered the ancient methods of tantra did everything in our life start falling into place. After studying with 5 different schools of tantra, doing deep
healing work and completely shifting our lives, we now offer the Yum Tantra Evolution retreat, which is a culmination of all the best practices and teachings we received from our many different schools.
At the Yum Tantra Evolution retreat, we take a deep dive into all of these aspects in your life and uncover the emotions, the beliefs, the traumas that are preventing you from creating the life of your dreams and we start the healing process. In 4 days youre life will become completely different. Not because we shifted the external world, but because you'll completely transform your internal world that creates the external world.
In 4 days you'll
-discover your subconscious behaviors that are creating the negative aspects of your reality,
-shift those behaviors to create the life of your dreams
-come home a completely brand new person with a brand new life.
-and have the most incredible time of your life
If thats sounds like something you'd like in your life, either book a call with us today for more info or go directly to book our next retreat and shift your life from imperfect to exactly what you dream of!
FAQ
ARE ALL TANTRA RETREATS THE SAME?
AN EMPHATIC "NO".
Tantra has started to become completely mainstream. People slap the word 'Tantra' onto their retreats to sell tickets or often a haven for their predatory behavior. Many tantra retreats are unsafe, hyper-sexual, or focus solely on shallow practices like breathwork, meditation, and yoga.
At the Yum Tantra Evolution retreat, we take the time to create a safe space. People come into our retreats and are seen on a level they have never been seen before, are loved on a level they've never been loved before, and therefore transform their being at a speed they have never transformed before. 4-days is all it takes for people to walk in the door one way and walk out the person they have always wanted to be.
I WANT TO COME BUT I'M SCARED
This is incredibly common. Theres a part of you that feels a real calling to join us at our rectreat and create the life of your dreams and theres a part of you thats coming up with a million excuses as to why its a bad idea. The part of you thats feeling the calling to create the life of your dreams is your sould wanting to come out. The part of you coming up with a million excuses is your ego doing what it is designed to do and protect you. The ego does not like this retreat, we release the parts of the ego that are preventing us from our dream life. Your ego knows this and will do what it can for its own survival. If this is you then you have a choice to make. Are you going to keep feeding your ego because its easy or are you going to finally let your self out a create the life of your dreams? The choice is yours.
Is Tantra Only About Sex?
Not at all. Tantra is a spiritual philosophy to guide you to find and express your most authentic, conscious and divine self. Tantra is considered a study of energies, so there are practices that involve wakening up the life-force or kundalini energy inside of us through sexual connection but it is not at all defined by sexuality alone. Discovering your connection to spirit can be practiced without sexual intimacy and can even be done by yourself.
WHAT WILL WE DO?
We get this question a lot before our retreats. We offer a safe space with guided practices for self-exploration. If we told you more we'd have to kill you (not!). One reason we don't offer th exact program is because part of your experience is becoming comfortable with uncertainty. It is one of life's greatest skills and something that you need to master to create the life of your dreams. The other reason we don't offer the programming is because many people at the end of the retreats tells us that if they knew what we were going to do, they may not have been interested, but thank god they came because they have a completely new life.
WHAT IS TANTRA?
Tantra is the most ancient current system for self-discovery and self-understanding. It is a system of tools that help you release all of this baggage you carry with you from living life so that you can fill up with infinite energy for more joy, pleasure, freedom, love and inner power in your life.
CAN I ATTEND ONLY 1 OR 2 DAYS OF THIS RETREAT?
The retreat is a highly crafted, very specific, 4 day journey that continues to build on itself to take you from your imperfect life to the creation of your dream life. If you miss any of the 4 days the journey would be incomplete and the magic wouldn't happen. Therefore we ask that if you attend the retreat you attend all 4 days so that you go home fully evolved.
Is Tantra Only For Couples?
Tantra as a spiritual path is first and foremost an individual journey to discover and transform yourself. The priority is always about your own growth, even if you are attending as a couple. Only if you allow your own transformation to take place are you able to also grow and strengthen your relationships.
However, if you are in a relationship, you are more than welcome to attend with your partner and enjoy this experience together. It is a beautiful opportunity to expand your understanding of your partner, see them move through a transformation and deepen your intimacy.
If you attend as a couple, you are, of course, always free to choose whether you want to practice an exercise with your partner or not.
What If I Don't Feel Safe To Participate In Certain Exercises?
In a Yum Tantra event you will never be pressured to go beyond your boundaries. Every practice and exercise is an invitation to explore further and deeper, but it is always your choice. We will always promote you to go into yourselves and listen very closely where your boundaries are. You are always encouraged to state your concerns and boundaries and they will always be honored.
This can take different forms regarding your concerns: you might want to go less far as the exercise was explained, switch your partner, do an exercise alone or not do it at all.
Whatever feels good and safe for you, is exactly how you should participate in the practice.
WHAT DOES A TYPICAL DAY LOOK LIKE?
8am-9am: Active Meditation
9am-10am: Breakfast
10am-1pm: Tantric Practices
1pm-3pm: Lunch
3pm-6pm: Tantric Practices
6pm-8pm: Dinner
8pm-10pm: Tantric Practices
10pm-11:30pm: Celebration & Connection