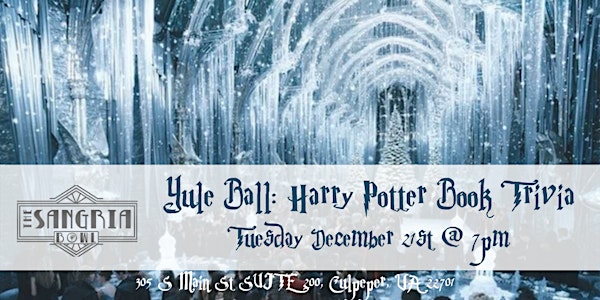 Yule Ball: Harry Potter Books Trivia at Sangria Bowl
"The Yule Ball is of course a chance for us all to — er — let our hair down."
When and where
Location
The Sangria Bowl 305 South Main Street #SUITE 200 Culpeper, VA 22701
About this event
Deck the Great Hall with boughs of holly, grab a dancing partner, and test your Harry Potter knowledge at our special holiday-themed Yule Ball: Harry Potter (Book) Trivia at Sangria Bowl on Tuesday, December 21st at 7pm! We'll have five rounds of trivia, covering all seven books in the Harry Potter series, with a fun holiday twist.
Reservations required: https://yuleballhpsb122121.eventbrite.com
PLEASE ONLY RESERVE SINGLE TICKETS IF YOU ARE PLAYING BY YOURSELF.
MAX TEAM SIZE OF 6 - A CONFIRMATION EMAIL WILL BE SENT CLOSER TO THE EVENT, PLEASE NOTE TICKETS CONFIRMATION IS REQUIRED OR YOUR TICKETS MAY BE SUBJECT TO CANCELLATION.
Prizes? Of course there are prizes? What did you expect - turnips?
Happy Christmas!
#harrypotter #harrypottertrivia #jkrowling #hogwarts #hermionegranger #ronweasley #dracomalfoy #dumbledore #gryffindor #triviatainment #HPtrivia #hpbooks #ravenclaw #slytherin #hufflepuff #expectropatronas #sortinghat #pubtrivia #growler #growlerusa #nightlife #drinks #bee #triviatainment #freeevents #thesangriabowl #sangriabowl #culpeper #culpeperva #culpepertrivia #northernvirginia