YPOC Presents: A WEEKEND GETAWAY 4th Edition
We just can't stay away from the beautiful and Black owned Mansion at Noble Lane!
About this event
There are 14 rooms to choose from this at this not so little bed and breakfast and it is the perfect place to kick back and relax for the weekend. You will find an onsite chef, full service spa, heated pool, athletic center, and fire pit with individually packed S'mores and a glass of champagne to toast with just to name a few of the amenities. Don't wait, book your room today!
Events:
Friday: All White Sit & Sip w/ Dinner
Saturday: Trap Yoga & Wellness Chat
Saturday: Plated Dinner by House Chef @ $50 per guest
Date: August 13 - 15, 2021
Member Room Cost: $510 (1 guest/tax included)
Non-Member Room Cost: $525 (1 guest/tax included)
Additional Guest: $70 for the Weekend
Deposit: $100
Dinner: $50 per person
Wellness Kit: $25 per person
Make your deposit today to reserve your space!
*payment plan available*
MEMBERS GET A DISCOUNT!!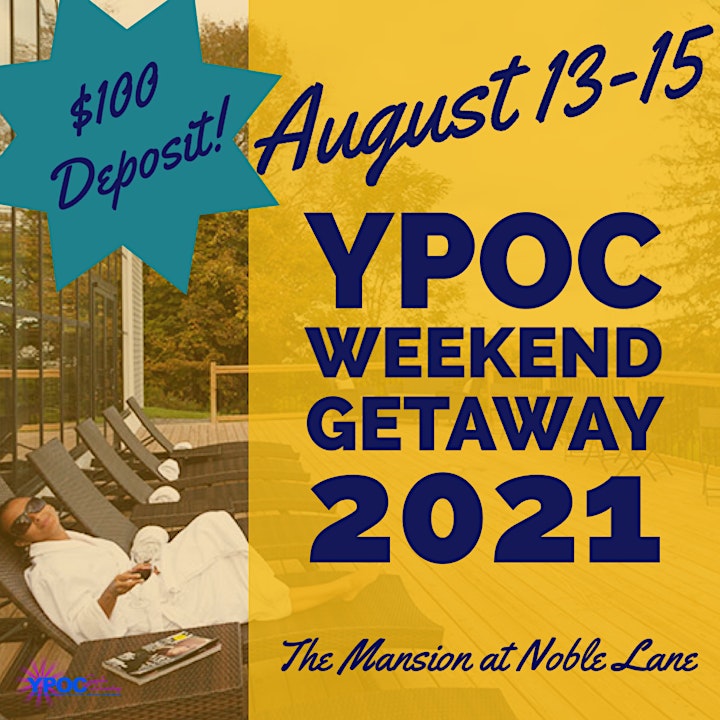 Organizer of YPOC Presents: A WEEKEND GETAWAY 4th Edition
The YPOC was founded in 2016 to address the unique and specific needs facing professionals of color in Central Pennsylvania. We empower professionals of color to identify the resources they need to thrive in the community, we create safe social spaces for professionals of color to relax, stimulate growth and development for every member and surrounding communities.
The purpose of this organization is social, bringing people out of their homes and into the community to have fun and build new networks. We are serious about building connections. This organization should be the group that knows everything!  One pillar of this organization should be the value we bring to local area business in the form of retention of young black professionals.