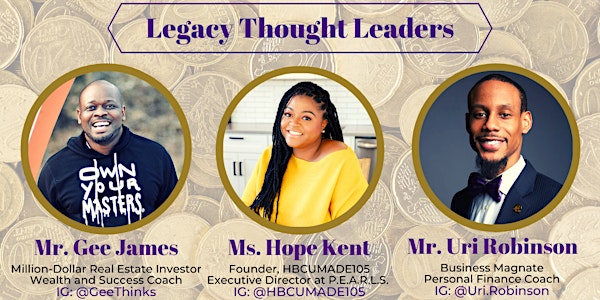 YPB: The New LEGACY Experience: Lessons on Advancing Generational Wealth
Psi Nu Ques are convening experts to discuss the lessons they've learned concerning Legacy and Generational Wealth! RSVP today!
About this event
**We love our donors! And remember, your donations enable us to continue hosting quality community programming. Can we count on you to donate $10, $25, $50 or more dollars to support this work? (all donors will be thanked publicly)**
---
Meet us on the road to Generational Wealth!
As the Psi Nu Chapter celebrates Chapter X of the Your Power Book series, it couldn't be more fitting to discuss LEGACY and the way forward for us all.
We understand that legacy is the impression we will leave behind and this session will focus on the lessons learned concerning the wealth we want to pass to the generations that come from us.
This session will connect, engage, and inform attendees about opportunities, resources, and programs that support creating and advancing positive legacy in the black community. In addition, the event aims to create dialogue and solutions for creating multi-generational wealth and building sustainable communities.
VIP Guests:
Mr. Gee James: Million-Dollar Real Estate Investor, and Wealth & Success Coach
Ms. Hope Kent: Founder of HBCUmADe105 and Executive Director at P.E.A.R.L.S. (Purposefully Empowering and Reaching Little Sisters)
Mr. Uri Robinson: Successful Business Magnate and Personal Finance Coach
Our hope is that all will leave with actionable steps toward creating and advancing your family's own generational wealth.
Join us on Tuesday, September 21, 2021, at 7pm EST as the #PsiNuQues encourage the community what LEGACY means to them. Come be our special guest!
------