About this Event
at The Mothlight
Thursday, September 5th
Yowler is the Philadelphia-based solo project of Maryn Jones, who has been recording and releasing music online and in burned cd, tape and record form since as early as 2004. What started out in 2013 as a conceptual project where dark thoughts and too-quiet moments could be placed, Yowler has become a main outlet for Jones' songwriting. After most recently being a part of the loud pop outfit All Dogs as songwriter, and long-time member and multi-instrumentalist in the psych-folk group Saintseneca, Jones has been focusing her musical time and energy on writing for Yowler, and collaborating with Philadelphia-based producer and engineer Kyle Gilbride to create the forthcoming Black Dog in My Path.
Black Dog in My Path is Yowler's second album after 2014's release The Offer, and was recorded in the many months after Jones' move from Columbus, Ohio to Philadelphia. Created with Gilbride of Swearin' and Missing Earth, the record is a kind of sonic quilt, pieced together from various musical inspirations and drawn from a period of great personal change. In addition to the signature synth and guitar talents of Gilbride, the textural depth was highlighted by the addition of drums by Jones' former Saintseneca bandmate Matt O'Conke, bass and clarinet by Catherine Elicson of Empath, and bowed guitar, cello, and vocals by Michael Cantor of the Goodbye Party. The element of collaboration allowed the artists to create a world you can get lost in, but that is not tied to any particular sound.
The twelve varied songs cover many worlds and states of mind, but their creation was mainly inspired by a period of time in 2016 during which Jones spent a large chunk of her life touring around the country with the different musical projects she was involved in. There was also a move and the painful upheaval and morphing of a few relationships during that time, all of which resulted in an unexpected and un-asked-for period of pause and self-reflection. What came from those experiences can be heard in many of the songs; a discovery of aspects of one's true self that can be hard to swallow, and the effort to try to learn how to live with the person you've found. Less of a dark self-reflection than The Offer, the record sometimes goes to a more hopeful place—ruminations on romantic love and the beauty of the planets, for example—but still touches on feelings of continual loss, misplaced desire, violent mental discord and the helpless grief that results from the daily facing down of things you can't change.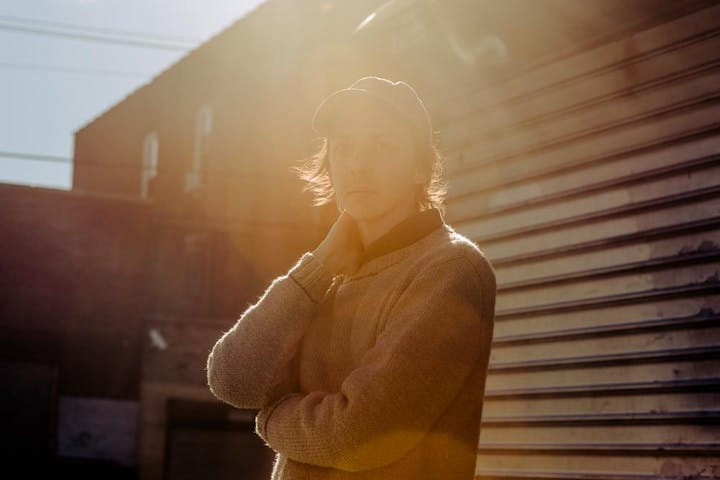 My name is Dave Benton and I write the songs for the band Trace Mountains. I was born in 1991, I'm from Ridgewood, New Jersey, and I currently reside in in New York City. Since 2009, I've released records in various groups, including some projects that are ongoing (LVL UP, Yours Are The Only Ears). Repeating the process of writing and recording music has become an emotionally stabilizing ritual in my life, and I have been very lucky to share that process over and over again with some of my best friends; many of whom I met at SUNY Purchase, a liberal arts college in NY state that I graduated from in 2013. The scene there was vibrant and welcoming to me, both facilitating and inspiring the collaborative work I made in that period and beyond.
Near the end of my college education, I began acting on a latent desire to make something wholly my own. I had been collaborating for so long that I felt it could be invigorating to explore the world of sounds on my own again, as I had done growing up. This endeavor led to a batch of songs that can now be found on the compilation record Buttery Sprouts & Other Songs (2016), which also includes some newer demos and field recordings that prelude my first proper record, A Partner to Lean On (2018). Scrappy and lighthearted, the songs on Buttery Sprouts & Other Songs were first and foremost an exercise in learning to be pragmatically self-sufficient, while exploring new poetic styles and even finding a place for humor in the words. While my songs are usually attempts at candid & vulnerable story-telling, I've often tried to make room for a joke, or at the very least, playfulness in the lyricism.
Remaining in a long stage of gestation after the initial creative burst, Trace Mountains practiced and performed infrequently. I was preoccupied by the responsibilities of running a record label (DDW, a label I co-founded and subsequently left in 2016), and touring with my friends in the band LVL UP. Trace Mountains would get together with different groups of folks to perform locally and sometimes tour in the United States & Canada. One particular incarnation of the band (featuring Jim Hill and Liz Pelly), was documented in this heartwarming video filmed in 2015 at a house show in Allston, MA. We covered "Bucket," a Jeff Mangum rarity that I was obsessed with at the time. Now, when I look back on that era in my life, it gives me a sense of just how grateful I am for these people and for the bond that music can bring. Moments like these come and go in an instant, and sometimes I'm unable to fully feel the impact until years later. One of the few things I know of music-making, is that it has brought me closer to the people I share the process with, if only for short periods.
A Partner to Lean On, the first proper full length from Trace Mountains, is both an extension of my initial excursion to explore the world of sounds in solitude, and a continuation of my lifelong relationship with music-making as a social process. The songs featured on A Partner to Lean On came about over the course of many years, featuring some ideas that pre-date even the earliest Trace Mountains release in 2013. There are also more current songs, written right up into the summer of 2017 when the record was recorded and completed, a time of extraordinary confusion & anger, when the refuge of listening to & creating music was needed more than ever. The way the work spans time periods is intended to be reflected in the record itself, perhaps not strictly linearly, but flowing from place to place, idea to idea, connecting memories, thoughts and things in a way that feels purposeful. It starts in the present, and branches out into different directions to hopefully arrive at a meaningful assessment of where I stand.
Unlike my older work, A Partner to Lean On relies on the talents of a group rather than just myself. In addition to co-producing a portion the record at Gravesend Recordings, Jim Hill played electric guitar and synthesizer. Rhythm section performances were provided by Kyle Seely (drums) and Nick Corbo (bass), and additional vocals were contributed by Susannah Cutler and Ben Smith. I played guitar, synthesizer, and recorded a bunch of other things, overdubbing at my home studio, and when the record was complete, it was mixed by the inimitable Mike Ditrio. It was then mastered by Paul Gold in October of 2017.
Performers
Date and Time
Location
Refund Policy