You've Been Served: "Art and Craft" (2014)

Friday, March 13, 2015 from 6:30 PM to 9:30 PM (EDT)
Event Details
Where: NYU | 245 Sullivan St. | Furman Hall, Room 214 |NY, NY 10012
When: Friday, Mar. 13, 2015
Time: Dinner starts @ 6:30 PM | Movie starts @ 7:30 PM
Prix Fix: $25*
*Refreshments, wine & heavy hors d'oeuvre | RSVP by 4 p.m. Mar. 11, 2014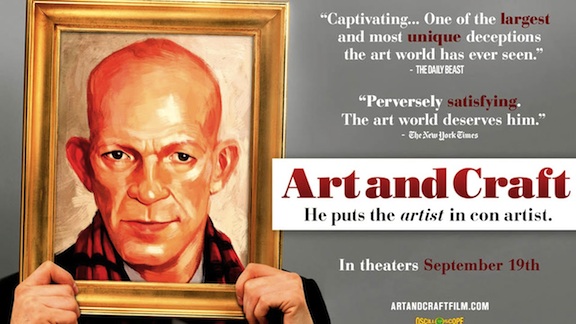 * * *
"But they look so good and so real…" Indeed, works created by Mark Landis looked like the real thing. Landis, one of the most prolific and now best-known art forgers in U.S. history, is the subject of a 2014 documentary. While Landis may think of himself as a philanthropist who never sold but always presented his works as gifts, many disagree judging by the damage he afflicted on the art history field by contaminating institutions with fakes that remain to be tabulated.
Landis' artistic (and fantastic) output spans thirty years in a wide range of styles and periods. He was able to fool many a museum registrar as he donated hundreds of forgeries to museums across the United States. To help us make sense of what it takes to catch a fake, James Martin of Orion will address the group after the viewing to discuss his practice in identifying fake art works using scientific tools. Trained as an artist, Martin has worked with many clients who have purchased art works assuming they were authentic only to learn that they were taken in by a talented con-artist, no pun intended. Those interested in the Knoedler Affair, will enjoy the discussion on the subject of pitfalls in art authentication.
The screening will be preceded by a dinner, also at NYU.
* * *
If you have not seen the film yet or if you want to see it again and discuss it in the context of the proliferation of forgeries and the ongoing efforts to curb trade in forgeries, consider spending the evening with fellow artists and lawyers and students; feel free to RSVP +1.
Guest speaker: James Martin, founder of Orion. His full bio can be found here.
To get you ready for the film, watch the preview here.
Our hosts for the evening are the NYU Law School's Art Law Society.
When & Where

New York University Law School
245 Sullivan Street
Furman Hall - Room 214
New York, NY 10012


Friday, March 13, 2015 from 6:30 PM to 9:30 PM (EDT)
Add to my calendar
Organizer
Center for Art Law (DUMBO, NY).
We collect and share resources related to Art and Cultural Heritage Law for the benefit of legal professionals, students, artists, collectors, dealers and critics. Through our website, blog, and newsletters we give broad coverage to art law developments. We organize social events and educational programs on the legal and business subjects as they pertain to the arts. If you are not with us, you will be.