YouTube Live Mini Convention

Friday, October 25, 2013 from 2:00 PM to 10:00 PM (PDT)
Event Details
We'd like to invite our live creators to our first YouTube Live Mini Convention!
This event will feature industry professionals, vendor demonstrations, and workshops with your friendly YouTube Live team! All designed to show you how to make the most of live streaming on your YouTube channel.
We've had a great response and registration is now closed. Attendees can find event details below. You must be registered in order to attend. Thanks!
---
Event Schedule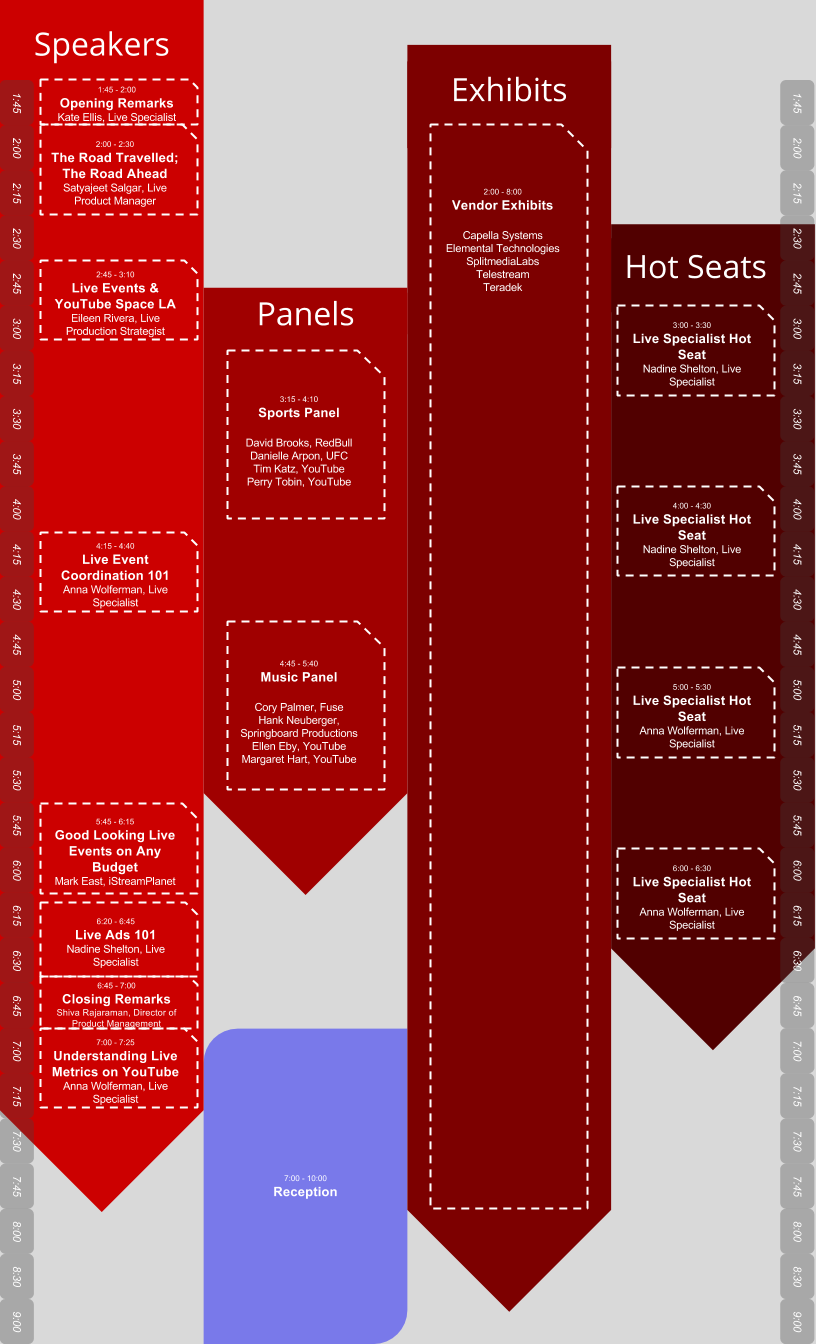 *Only registered attendees will be allowed to attend.
Speaker Bios
Kate Ellis, Live Specialist
Kate is the Lead Live Specialist at YouTube working with the global teams to develop the live events platform.  She started working with live streaming in 2003 and since joining YouTube has worked on many key events across sports, music, politics, entertainment, and more. 
Satyajeet Salgar, Live Product Manager
Satyajeet is the the Product Manager for Sports, News and Live on YouTube. He tries to make live on YouTube a little more awesome everyday.
Eileen Rivera, Live Production Strategist
Eileen is a Production Specialist at YouTube Space LA managing all live streaming shows. She previously produced live streaming at This Week in Tech, CNET, Revision 3, and has produced shows for HGTV, History Channel, Travel Channel and TechTV.
David Brooks, RedBull
David is the Manager of Digital TV and Video Programming at Red Bull Media House, and has developed the global video strategy for Red Bull over the past seven years. Most recently he played a key role in developing the Red Bull Stratos live partnership with YouTube, a group that went on to be awarded a National Sports Emmy for Outstanding New Approaches Sports Event Coverage.
Danielle Arpon, UFC
Danielle is the Manager of Video Distribution for the Ultimate Fighting Championship, the world's premier mixed martial arts promotion. Danielle and her team provide promotional content, transactional video on demand, and live streaming products across all of the UFC's digital platforms.
Tim Katz, YouTube
Tim is a member of the YouTube Sports team in San Bruno. He oversees relationships with broadcasters, action sports, and golf partners. Prior to YouTube, he worked at ESPN.
Perry Tobin, YouTube
Perry is a senior technology manager responsible for Sports. He manages the YouTube partnerships with major league sports such as MLB, NBA and other YouTube live sports partners. 
Anna Wolferman, Live Specialist
Anna is a Live Streaming Specialist at YouTube and was a part of the Emmy-winning team who streamed Red Bull Stratos live on YouTube.  Prior to working at YouTube, Anna was a Digital Events Manager at AEG Digital Media and a Production Coordinator at iStreamPlanet.
Cory Palmer, Fuse
Cory is a Digital Channel Manager at Fuse, where he led the launch of Fuse's live streaming concert series in 2011. He has worked on all of Fuse's live streaming events, including major concerts such as 12-12-12: The Concert for Sandy Relief and Swedish House Mafia Live at Madison Square Garden.
Hank Neuberger, Springboard Productions
Grammy-winner Hank Neuberger, President of Springboard Productions, has been webcasting music festivals since 2005. In 2013 Springboard produced multi-channel webcasts for the Coachella, Bonnaroo, Lollapalooza, Outside Lands and Austin City Limits Festivals.
Ellen Eby, YouTube
Ellen works with YouTube music partners from a technical and operational stand point. She worked on YouTube's live stream Hangouts with music artists such as Taylor Swift and Bruno Mars.
Margaret Hart, YouTube
Margaret is a member of the YouTube Music team in Beverly Hills. She focuses on artist and label relations, specializing in artist education, and direct artist deals. Prior to YouTube she worked in digital media, and distribution at William Morris Endeavor.
Mark East, iStreamPlanet
Currently Executive Director of Live Event Operations for iStreamPlanet, Mark has been producing live streaming events both big and small for over 14 years. YouTube events he has overseen include the 12.12.12 Benefit concert, the 2012 Democratic National Convention, the TomorrowLand, TomorrowWorld and Ultra music festivals as well as many others. 
Nadine Shelton, Live Specialist
Nadine has gained experience in Streaming Media, Television and Ad Operations over 14 years.  Credits include MTV's Room Raiders and Design Invasion.  She was also the first global Ad Trafficker for Roo Inc.
Shiva Rajaraman, Director of Product Management 
Shiva leads the product team at YouTube focused on Creators ensuring that anyone who can entertain, inspire, or inform can achieve their viewership and revenue goals. Shiva is also focused on ensuring there is a thriving ecosystem around YouTube that extends our core platform into verticals and services that weren't imaginable before YouTube existed and are essential to helping creators succeed.
Exhibitor Descriptions
Capella Systems develops Cambria Live, a software based streaming video production platform that provides exceptional HD video quality and broadcast-level features. It integrates the latest YouTube Live API which allows professional broadcasters to stream contents seamlessly to YouTube Live channels. 
Elemental Technologies is the leading supplier of video solutions for multiscreen content delivery. Providing unmatched solutions for more than 300 leading media franchises worldwide, Elemental helps pay TV operators, content programmers, film studios and sports broadcasters bring video to any screen, anytime – all at once.
SplitmediaLabs Limited is an innovative, Hong Kong-based, software company specializing in the development of multimedia applications and technology. SplitmediaLabs is the developer and publisher of XSplit Broadcaster, one of the most popular applications for live Internet broadcasting, with a user base ranging from teenage hobbyists to prominent professional casters. 
Telestream is the maker of Wirecast and Wirecast for YouTube, cross-platform live-streaming production software. We help you create powerful, memorable, professional productions and deliver your content where you need it, to YouTube and beyond.
Teradek is an innovator of wireless video devices and platforms that facilitate creative acquisition and live event broadcasting in full HD. Teradek's H.264 encoders, bonding devices, and latency-free transmission systems are used throughout many industries for aerial video capture, live ENG backhaul, real-time monitoring, and webcasting.
Presentation Descriptions
YouTube Live: The Road Travelled; The Road Ahead
Our live product manager discusses the latest and the future of the platform.
Live Events & YouTube Space LA
A review of the live streaming tools you can take advantage of as a Space LA Creator.
Live Specialist Hot Seats
Take the opportunity to grill a Live Specialist with your live streaming questions.
Sports Panel
Live sports creators and YouTube sports specialists take your questions on how to optimize your live efforts for the genre. 
Live Event Coordination 101
Learn how to juggle all of the different pieces and prepare yourself to go live!
Music Panel
Live music creators and YouTube music specialists take your questions on how to optimize your live efforts for the genre. 
Great Looking Live Events on Any Budget 
A 14-year industry veteran offers tips for making your live events look as polished as possible-- regardless of what you have to spend!  
Live Ads 101
We'll review live monetization and basic troubleshooting tips. 
Understanding Live Metrics on YouTube
Walk through the live streaming metrics available on YouTube.
---
FAQs
Check-in for registered attendees will open at 1pm with the event opening at 2pm.  Presentations, workshops and demonstrations will then be ongoing throughout the afternoon.  Check-in will be closed at 6pm.  No new attendees will be admitted after 6pm.
Everything at YouTube Space LA is brand new, including the address. As a result, your GPS will have trouble locating us. Please use the following instructions to avoid any difficulties navigating to the Space.
From the San Diego (405) Freeway:
Exit Jefferson
Go West
Turn left on Campus Center Drive
From Highway 1 (Lincoln Blvd):
Turn East on Jefferson Blvd.
Turn right on Campus Center Drive
At the intersection of South Centinela Ave & Jefferson Blvd, turn on S Campus Center Drive (south side of the intersection).
Drive to the end of Campus Center Drive.  You will be facing the eastern end of Space LA.
If you're parking:
Turn right on W Bluff Creek Drive. 
Continue to the Overflow Parking Lot shown on the map below.
Cross the street to YouTube Space.  The main entrance is nearest the Red Helicopter at the east end of the building.
 If you're being dropped off:
Turn right on W Bluff Creek Drive. YouTube Space LA will be on your left.
Drive to the western end of the building and turn left to enter the parking lot.
The main building entrance is nearest the red helicopter on the east end of the parking lot.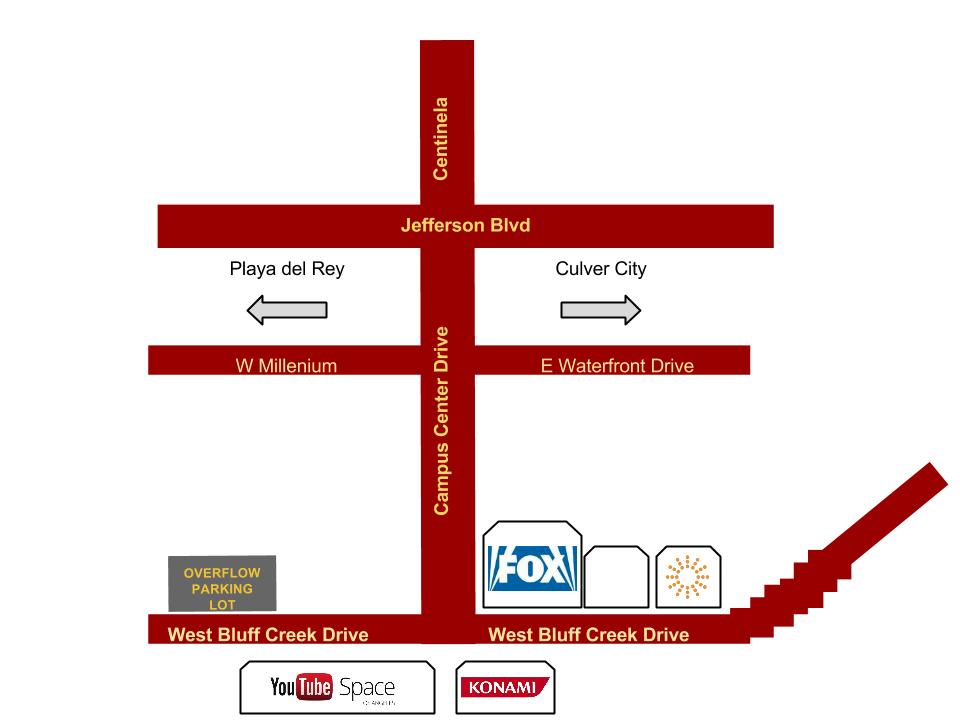 Is my registration transferrable?
No. Only the registered attendee will be admitted.
Do I have to bring my printed ticket to the event?
Digital or printed copies of your registration confirmation will be required for admittance.
When & Where

YouTube Space LA
12422 West Bluff Creek Drive
Los Angeles, CA 90094


Friday, October 25, 2013 from 2:00 PM to 10:00 PM (PDT)
Add to my calendar