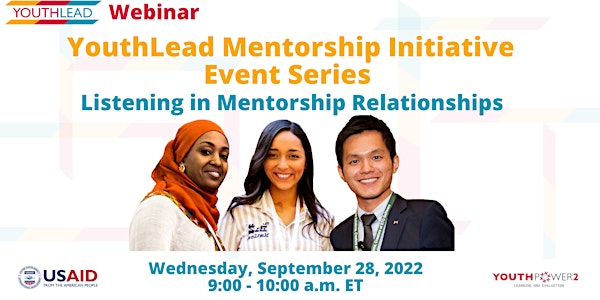 YouthLead Mentorship Event Series: Listening in Mentorship Relationships
Join us as we continue the YouthLead Mentorship Initiative Event Series with our fourth event, Listening in Mentorship Relationships.
About this event
Join us as we continue the YouthLead Mentorship Initiative Event Series with our fourth event on September 28th from 9:00 - 10:00 a.m. Eastern Time. YouthLead is excited to have the Latin American Leadership Academy (LALA) join us for this panel discussion on Listening in Mentorship Relationships.
During this session, attendees will listen to a dynamic panel discussion among LALA mentor-mentee pairs who have personal or professional experiences in mentorship and have identified potential areas to strengthen mentorship knowledge and practices. They will share listening techniques that they leverage to build a strong mentoring relationship. The session will also include an audience Q and A session.
During this webinar attendees will:
Hear from young leaders who have personal or professional experiences in mentorship,
Gain key insights into pathways to healthy listening in mentorship, and
Be encouraged to reflect on their mentorship relationships.
About the YouthLead Mentorship Initiative
Under the YouthLead Mentorship Initiative, young changemakers in the YouthLead Network can learn more about mentorship, explore resources and information for how to find and cultivate healthy mentor relationships, be a peer mentor to others, or identify mentorship programs and networks to help support their personal and career pathways and build their knowledge and skills in mentorship and related topics through live learning events, and more. Visit the YouthLead Mentorship Initiative Page to learn more.
LALA is a non-profit institution that aims to develop a new generation of diverse, entrepreneurial, and ethical leaders who will serve the Latin American region. The LALA Ecosystem is a collection of programs and initiatives co-created with Alumni that focus on leadership journeys. One component of their Ecosystem is a Mentorship Program where LALA alumni are brought on as mentors.
Launched in 2018 under the USAID-funded project YouthPower Learning and continued under YP2LE, YouthLead.org is designed for young changemakers making a positive impact in their community through service, activism, advocacy, education, and entrepreneurship. Our network members are focused on finding solutions by connecting people, ideas, and resources to tackle critical issues affecting young people at home and around the world.
ABOUT YOUTHPOWER2: LEARNING AND EVALUATION (YP2LE)
YP2LE activities will bring USAID's Youth in Development Policy to life by enabling investments in PYD research and evaluation within and across multiple sectors, including health, education, agriculture/food security, economic opportunity, peace and security, democracy, and human rights and governance. YP2LE will build and disseminate PYD evidence across multiple sectors; offer leadership in promoting PYD best practices; and provide rapid response, technical assistance to USAID staff to design, implement, and evaluate youth activities. The goal of these activities is to give practitioners the information, tools, and resources they need to develop high-quality, impactful, and sustainable youth programs, allowing empowered youth, working with supportive adults, to create the kind of sustainable change in individuals and systems.