YouthCare's 33rd Annual Luncheon

Tuesday, March 20, 2018 from 12:00 PM to 1:00 PM (PDT)
Event Details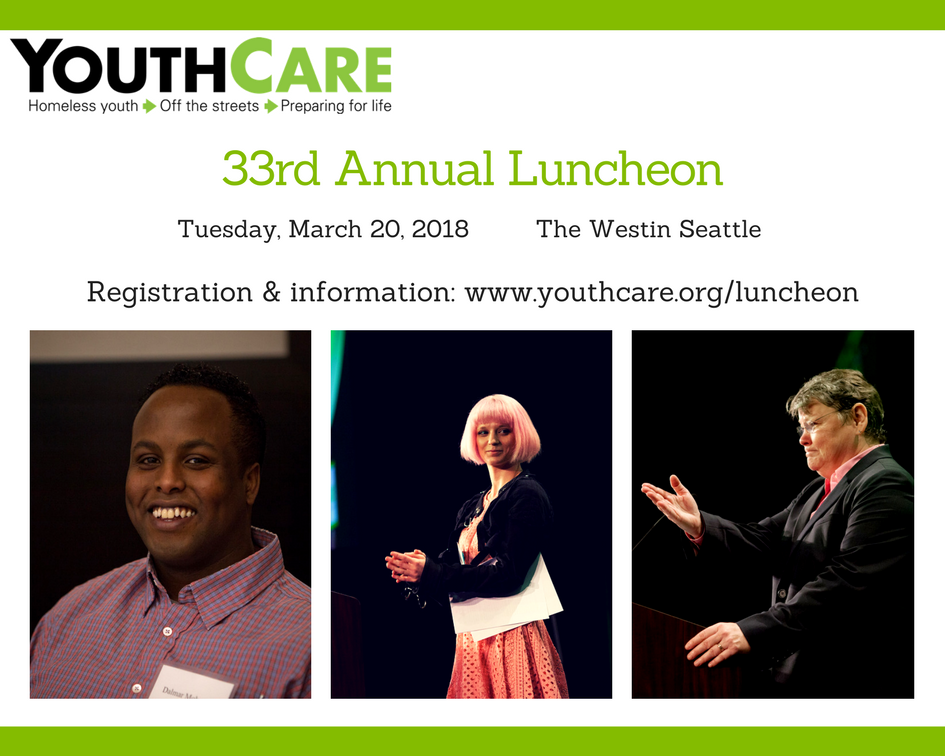 Can't make it but want to donate in support of homeless youth?
Please visit www.youthcare.org/donate.  
---
Join us for lunch and learn how you can make a difference in the lives of homeless young people. Youth homelessness is a complex problem with a simple solution: when youth have a safe place to call home, a caring and supportive community, and access to education and employment opportunities, they are able to thrive.
Be part of the solution.
---
There is no cost to attend. Attendees will be asked to make a donation at the event, and gifts of $300 and above will be stretched!
Attend
Please register you and your guests by clicking the Register button above!

Host a Table
Hosting a table of guests at the event is a great way to invite your family, friends, and colleagues to join you in learning more about the young people receiving the services YouthCare provides: homelessness prevention, basic needs, outreach, emergency shelter and stable housing, and education and job training. We will work with all table captains on filling tables of 10 and keeping everyone up-to-date on important details about the event.  If you have questions about hosting a table, want to sign up to host, or know someone who might be interested in hosting a table for the 2018 Luncheon, please email Gabbi at gabbi.sawrey@youthcare.org or give us a call at (206) 204-1403. 

When & Where

The Westin Seattle
1900 5th Avenue
Seattle, WA 98101


Tuesday, March 20, 2018 from 12:00 PM to 1:00 PM (PDT)
Add to my calendar
Organizer
Each night in Seattle, over 1,000 young people are homeless. That's thousands of homeless youth every year — stuck in survival mode.
Most were traumatized before they reached our streets. Each day they spend on them will take its toll. It isn't difficult to understand why so many chronically homeless adults report having been homeless as youth.
At YouthCare, we serve children as young as 12 and young adults all of 24. On the streets, rather than having a childhood, the younger ones are already enduring greater fear than anyone should ever have to. At ages for finding mentors and role models, the young adults are learning to trust no one. All of them should be imagining and building a future. Instead, they're occupied with getting to tomorrow.
We know how to help that kid in the doorway become a kid in school, an employee on the job, and an independent and stable adult. It takes a "continuum of care": a coordinated set of individually appropriate services.
Unfortunately, our resources are limited. In the face of an alarming rise in demand,  we are able to put together a true continuum of care for only a fraction of the youth that walk through our doors.
We do stand out in this community, however, and in the nation, for the scope of services we can offer. From specialized counseling to formal and informal coaching in life skills, from GED and high school classes to employment training, the continuum of care is the surest way to get homeless youth off the streets and preparing for life.