About this Event
A Strengths-Based Approach (SBA) in youth work is one that not only genuinely recognizes and validates that every young person has strengths, but also recognizes that there is strength in every action and decision they make. How we identify "strengths" and "success" is, by default, subjective and based in systems of oppression. This workshop seeks to transform that by highlighting youth behavior as an intelligent response to meeting core needs: safety, agency, dignity and belonging.
This full-day workshop focuses on breaking down "simple" concepts: What does strength, resilience and leadership actually mean? Participants will explore positive youth development theory and identify concrete ways to apply strengths-based interventions with the young people they work with. In the afternoon, we will center youth leadership and empowerment as a core set of skills to support young people in a strengths-based way.
Overall Objectives: By the end of this training, participants will:
Articulate what it means to center a strength-based approach in their practice
Problem-solve challenges to using a strengths-based approach consistently in their practice
Describe the Positive Youth Development model and how it applies to homeless youth work
Apply practical strategies to support the innate strengths and resilience of young people they work with
Gain confidence in empowering young people to become leaders
This training is from 9:00 A.M to 5:00 P.M on Wednesday March 25th at Friends of Youth (13116 Northeast 132nd Street , Kirkland, WA 98034)
The Youth Worker Institute is excited to offer this opportunity as an integral part of the Fundamentals Series. All of these trainings are specifically designed for staff working in homeless youth serving agencies in King County. The other topics in this Series are Trauma Informed Youth Work, Harm Reduction, Social Justice and Motivational Interviewing.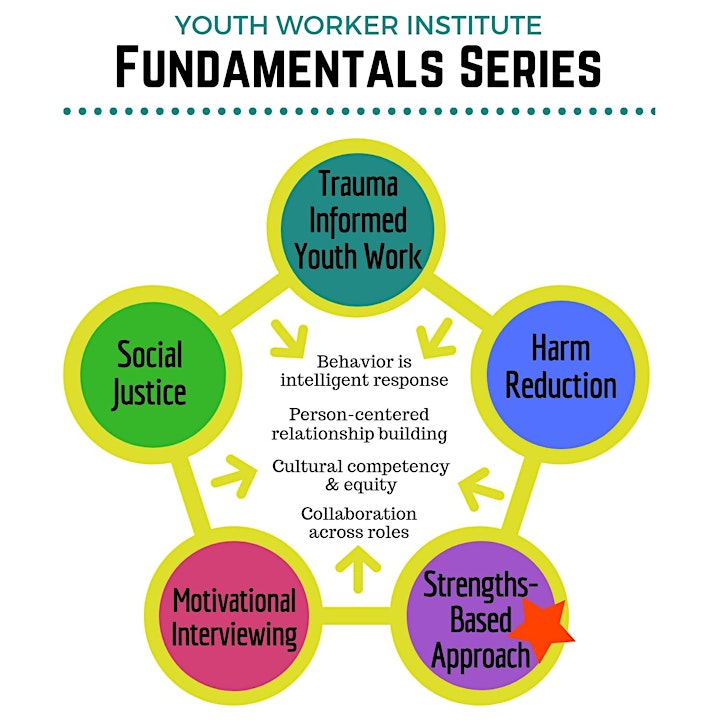 The Strengths-Based Approach curriculum was built by YouthCare Ashley Barnes-Cocke. Ashley has over seven years of experience working with youth and young adults, primarily in the areas of youth leadership and empowerment, and firmly believes that centering youth voice is an essential part of youth work. This training will be Facilitated by Byram Simpson. Byram is the Training Program Manager at YouthCare. They have worked with YouthCare as the Program Manager of our under 18 Pathways program, and before then worked for several years with young people at the Eating Recovery Center.
This training is intended to be interactive and experiential. If you have accessibility needs and/or will need accommodations, please let us know when you register.
If you have any questions or concerns about the information provided, please contact us at ywi@youthcare.org. Thank you!