About this Event
Motivational interviewing is a person-centered method for enhancing motivation by exploring and resolving ambivalence – but what does it mean to resolve ambivalence when you're working with a young person experiencing instability? Youth Worker Fundamentals: Motivational Interviewing is a half-day training for direct-service staff working with young people experiencing homelessness in King County focusing on applying the framework as service providers.
Participants will explore the spirit of motivational interviewing and applying the method's core principles from this youth-worker lens. Participants will learn and practice five core skills of motivational interviewing — Affirmations, Reflective Listening, Open-ended Questions, Summarization, and Eliciting Change Talk — by engaging in interactive discussions, scenario work, and role-plays.
This training is from 9:00 a.m. to 3:00 p.m. on Thursday, March 12th at Casey Family Programs (1123 23rd Ave, Seattle, WA 98122).
The Youth Worker Institute team is excited to offer this opportunity as an integral part of the Fundamentals Series. The Youth Worker Institute produces trainings specifically designed for staff working in homeless youth serving agencies in King County. The Fundamentals Series includes training topics on Trauma Informed Youth Work, Harm Reduction, Strengths-Based Approach, Social Justice and Motivational Interviewing.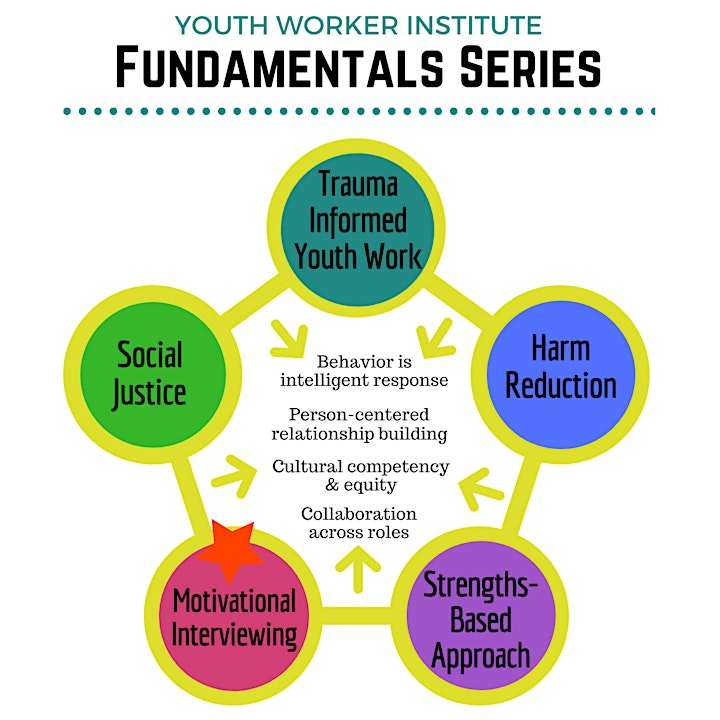 This training will be Facilitated by Byram Simpson. Byram is the Training Program Manager at YouthCare. They have worked with YouthCare as the Program Manager of our under 18 Pathways program, and before then worked for several years with young people at the Eating Recovery Center.
This training is intended to be interactive and experiential. If you have accessibility needs and/or will need accommodations, please let us know when you register.
If you have any questions or concerns about the information provided, please contact us at ywi@youthcare.org. Thank you!