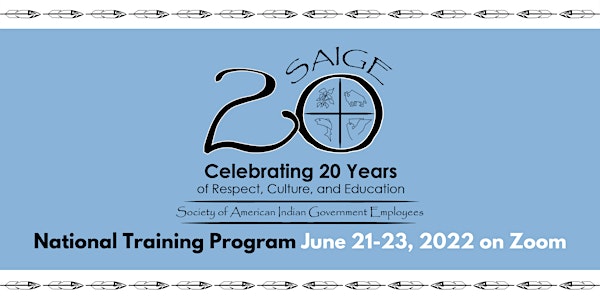 Youth Track - SAIGE 18th National Training Program
SAIGE's NTP is focused on professional development, leadership, and Federal Trust Responsibility.
About this event
Formed in 2002, SAIGE is the first national non-profit organization representing American Indian and Alaska Native Federal, Tribal, State, and local government employees. SAIGE hosts an outstanding Annual National Training Program, focused on professional development, leadership and topics related to the complex Federal Indian Trust Responsibility. Integral to this, SAIGE provides specialized training sessions for Veterans and Youth.
SAIGE offers registration to the Training Program at no cost for Native students from Tribal and mainstream colleges, universities, high schools, and middle schools.
SAIGE encourages Native American youth to realize their potential to become leaders in their communities and schools, continue their education by obtaining a college degree, and ultimately, seek a career in the government sector in one of the multitudes of civil service professions.
Federal agency and industry representatives attending the training program can meet students, participate as Exhibitors, and promote career opportunities within their respective agencies.