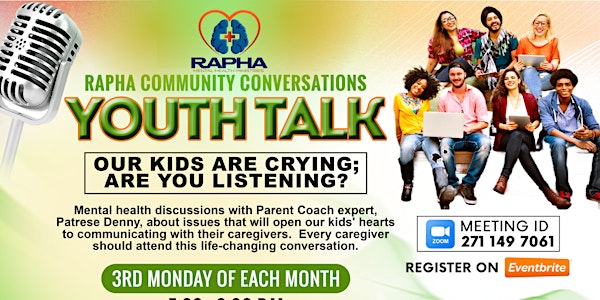 YOUTH TALK - Rapha Community Conversations
Your Children Are Crying; Are You Listening?
By Rapha Mental Health Ministries San Antonio
Date and time
Monday, June 19 · 5 - 6pm PDT
About this event
To Connect via Zoom: 2711497061
Parents will understand unhealthy vs. healthy communication, recognize the signs and symptoms of youth's negative communication, and establish skills for healthy communication.
This type of conversation is critical so please consider attending. Children and parents both encouraged to attend.
Guest speaker is the esteemed, Patrese Denny, Parent Coach.
_________________________________
What is "Parents and Children Connecting Together"?
Parents and Children Connecting Together, or PACCT's, vision is to impact the community by connecting parents, children, teachers, schools, and organizations. PACCT's mission is to work in these settings to help families succeed by giving them the skills and tools they need to build stronger family connections and community relationships.
Using non-violent communication techniques, positive parenting, the 40 developmental assets, and social emotional intelligence skills, PACCT increases youths' ability to succeed at home and in school and the parents ability to communicate with their children and their children's schools.
PACCT offers group coaching and classes to help parents understand child development and childhood behaviors, build child and parent connections by setting family values, develop parent school advocacy and involvement, and establish family and personal boundaries with children who suffer from behavioral, social-emotional, academic challenges and developmental disorders.
PACCT encourages children to succeed in academics, and to develop strong social emotional skills at home and at school. At PACCT, the aim is to strengthen the bond necessary for children to reach their full potential by mentoring and coaching the child's first and most important teacher, their parents.
Who developed Parents and Children Connecting Together?
Patrese Denny is the founder and CEO of Parents and Children Connecting Together. She has had the wonderful privilege of being a wife, a mother to 3 children, two children plus one bonus daughter, and grandmother of 3 grand-princesses.
She has a Masters in Elementary Education and Certifications in Mental Health Coaching, Professional Life Coaching and Parent Coaching. She also a facilitator for the Raising Highly Capable Kids program under Rezilient Kidz San Antonio.
It has been her honor to bring light and love to children and families for more than 30 years. She has worked in a variety of settings as a teacher for 20 years, owner and operator of Patrese's Play Center, as a coordinator of Family Life International Ministries' Destiny Kidz Camp, as well as other child care agencies both nationally and internationally.
Her desire is to continue to make an impact on her family, as well as other families, so that children and their parents have a connection that positively shapes generations now and in the future.
What does PACCT do?
Tutoring in Academics - tutoring for students in Kinder - 5th grade. Students will develop test taking skills, set academic goals, and improve grade level performance in Math and Reading/Language Arts.
Mentoring Children in Social Emotional Development- building character values with children to help with self regulation skills, behavior management, setting goals and establishing relationship boundaries.
Parent/School/Community Consulting- teacher, parent, and community talks and training within schools, youth groups, community centers and organizations on topics such as:
Coping With Children and Trauma
Creating a School/Work Space for Academic Success
Communicating with your Child's School and Teacher
Establishing and Maintaining Family Boundaries
Setting Boundaries in the Childcare Setting Part I- Children
Setting Boundaries in the Childcare Setting Part II- Adult Safety
Understanding My Parenting Style: Learning Positive Parenting
Parent Coaching- One on one parent and or co-parent coaching to understand child development and childhood behaviors, build child and parent connections, and establish family boundaries. My coaching sessions are broken into 3 parts with 4 sessions in each part.
Part I- Understanding My Child and Creating the Presence of an Connected Parent
Part II- Making Connections with Myself and My Children and Our Beliefs
Part III- Establishing Family Boundaries Through Connection
Family Advocacy- Working with parents and families to understand the school environment, the rights and responsibilities that parents have with children, and understanding how to advocate for my child in the educational community.
Rezilient Kidz Training - Raising Highly Capable Kids is a parenting program that has brought together communities and families to help kids develop resilience . It uses the 40 Developmental Assets that are evidence-based building blocks of development, identified by the Search Institute® (www.search-institute.org), that help young people grow up healthy, caring, and responsible.
Parents particularly see the value of promoting commitment to learning while enrolled in the program. Under the umbrella of Family Life International Ministries Faith and Family Wellness program and the Rezilient Kidz program, PACCT has the honor of partnering with community agencies to facilitate this training with families in San Antonio and its surrounding areas.
How to Connect with PACCT?
Please feel free to contact me any of the ways provided and check out my monthly blog for parenting insights, tips, and thoughtful engagement.
pacctimpact@gmail.com
https://parents-and-children-connecting.business.site/
IG @pacctimpact
FB @Parents and Children Connecting Together PACCT
210-601-4218