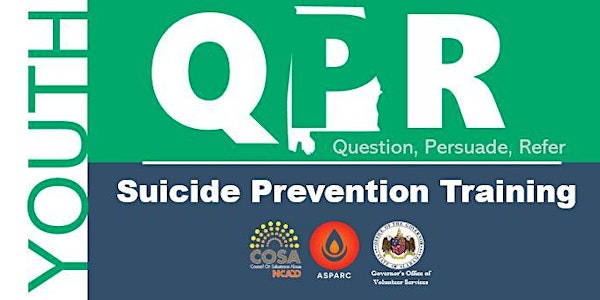 Youth Suicide Prevention QPR Gatekeeper Training
Learn to QUESTION, PERSUADE, and REFER a young person who is experiencing suicidality by offering hope through positive action.
About this event
Suicide is the 3RD leading CAUSE of DEATH among US people ages 10-25!! (CDC)
Question. Persuade. Refer.
Just as CPR prepares you for stepping in to assist with a cardiac emergency, QPR will give you the skills and knowledge to intervene to possibly prevent suicide.
In addition to the standard QPR curriculum, this 2-hour course blends elements from the QPR for Youth to provide Adults with guidance for assisting Youth.
ANY HUMAN BEING from ANYWHERE is welcome to attend this training.
We will address information specific to Alabama and Southeastern US culture, and national and worldwide statistics.
The process follows three steps:
Question the individual's desire or intent regarding suicide.
Persuade the person to seek and accept help.
Refer the person to appropriate resources.
Trainees receive QPR materials and resources that include Alabama State and National referrals.
KEY COMPONENTS COVERED IN TRAINING:
How to Question, Persuade, and Refer someone who may be suicidal. Learn how to get help for yourself or more about preventing suicide.
The common causes of suicidal behavior.
The warning signs of suicide.
How to get help for someone in crisis.
No COST CEU/CE!
Up to 2.0 CEU will be provided to Alabama Social Workers,* Alabama Nurses,** Alabama EMS, and Nationally Certified Counselors as well as contact hours (up to 2.0) for other attendees after participating in the webinar at least 80% and completing the post-survey.
After registering to attend on Eventbrite you will be asked to pre-register on Zoom. PLEASE PRE-REGISTER ASAP because...
ONLY THE FIRST 100 ZOOM ATTENDEES WILL BE ADMITTED.
Please join us early using the DIRECT LINK sent to you after pre-registering through Zoom INSTEAD of joining through Eventbrite!
Watch this video about one of our presenters- Cheryl Dodson: https://vimeo.com/554355219
QUESTIONS?
Contact Jen Bafford, COSA's Project Insight Alabama, Program Director, JBafford@cosancadd.org
-----------------------
---------------------------
Costs of this program including CEU/CE issuance covered by funds through SAMHSA's Mental Health Awareness Training (MHAT) grant, Project Insight Alabama, and through a partnership with the Alabama Suicide Prevention and Resources Coalition (ASPARC).
-----------------------
If you believe you or someone in your life may be suicidal, please call the National Suicide Prevention Lifeline dial or TEXT 9-8-8 from any phone to speak to a person trained in crisis. (Option 2 for Veterans.) The Lifeline is confidential, free, and available 24/7 across the United States.