Description
YOUTH AND TEENS! JOIN US FOR A BACK TO SCHOOL STAGE PRESENTATION OF ANOTHER CHANCE - A FAITH-BASED AND FUN-FILLED PLAY ON A FRIENDSHIP TESTED BY A BULLY - SATURDAY, SEPTEMBER 14TH - 12PM AT TRUTH CENTER - 2 FRANKLIN AVE - PORT WASHINGTON, NY 11050
LET'S TALK BULLYING PREVENTION & HEALTHY FRIENDSHIPS AFTER THE PLAY. COME ON OUT! ADMISSION IS FREE! REFRESHMENTS WILL BE SERVED. WE LOOK FORWARD TO YOU BEING OUR SPECIAL GUEST! SEE YOU THERE!!
CLICK HERE FOR OUR PROMO VIDEO - https://bit.ly/31Kre1U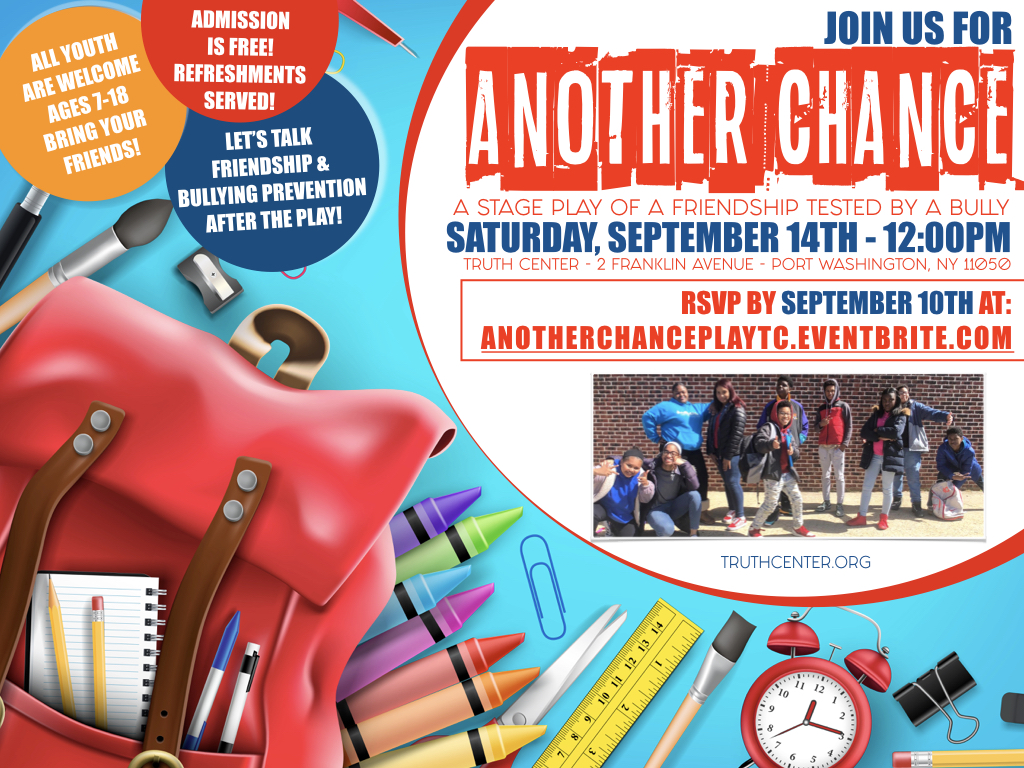 FAQs
What are my parking options? Free street parking is available as well as parking in the Port Washington LIRR Train Station Parking Lot across the street.
#ANOTHERCHANCE #YOUTH #FAITHBASED #CHRISTIANYOUTH #FAITHPLAY #NYTEEN #NYYOUTH #CHILDREN #THEATER #LONGISLAND #LONGISLANDYOUTH #PORTWASHINGTON #CHURCH #YOUTHGROUP #YOUTHORG