Description
We are sold out, but we encourage you all to still come through to the event or sign up for the waitlist.
Unclaimed and waitlist tickets will be released on a first come first serve basis at 6:45pm the day of the event. When you arrive at the theater, please proceed to the waitlist line and wait there until tickets are released.
Queeriosity is one of the longest-running programs at Youth Speaks. This LGBTQIA+ event explores personal and historical narratives that (re)frame perceptions of language, sexuality & gender.
The showcase on Saturday, June 8th features an intergenerational lineup of artists who were chosen based on their participation in weekly workshops - exploring writing prompts, performance techniques, and creating the dopest space imaginable.
This is a place for a diverse population of queer youth and aligned community to come together and declare themselves present and unafraid. Queeriosity is intended to be a space where your authentic self is not only welcomed- it's celebrated.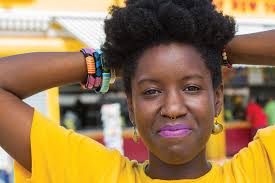 ✨Featured Poet: ANGEL NAFIS is the author of BlackGirl Mansion (Red Beard Press, 2012). She earned her BA at Hunter College and her MFA in poetry at Warren Wilson College. Her work has appeared in BuzzFeed Reader, them, Poetry Magazine, The BreakBeat Poets anthologies series and elsewhere.
**Please Note: Tickets for Queeriosity are first come -first serve. Pre-Register to save a seat! Tickets will also be available at the door starting at 6:45 pm. Reserved tickets will be officially released at this time as well. Brava Theater is wheelchair accessible, and have limited accessible seating.