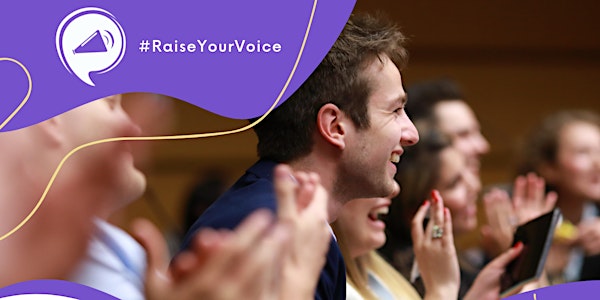 Youth Speak Forum 2022 | Vienna
Youth Speak Forum powered by AIESEC is an event that empowers young people to understand how they can contribute to the SDGs.
When and where
Location
MuseumsQuartier 1 Museumsplatz 1070 Wien Austria
About this event
The time has finally come! Are you ready to have a full day of inspiring power talks held by exceptional speakers?
YouthSpeak Forum is a premiere event that brings together both young and senior leaders to form a diverse cross-sector and multi-generational space for inspiring conversations around pressing global issues. The forum aims to create an environment where people from diverse backgrounds can cross-pollinate ideas, share insights and gain new perspectives to create actionable outcomes to push the world forward.
This years Youth Speak Forum focusses on Sustainable Responsibility with Speakers from both private and public sector, we are aiming to increase awarness and understanding on the topic.
Our speakers include: Ernest and Young, Bank Austria, Wien Energie, WWF and more!
AIESEC is the global youth led organisation that strives to achieve peace and fulfilment of humankind's potential. The organisation looks to build value based leadership in youth through practical learning in challenging environments. Together with likeminded organisations and companies, AIESEC provides opportunities that seek to enhance cross cultural understanding.
About the speakers
Companies will collaborate this year with us in order to make the event accessible and enjoyable for everyone! NGOs will provide workshops in order for our delegates to gain skills in the areas they cover as organizations.
These include: WWF, Ernst and Young, Bank Austria, SAP, Wien Energie and more!
Why is Youth Speak Forum relevant for you?
As a young person in this fast-developing world, it is crucial to be aware of all the important things happening around you. Youth Speak Forum is a great initiative for you to take a step in the right direction and act towards the change you want to see in the world. Learn more about the Sustainable Development Goals, how you can contribute to their achievement, or just let yourself get inspired by all the stories we have prepared for you!
Are you ready to speak up and become part of the movement with us?
Join us and #RaiseYourVoice.
https://go.aiesec.at/YSF2022
Please note in order to keep everyone safe and healthy, the event is 2,5G (fully vaccinated or recovered or tested (PCR tested) also please have your mask on you (FFP2) :)
The event will be streamed on our social media, follow us on @aiesecinaustria on our Facebook, linked in and instagram page.