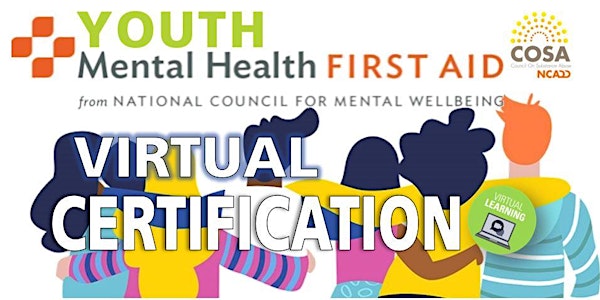 Youth Mental Health First Aid Certification Virtual 12/29 (Alabamians)
Sometimes first aid isn't a bandage, CPR, or calling 911. Sometimes, first aid is YOU! (For ADULTS who work with YOUTH)
Refund Policy
Refunds up to 7 days before event
About this event
Youth Mental Health First Aid teaches you how to identify, understand and respond to signs of mental illness and substance use disorders in youth.
First Aiders will complete a 2-hour, self-paced online class, THEN participate in a live Instructor-led course via Zoom.
Why Youth Mental Health First Aid?
This training gives adults who work with youth the skills they need to reach out and provide initial support to children and adolescents (ages 6-18) who may be developing a mental health or substance use problem and help connect them to the appropriate care.
Common signs and symptoms of mental illness and substance use.
Depression, anxiety, and psychosis.
How to interact with a person in crisis.
How to connect the person with help.
How to apply the 5-step action plan in a variety of situations.
Updated content on trauma, addiction, and self-care.
Who Should Take it?
Youth Mental Health First Aid is primarily designed for adults (ages 18 or older) who regularly interact with young people (ages 6-18).
Educators
School staff
Coaches
Faith Leaders
Camp counselors
Youth group leaders
Parents
People who work with youth
Hospital staff (CEUs for Alabama Nurses)
Social Workers (CEUs for Alabama Social Workers)
Juvenile Probation Officers (CEUs for Alabama JPOs)
Space is limited
3-year certification
*CEUs
(CEUs (4.5-6.5) Awarded to Alabama Social Workers, and Alabama Nurses, Alabama Juvenile Probation Officers (6.5) or contact hours (4.5-6.5) for others after successfully completing the course.
After registering, you will receive:
Invitation to join Jen Bafford's group in MHFA Connect. YOU MUST ACCEPT THIS INVITATION to access the rest of the course.
Access to the required 2-hour self-study course from MHFA which must be completed BEFORE the virtual instructor-led session.
The Zoom link for the instructor-led session, which will be sent to you separately. Received AFTER you complete your online self-paced course.
Printed materials mailed to the shipping address (if) provided.
PLEASE READ:
Cancelations CANNOT BE REFUNDED less than 5 days before the event, this includes being dropped from the course due to incomplete pre-course work.
Note: You may be able to reschedule for another date the class is offered by COSA. In this event, all pre-work completed is not saved and will have to be redone prior to the new course date.
Questions or to schedule a group training?
Contact Jen Bafford, Program Director, JBafford@cosancadd.org