| | |
| --- | --- |
| Youth Media Lounge @ SXSW | |
Event Details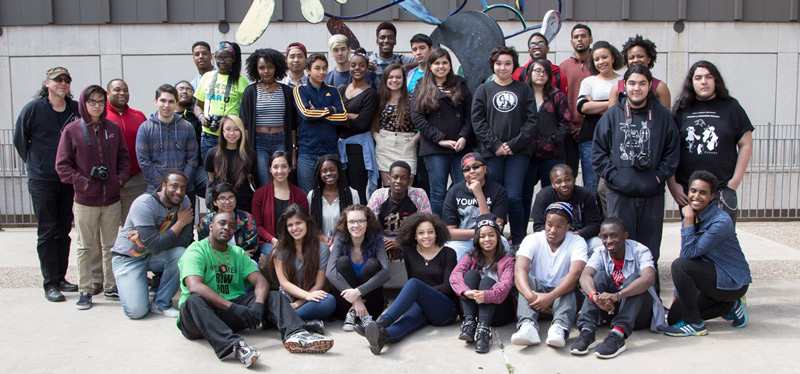 Youth Media Lounge at SXSW Interactive
March 14 & 15, 2015 9am - 5pm @ Dub Academy (906 E 5th St)
Youth Media Lounge is a youth run media and web content creation hub at SXSW. Hosted at Dub Academy, an electronic arts school, students will spend SXSW Interactive weekend publishing blogs, videos, podcasts and social media feeds that feature creative and tech leaders. 

The lounge is FREE and open to high school age students, teachers, parents and community members by RSVP.

Austin area youth (ages 15 19) have been selected to complete six weeks of intensive soft skills and content creation training activities, culminating in their attendance at the conference. See their work at www.ympaustin.com,
 
About Youth Media Project
With such emphasis on standardized test scores, underserved youth, particularly those of color, are often not given opportunities to fully explore their creativity within our schools. This is despite evidence that shows students exposed to the arts get better grades, are more likely to graduate from college and get better jobs. Creative arts related projects encourage deeper engagement for youth allowing them to employ higher level thinking skills, collaborate and gain the confidence that comes with success.

South By Southwest (SXSW), which is one of the world's largest interactive, film and music festivals, is a great opportunity for underserved youth to gain exposure to top creative professionals and inspire them to become tomorrow's leaders. However, at a cost of nearly $1500, access to the festival is well out of reach for these students.

Youth Media Project, a joint venture between E4 Youth and Black Media Council , takes students through a challenging series of day long workshops and mentor reviewed creative assignments in order to earn access to the festival. Students showcase their talent through blogs, videos and social
media coverage of SXSW panels and events.
Have questions about Youth Media Lounge @ SXSW?
Contact E4
When & Where

Dub Academy
905 E 6th St
Austin, TX


Youth Media Lounge @ SXSW