Description
Come learn practical activism skills!
How do you get your voice heard? How do you get involved in grassroots organizing? Come learn how!
Everyone is invited but we particularly encourage students of color, LGBTQI+, low-income, undocumented, and other marginalized students to come!
For those who are 14-19 years old. See FAQ below for exceptions and details.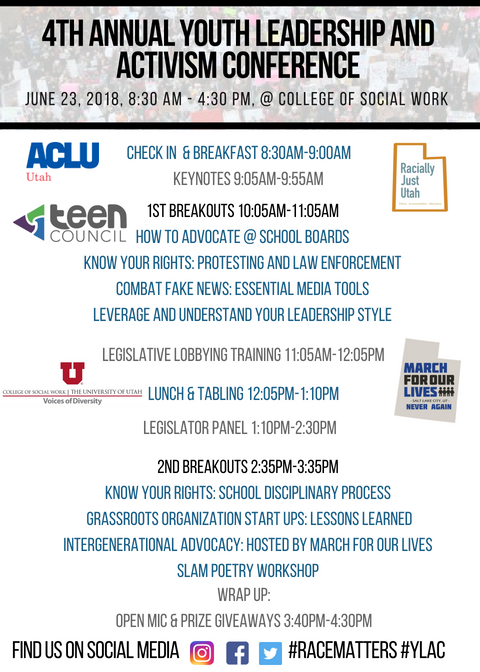 FAQs
Are there age requirements to enter the event?
Yes, this space is built to be focused on youth voices. Participants must be 14-19 years old. Exceptions for chaperones of formal program (for example, Boys and Girls Club) or guardian/caretaker ONLY for someone with differing abilities and is in need of assistance.
What's the deal with ticket prices?
We are still fundraising to cover costs of this event. If you can afford it we would really appreciate you paying the full/true cost, half-rate, or any other level of donation. You can also send us a check-contact us for address-or you can bring exact cash the day of the event.
However, please go ahead and grab a free ticket if that's what you can afford. You don't need to contact us about taking a free ticket.
What are my transportation/parking options for getting to and from the event?
You can access the College of Social Work through Trax, buses may be affected by construction, parking is free on Saturdays-just avoid reserved parking spots. There is parking directly behind the College, across the street, and directly next to the Marriot library.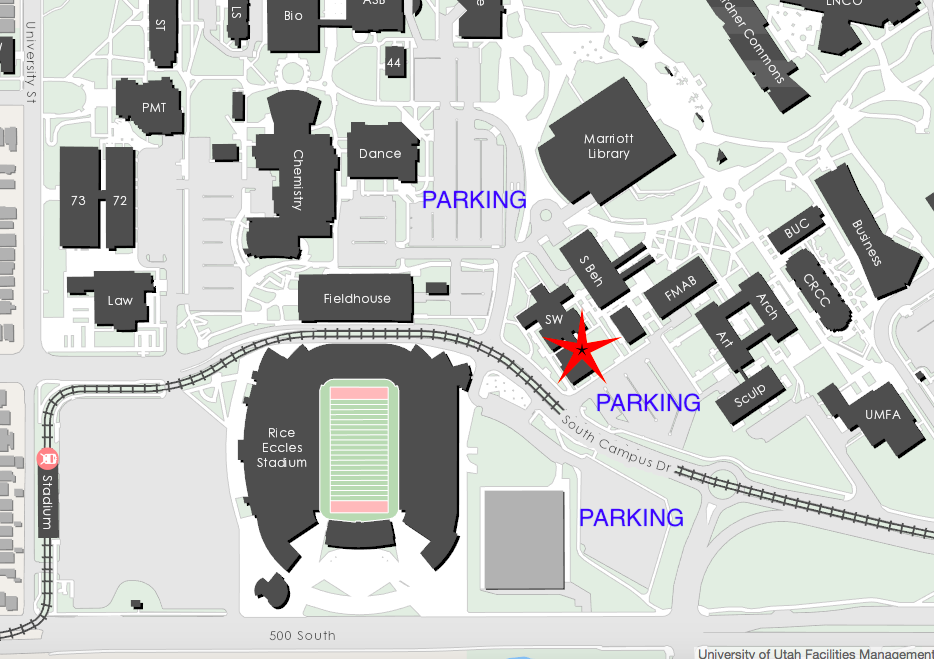 What's the refund policy?
Attendees can request refunds up to 30 days before the event's start date.
Food Restrictions
We are currently preparing to be able to accommodate omnivores, vegetarians, and gluten free diets. Please, check back closer to the event regarding accommodating vegans. If you have a very particular diet please contact us about bringing your own lunch and how we can accomodate you.
UPDATE*
Lunch will be catered from Costa Vida. We've been told that beans, salad, salsa, guac, and vinaigrette are vegan.
What is the photo release for and where can I find it?
The photo release is for 1) a photo booth occuring at the event 2) for us to have permission to share photos of participants on social media. You can access a form that can be downloaded and brought to the event or fill out an electronic version. People 17 or under will need a legal guardian's permission.
Thank you to our sponsors!
Racially Just Utah
ACLU of Utah
Voices of Diversity- College of Social Work
March for Our Lives-SLC
Teen Council
ACCEPTING SPONSORSHIPS NOW:
Email info@raciallyjustutah.org with sponsorship inquiries.
You can also donate here