Youth Internet Governance Forum Barbados 2019 (YIGF BB)
Description
EVENT: The 2nd annual Youth Internet Governance Forum Barbados (YIGF BB)
THEME: Smart Youth for a Smart Barbados.
COST: Free, registration required.
AGENDA: http://bit.ly/onYIGF2k9
DATE/TIME: Friday, March 22nd, from 9:00 AM to 3:00 PM

VENUE: The Walcott Warner Theatre of the Errol Barrow Centre for Creative Imagination (EBCCI), UWI Cave Hill Campus, Cave Hill, St. Michael.

The forum is free of charge to attendees and complimentary refreshments are provided.
---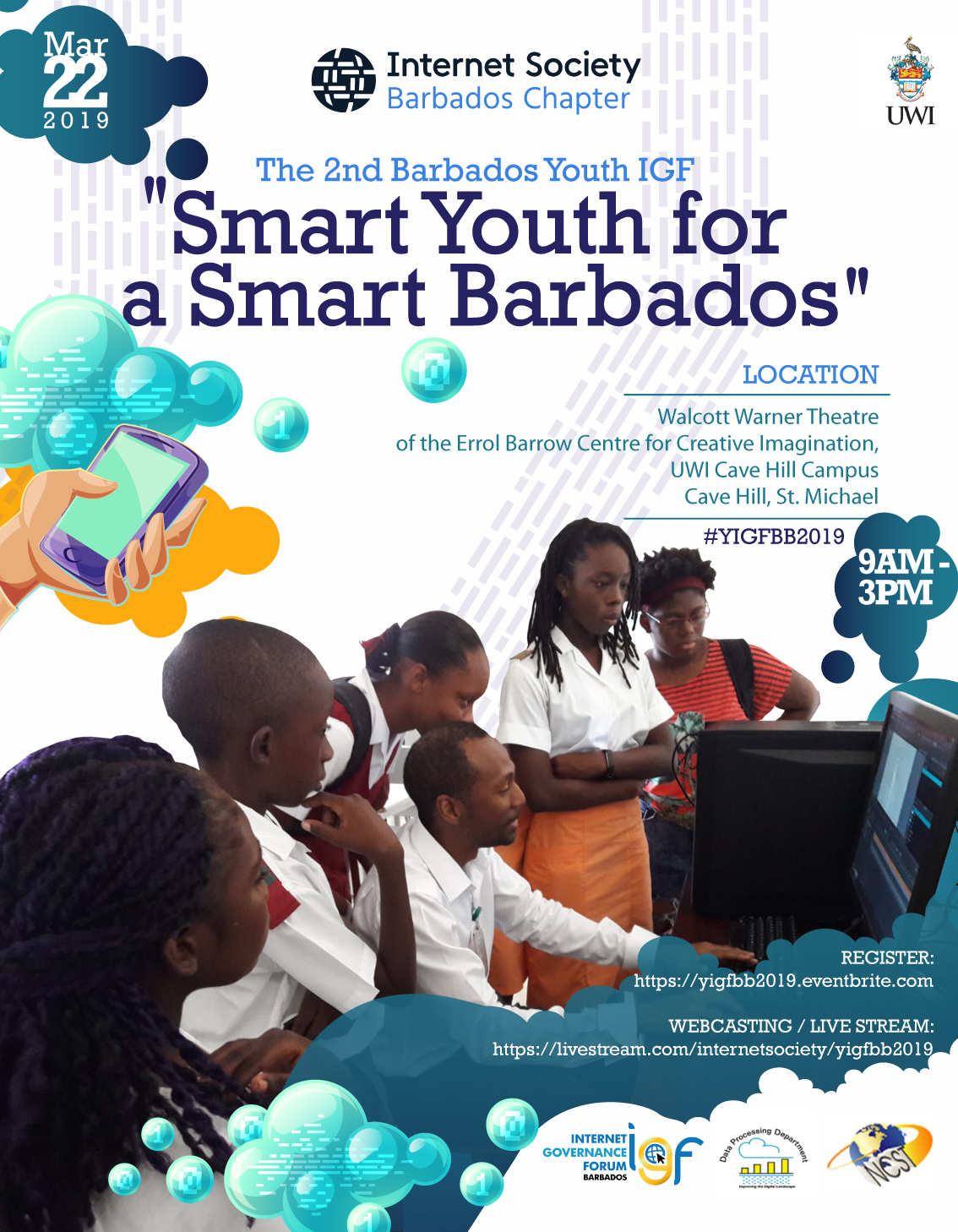 ---
ABOUT
It is a condensed version of the full Internet Governance Forum (IGF) Barbados (http://igf.bb), designed particularly for the youth, especially, ages 16 – 25 years old.
Anyone may register and attend, as long as there are available tickets.

It is designed to introduce the attendees to the concept of Internet Governance (IG), discuss issues and solicit opinions on the Internet, emerging technologies and the 4th industrial revolution, and how these issues affect them.
There will be game type activities, giveaways plus Internet access, Internet live streaming and remote participation.
AGENDA Summary
Generation Z and the Internet
An introduction to Internet Governance (IG)
Digital and media literacy and why it is necessary
Preparing for the jobs of tomorrow
A brainstorming session around their vision for Barbados' future.
---
SEE MORE
For more from the Internet Society Barbados Chapter (ISOC BB) follow us on:
CONTACT US
EMAIL: YouthIGFBB@gmail.com
PARTNERS
Event's Short URL Summary
NOTE: These hyperlinks are case sensitive.