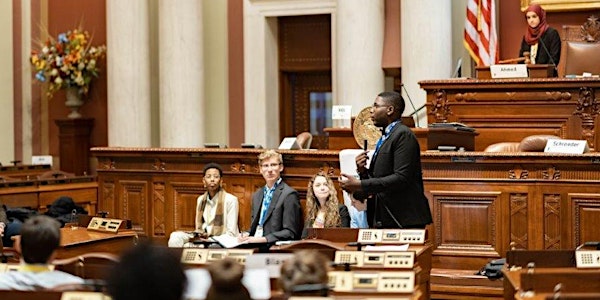 Youth in Government Emerging Leaders VIP Tour and Reception
Join your fellow legislators for an exclusive tour of Youth in Government, followed by a reception with YIG participants and MGRC members.
When and where
Location
Minnesota Senate Bldg 95 University Avenue West Room 1200 Saint Paul, MN 55103
About this event
Seeing is believing at Youth in Government. Join us at the beautiful Minnesota State Capitol complex to see more than 1,200 young people serving as legislators, judges, attorneys, journalists, lobbyists, and cabinet members. Engaging with the important issues facing the state, nation, and world. Learning how government works in order to advocate for change that matters to them, their communities, and the state.
The tour will run approximately 60 minutes and will begin in Minnesota Senate Building Room 1200. Following the tour, please join YIG student participants, fellow legislators, and Minnesota Government Relations Council members for a private reception in the Rathskeller Cafe at the Minnesota State Capitol. Food will be provided and a cash bar will be available.
This exclusive tour and reception are sponsored by the YMCA Center for Youth Voice and the Minnesota Government Relations Council.
For any questions about this event, please contact Amy Anderson at amy.anderson@ymcamn.org or 612-330-3045.
* If you're unable to attend this special tour, we have two additional opportunities to see see YIG in action on Friday, January 6 at 3:30 p.m. or Saturday, January 7 at 1 p.m. Click the following link to RSVP for one of those days: https://bit.ly/3Ohnn62