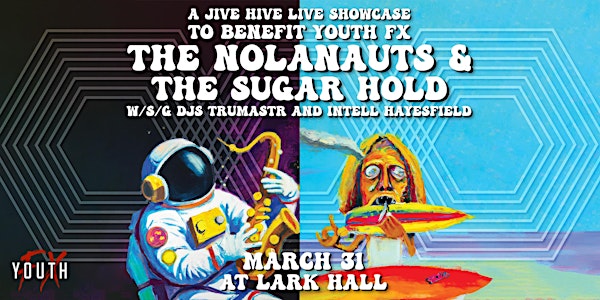 Youth FX Benefit Concert featuring The Nolanauts, The Sugar Hold and Guests
Benefit concert for Youth FX featuring The Nolanauts, The Sugar Hold, DJ Trumastr & Intell Haysfield. Doors 7pm; Show 8pm.
Date and time
Starts on Friday, March 31 · 8pm EDT
Location
Lark Hall 351 Hudson Avenue Albany, NY 12210
About this event
Join us on March 31, 2023 for a concert to benefit Youth FX featuring local acts The NolaNauts, The Sugar Hold, Dj Trumastr and Intell Haysfield. Youth FX is designed to empower young people ages 10-24 by teaching them the technical and creative aspects of digital filmmaking and media production. Based in the City of Albany, NY, our primary mission is to work with diverse groups of youth from communities that have been historically under-served and in need of opportunities to learn filmmaking and acquire skills in emerging media technologies. Youth FX hands-on programming develops leadership skills, creativity, and critical thinking, through the collaborative and artistic process of making films, amplifying the voices of young people in the capital region of New York and around the world. 75% of total donations collected will go to Youth FX and will be matched by a Corporate donor. The donations received will be used by Youth FX to fund their music production and film scoring workshops
The NoLaNauts reflect years of living, visiting, immersing and loving New Orleans, its people and their rich culture. New Orleans is the most interesting city in the United States and it lives by its own rules and traditions Mardi Gras, Jazz Fest, Red Beans, Tipitina's, PoBoys Preservation Hall, Crawfish and festivals that celebrate every aspect of being alive and being in the Crescent City.
TheNoLaNauts are the dream of Tom O'Connor and Brian Lawlor who have faithfully participated in every available New Orleans experience including decades of nearly religious attendance at New Orleans' Jazz and Heritage Festival. Tom and Brian have played music together for over 30 years and seized the opportunity to assemble some of the finest musicians in the area to bring a taste of the New Orleans music scene to life in the Northeast.
These musicians have worked tirelessly to respectfully capture the joy and depth of the music of New Orleans including the Meters, Allen Toussaint, Dr.John, Neville Brothers, Trombone Shorty and Orleans Avenue,Subdudes, Little Feat, The Iguanas and many more artists who honor the spirit of New Orleans and its people.
SURGEON GENERAL'S WARNING:
Hanging out with the NoLaNauts can be mildly infectious. Symptoms include: Loss of inhibition, careless displays of groove induced happiness, feverish outbreaks of funky fires and decadent desires. Fortunately....for all of our sisters and brothers.... there is no known antidote for this condition!
So put on your dancing shoes and load up on the beads
"The world can be dark and depressing. We're just here to forget about that and party," says Mikey Baish of The Sugar Hold. And, that's exactly what the band sets out to do – and does it well – every time they perform (Lucas Garrett, Nippertown, 2022). Hailing from Albany, The Sugar Hold consists of Mikey Baish on guitar and vocals, Dan Clark on lead guitar, Matt Malone on bass and vocals, and John Olander on drums. A band labeled as "surf-punk," they weave creative influences from bands such as The Pixies, and the Beach Boys, with classic sounds from artists such as Chuck Berry and Buddy Holly. Regrettably, founding member, Judson Rudgers' life came to an unfortunate end in 2021. Nevertheless, with new songs being written, and with an ever-forward outlook on life, the remaining members are continuing to promote the good times and feelings that make their music so enjoyable. The party's just beginning.