Youth for Human Rights of So Cal, Human Rights Educator Training Seminar

Saturday, December 3, 2016 from 9:30 AM to 4:00 PM (PST)
Event Details
 Youth for Human Rights of Southern California
Educator Training Seminar
Gain familiarity on the education materials -- the key points to stress, how to engage students and parents. Practice delivering human rights education lectures correctly.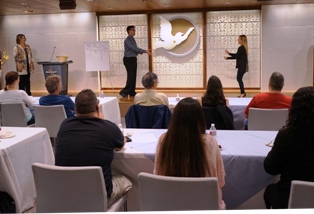 Attendants become certified as a Youth for Human Rights Education Specialist.  All attendees will receive their own Educator Kit including The Story of Human Rights DVD, 30 Rights, 30 Ads, Educator's Guide, What are Human Rights booklets, Do You Know Your Human Rights? Posters, United music video. Everything you need to start delivering.
Date:              Saturday, 3 Dec 2016
Time:              10:00 AM to 4:00 PM (sign-in by 9:30 AM)
Location:        4810 W Sunset Blvd, LA, CA 90027
                      Downstairs Auditorium, Church of Scientology of Los Angeles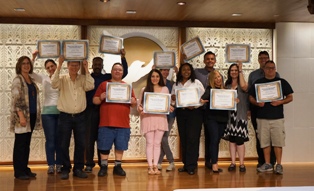 Cost for event and materials is free. Lunch is provided. Parking is free at location. Class size is limited to 25.
For questions contact Andromeda Edison -- president@yhrsocal.org or 818-572-7178
When & Where

Downstairs Auditorium at Church of Scientology of Los Angeles
4810 Sunset Blvd
Los Angeles, CA 90027


Saturday, December 3, 2016 from 9:30 AM to 4:00 PM (PST)
Add to my calendar
Organizer
Sister organizations, United for Human Rights (UHR) and Youth for Human Rights International (YHRI) are international, not-for-profit organizations dedicated to implementing the Universal Declaration of Human Rights at local, regional, national and international levels.
Their memberships are comprised of individuals, educators and groups throughout the world who are actively forwarding the knowledge and protection of human rights by and for all Mankind.
More information about the Southern California Chapters of United and Youth for Human Rights or to donate or volunteer please email President@YHRSoCal.org.
YOUTH FOR HUMAN RIGHTS INTERNATIONAL
Youth for Human Rights International was founded in 2001 by Dr. Mary Shuttleworth, an educator born and raised in apartheid South Africa, where she witnessed firsthand the lack of basic human rights.
The purpose of YHRI is to teach youth about human rights, specifically the United Nations Universal Declaration of Human Rights, and inspire them to become advocates for tolerance and peace. YHRI has now grown into a global movement, including hundreds of groups, clubs and chapters around the world.
Our materials include the UNITED music video—a street-savvy, multiethnic, anti-bullying message that has captured the imagination of people around the world. Our 30 short public service message videos depict the 30 Articles of the United Nations Universal Declaration of Human Rights. Click to watch >>
For more information about Youth for Human Rights International click here. >>
UHR's purpose is to provide human rights educational resources and activities that inform, assist and unite individuals, educators, organizations and governmental bodies in the dissemination and adoption of the Universal Declaration of Human Rights. The Declaration contains the thirty rights that together form the basis of a civilization wherein all people can enjoy the freedoms to which they are entitled, and nations can coexist in peace.
United for Human Rights was founded on the Declaration's 60th anniversary, in the face of continued worldwide abuses which violate the spirit, intent and Articles of this charter of all human rights,
For more information about United for Human Rights click here. >>