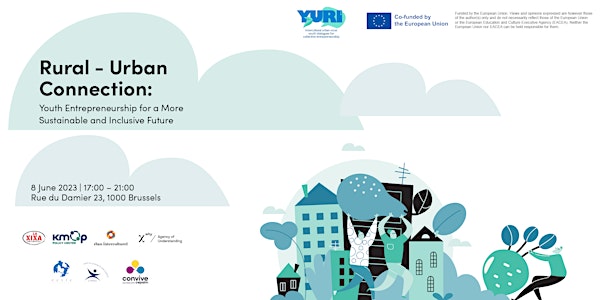 Youth Entrepreneurship for a More Sustainable and Inclusive Future
Rural - Urban Connection: Youth Entrepreneurship for a More Sustainable and Inclusive Future
Date and time
Thursday, June 8 · 5 - 9pm CEST
Location
Sleep Well 23 Rue du Damier 1000 Bruxelles Belgium
About this event
KMOP Policy Center invites you to attend the conference "Rural - Urban Connection: Youth Entrepreneurship for a More Sustainable and Inclusive Future", which will take place on June 8, 2023, from 17.00 to 21.00, at Rue du Damier 23, 1000 Brussels.
This closing event of the Erasmus+ project "YURI: Intercultural urban-rural youth dialogues for collective entrepreneurship" will bring together experts, professionals, and representatives from the EU and various youth organisations to share ideas, discuss innovations, and explore the benefits of intercultural dialogue and collaboration in promoting youth entrepreneurship. Through interactive workshops and panel discussions, participants will exchange ideas and strategies, build relationships across cultural and geographic boundaries, and explore innovative approaches to entrepreneurship that prioritise inclusivity and sustainability.
*Attendance is free of charge. Pre-registration is required.
During the event we will be hosting a lottery, giving one lucky participant the chance to win a 500 euros voucher! 🎉The purpose of this lottery is to provide support for the winner's career and personal development.
Join us to:
Deepen the ideas of collective, green and social entrepreneurship
Discuss entrepreneurial skills development opportunities and activities across Europe
Share best practices and relevant projects in youth entrepreneurship
Explore the benefits of Theatre of the Oppressed and other creative methods in fostering youth entrepreneurshi
During the event, we will also present the "Ruralurban youth handbook for collective and green entrepreneurship", targeted to young people, youth workers, organisations and policy makers working in the field of youth, sustainability, environment, social economy and climate.
📢 KMOP is actively seeking young ambassadors to advance youth entrepreneurship activities, as a part of its commitment to fostering inclusivity, dialogue, and diversity. For more information, contact us at yuri-project@kmop.org!