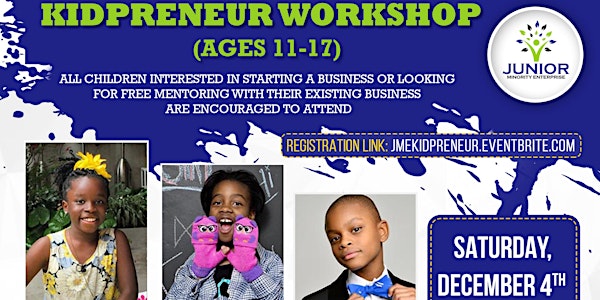 Youth Entrepreneur Workshop: (Ages 11-17)
Event Information
Location
640 North Avenue NW
640 North Avenue Northwest
Atlanta, GA 30318
This event is for students (ages 11-17) interested in starting a business or looking for free mentoring advice for their current business.
About this event
When: Saturday, December 4th 10 am -12 pm
Where: 640 North Avenue NW Suite 200, Atlanta, Ga 30318
What: The Junior Minority Enterprise is an organization that educates underserved youth in the areas of Entrepreneurship, Technology, and Leadership. The Junior Minority Enterprise team consist of 3 professionals with over 10 years of experience in the areas of Technology and Accounting.
Join us in our youth entrepreneur workshop where we will be providing free mentoring services to youth ages 11-17. Whether you are a student who is looking to start a business or you have a current business , we are here to accommodate you throughout your entrepreneurial journey.
During our workshop, we will educate students on how to write a successful business plan, establish a competitive advantage, and low cost strategies to market your business online. We will also have youth entrepreneurs share their experiences with you. The event is free to attend!
Items to Bring:
-Laptop (optional), pens, pencil, paper
Registration:
You can register for the event at: jmekidpreneur.eventbrite.com
Costs and Donations:
The event is free to attend but we do accept donations. Donations will go towards scholarships and laptops for underserved youth.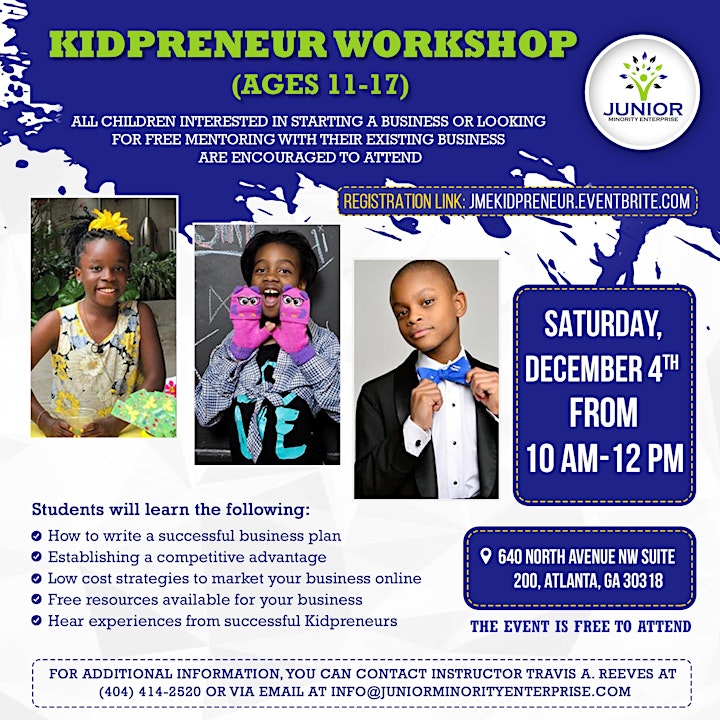 Date and time
Location
640 North Avenue NW
640 North Avenue Northwest
Atlanta, GA 30318