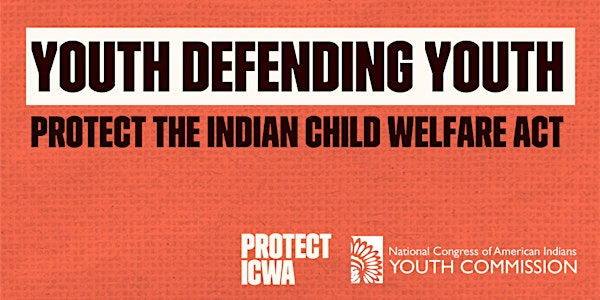 Youth Defending Youth: Protect the Indian Child Welfare Act
Join us for a virtual rally in support of the Indian Child Welfare Act (ICWA)! Zoom link will be shared with registered participants.
About this event
For over 40 years, the Indian Child Welfare Act (ICWA) has protected American Indian and Alaska Native kids by keeping them in the care of extended family or tribes whenever possible. On November 9, a small group of opponents in Haaland v. Brackeen will argue in front of the Supreme Court that those protections should be taken away. If opponents succeed in dismantling ICWA, they will have also cleared the way for a larger attack on Native families, Native land, and tribal sovereignty.
The National Congress of American Indians (NCAI) Youth Commission is hosting a virtual rally in conjunction with Protect ICWA organizers on October 12, 2022 from 4:00-5:00 pm PT to raise awareness about the upcoming Supreme Court hearing that threatens to overturn ICWA and the protections it provides Native children.
NCAI is the oldest, largest, and most representative American Indian and Alaska Native organization representing the broad concerns of Tribal Nations. The NCAI Youth Commission is a space for tribal youth to come together and discuss, develop, and advocate for solutions to the unique challenges we face within our communities. As Native youth, we understand that ICWA is absolutely essential to protecting Native youth, preserving our communities, and affirming tribal sovereignty.