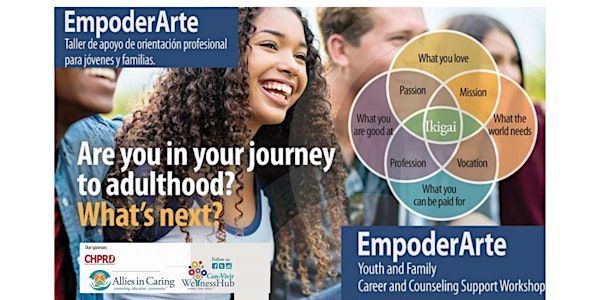 Youth Career Exploration Workshop/ Taller de Orientación Profesional
Are you on your journey to adulthood? Find direction and supports for you on your way in this eight-week workshop!
When and where
Location
100 S 2nd St 100 South 2nd Street Hammonton, NJ 08037
About this event
Join our new youth and family career and counseling support workshop, EmpoderArte!
EmpoderArte is about empowering youth to develop skills to navigate the future. Here they will discover their talents, interests, and growth areas to meet the challenges of the future.
Participating youth will learn about the opportunities that might be available, how to handle stress, and develop skills necessary for getting a job and being successful at school. Other skills they will focus on include communication, stress management, teamwork, and conflict resolution as well as learning how to organize and plan their time, set goals, manage budget to meet their needs, how to conduct themselves in an interview, how to complete a resume or job application, work ethics and how to live independently in the community. Youth will also be linked to volunteer opportunities to experience and explore what is a good fit for them.
These topics and instructions through EmpoderArte will increase their chances of getting accepted to a college or learning leadership skills and entrepreneurial skills for those who want to start their own business.
This program is for youth ages 14-21. Classes will take place from 5 to 7:30 pm every Friday, at Con-Vivir Wellness Hub, 100 S Second St, Hammonton, NJ. For questions or more information, please contact convivir@alliesincaring.org or call (609) 351-1188
---
EmpoderArte se trata de empoderar a los jóvenes para que desarrollen habilidades para navegar el futuro. Aquí descubrirán sus talentos, intereses y áreas de crecimiento para afrontar los retos del futuro.
Los jóvenes participantes aprenderán sobre las oportunidades que podrían estar disponibles, cómo manejar el estrés y desarrollar las habilidades necesarias para conseguir un trabajo y tener éxito en la escuela. Otras habilidades en las que se centrarán incluyen la comunicación, el manejo del estrés, el trabajo en equipo y la resolución de conflictos, así como aprender a organizar y planificar su tiempo, establecer metas, administrar el presupuesto para satisfacer sus necesidades, cómo comportarse en una entrevista, cómo completar un currículum o solicitud de empleo, ética laboral y cómo vivir de forma independiente en la comunidad. Los jóvenes también estarán vinculados a oportunidades de voluntariado para experimentar y explorar lo que es adecuado para ellos.
Estos temas e instrucciones a través de EmpoderArte aumentarán sus posibilidades de ser aceptado en una universidad o aprender habilidades de liderazgo y habilidades empresariales para aquellos que desean iniciar su propio negocio.
Este programa es para jóvenes de 14 a 21 años. Las clases se llevarán a cabo de 5 a 7:30 pm todos los viernes en Con-Vivir Wellness Hub, 100 S Second St, Hammonton, NJ.Para preguntas o más información, comuníquese con convivir@alliesincaring.org o llame (609) 351-1188