Sales Have Ended
Ticket sales have ended
We are sorry, if this event is either full, or has passed. Please check out our other offerings for future events and join the waiting list.
Sales Have Ended
Ticket sales have ended
We are sorry, if this event is either full, or has passed. Please check out our other offerings for future events and join the waiting list.
A week-long basic introduction into blacksmithing for youth with experienced instructor Yori Seeger
About this event
Overview
Blacksmithing is an age old craft that builds skill with your hands, gives you a connection to traditional ways of working and allows you to create your own hand made objects and tools.
This 1 week youth camp is designed for students aged 12-18 (students 9-11 are welcome when accompanied by an adult and not need to purchase an additional ticket) to get them started in the blacksmith shop, learning basic skills, vocabulary and safety so they can create a set of hand forged tools! Each day the instructor will give lessons, demonstrations and lectures about basic topics along with hands-on learning at the forge and anvil. Some schools will give credit for class time, just let us know if this is an option for you.
Please have students wear a face covering to class as well as close toed shoes and cotton clothing. We will have the stations set up for social distancing as well as sanitizing stations throughout the studio. Students are welcome to go outside to eat or take in some fresh air, but we don't allow food in the studio at this time.
This workshop is suited to students 12-18, but those younger can attend when accompanied by an adult with no need to purchase an additional ticket. We also require a liability waiver to be signed on the first day of class for all students under 18.
Sample Schedule
Day 1: Go over shop safety, hammering techniques and start working on a tool
Day 2: Demonstration, continue working on tool #1
Day 3: Demonstration, lecture, finish tool #1
Day 4: Demonstration, start tool #2
Day 5: Demonstration, lecture, finish tool #2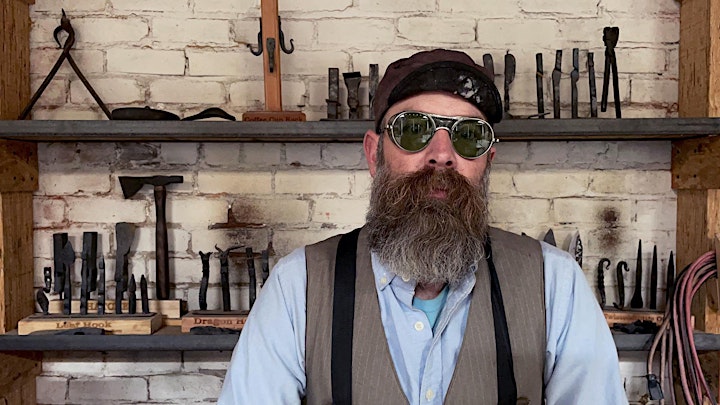 Meet the Instructor
Yori Seeger was born in Mt. Shasta and grew up in Santa Cruz, California. He has a BFA from the San Francisco Art Institute in Ceramic Sculpture. In 2013, Yori and his wife Dana opened an art studio and education center called the School of Visual Philosophy in San Jose, California. He is the President and Executive Director of the School as well as teaches sculpture classes there. Yori has been published in Ceramics Monthly, exhibited his work regionally and has his work in numerous private collections. He lives in Ben Lomond, California with his family.
Education is at the heart of my practice. I am a sculptor working in media and equipment that range from iron, cement and wood to laser cutters, pedagogy and the human experience. I incorporate any and all materials that I feel are appropriate in order to convey my ideas which focus primarily on the human figure. I deconstruct, re-orient and arrange elements to forge a connection with those who view my work.
He is currently working on a series of tools made for and named after each of his family members.
Organizer of Youth Blacksmithing Camp
The School of Visual Philosophy is dedicated to improving art education and cultivating a professional, creative community by offering the highest level of instruction while integrating fine art with technology. We strive to respect and understand traditional practices while continually pushing the boundaries to improve and discover better methods of art education.