Youth Apprenticeship - Helps connect students to career paths to be better prepared for College and Career Success after High School
About this event
Learn more about the Youth Apprenticeship program and how you can get "paid" to learn!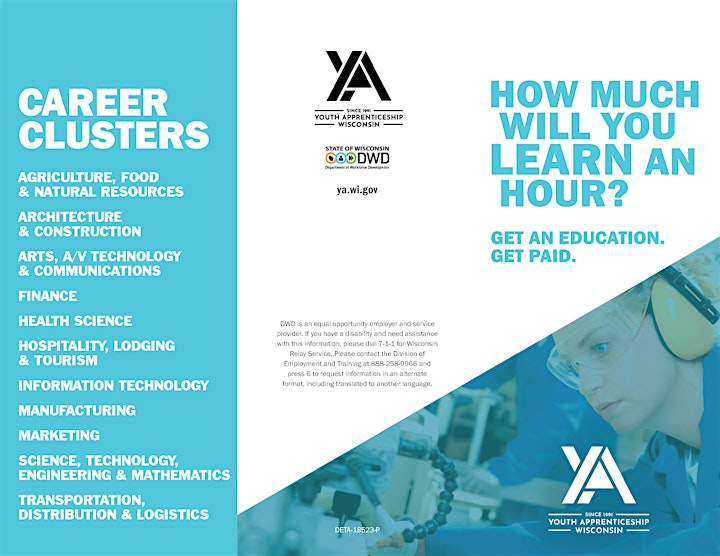 Organizer of Youth Apprenticeship Information Night
The Dane County School Consortium works collaboratively with 16 Dane County school districts and statewide programs to offer educational opportunities related to career advancement for High School Juniors and Seniors.
Mission:   To provide youth a pathway for tomorrow's careers through the integration of learning opportunities that will connect classroom education to industry preparation.
Vision: DCSC works together with community professionals to provide learning environments and experiences that prepare individuals to perform successfully in the workplace. A commitment to excellent instruction, coupled with continuous improvement will provide students a first rate occupational training program.
Current DCSC programming includes:
The Youth Apprenticeship program is a Wisconsin flagship opportunity managed by the Dane County Schools Consortium for schools within Dane County.
The STEPS program is a subcontract grant received from the Workforce Development Board of South Central Wisconsin. The Goals of Steps is to help students with employment barriers to get training needed to develop career skills to support their career pathway.  We have Work Experience and Training Funds available for qualified participants. Learn more at https://wdbscw.org/steps/
FutureQuest-  A partnership between DCSC and MMSD, hoping to close the skills gap, by helping to improve student course selection and career preparedness when entering high school.