Learn how to convert your talent into a business from a few power players in the Sports, Media and Entertainment industry.
About this event
​Learn from the best in the business!
YES is a three hour virtual conference being curated by DreamHouse Management Group and the DreamHouse Make A Difference Foundation. Our mission as a company is to create a new generation of well-informed athletes, entertainers, and industry leaders.
The goal of the conference is to bring together a group of the entertainment elite who have experienced success in the management and development of youth talent, and equip our audience with the education and industry insight necessary to turn dreams into reality. The goal is to not only teach aspiring pro-athletes and entertainers to "fish" for themselves, but to bring families closer by creating an experience where they can learn how to convert their talent into a business TOGETHER.
We are proud to feature a list of prominent speakers including Mathew Knowles, our keynote speaker focusing on the management of youth and young adult talent; Lavar Ball, who will be covering sports and the importance of family support; Raven Symone's dad and former manager, Christopher B. Pearman; marketing guru, KarenCivil; and rapper T.I.'s business affairs attorney, Jonathan Leonard, who will be presenting on contracts and legal matters. There will be live performances by celebrity teen DJs Amira and Kayla, as well as the rising superstar R&B group WanMor, who are also the sons of Wanya Morris of Boyz II Men.
Confirmed Speakers:
Performances By:
Part of the proceeds will be contributed to the DreamHouse Make A Difference Foundation to assist with future programs and initiatives, including the annual Boys to Men Youth Conference scheduled for Summer 2021.
HOSTED BY JAZZY MCBEE OF STREETZ 94.5 FM
SOUNDS BY DJ MIKE MAJOR
For more information on the event, to purchase tickets, become a sponsor, or advertise your business or organization in the event program, please visit our website www.YES2021.com. #YES2021
*ONLY ONE (1) TICKET REQUIRED PER HOUSEHOLD.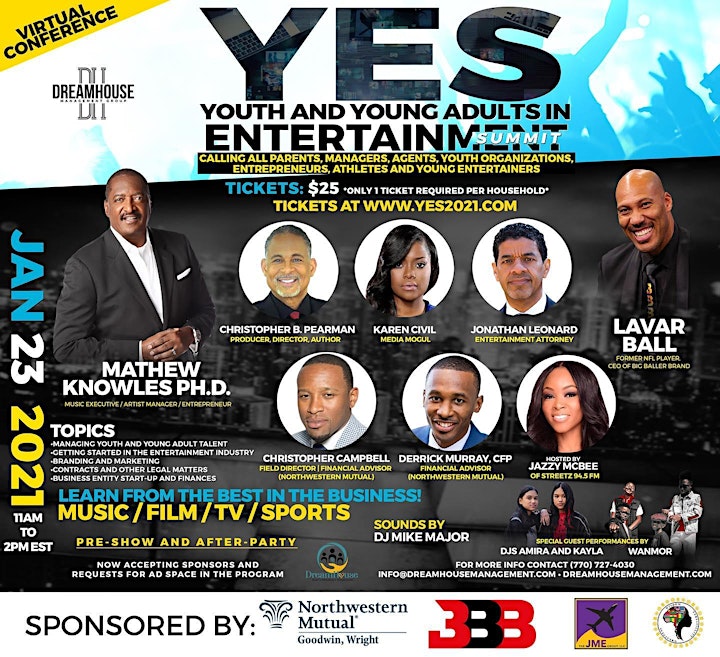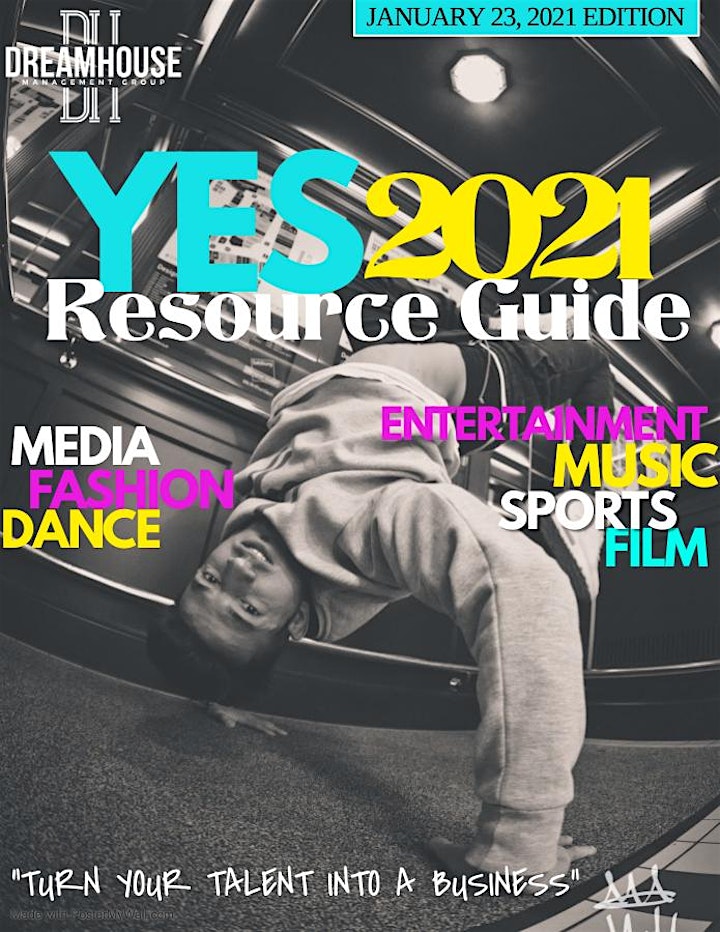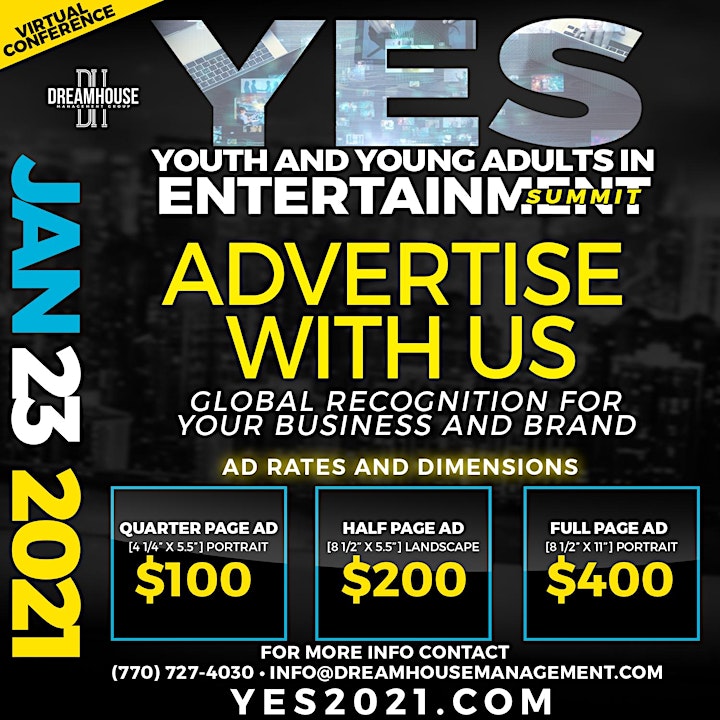 Organizer of Youth and Young Adults in Entertainment (VIRTUAL) Summit
DreamHouse Management Group was birthed out of a love for music, the desire to help others walk into their greatness, and the awareness that, oftentimes, creatives forget that handling the business associated with their brand is just as important as creating.​Our mission as a company is to create a new generation of well-informed athletes, entertainers, and industry leaders in Sports, Media and Entertainment.
We are an Atlanta-based company that provides business consulting services to entertainers, athletes, authors, other public figures, and organizations. Our services include talent representation, bookings, and development, branding and marketing, event management and production, business entity set-up, and accounting-related services. We take pride in educating our clients through industry workshops and conferences, as well as demonstrating transparency in an effort to create long-term, trusting relationships.