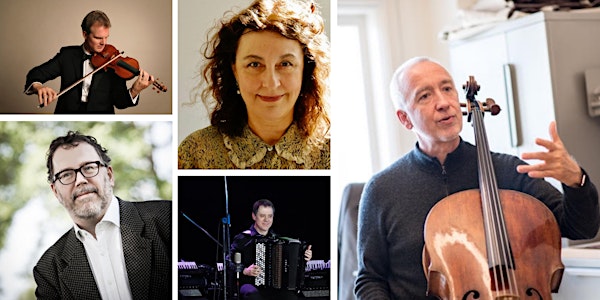 Yours Truly: your 30 min. concert/conversation with Stas Venglevski
Yours Truly is a one-on-one real time virtual concert and conversation with a BDDS artist you choose. Sign up for Stas Venglevski.
About this event
Ever want some alone time with Stephanie, Jeffrey, or one of our fabulous BDDS musicians? Well, now is your chance. Grab a cup of tea or glass of wine and sit down for a thirty minute Zoom or FaceTime with one of them. During your time, they'll play for you and invite you to share your thoughts about the music. Pick a musician, a date, and a time from the drop down menu. This is offered to you for a pay-what-you-wish donation. BDDS'S 2021 artists to choose from include Stephanie Jutt, flute (Madison Symphony Orchestra principal flute and UW-Madison professor emerita); Jeffrey Sykes, piano (UC-Berkeley); Axel Strauss, violin (McGill University, Montreal, Canada); Jean-Michel Fonteneau, cello (San Francisco Conservatory); Stas Venglevski, bayan (a Russian-style accordion); and a few slots featuring Stephanie and Jeffrey together.
Sign up for Incendiaries (Program Sponsors)and Fan the Flames Sponsors begins Monday, April 26, 2021.
Sign up for Pyrotechnics and Future Fund contributors begins Wednesday, April 28, 2021.
Sign up for The Dynamite Club, Skyrockets, Firecrackers, and Sparklers begins Friday, April 30, 2021.
Sign up for Series ticket holders begins Sunday, May 2, 2021.
Sign up for all ticket holders begins Friday, May 7, 2021.
Program Sponsors:
Elsebet Lund & James Dahlberg (Axel Strauss and Jean-Michel Fonteneau); Virginia Sykes; Ellen White & Eric Sutter (Timothy Jones).
Fan the Flames Sponsors:
Martha & Charles Casey (Timothy Jones); Linda & Keith Clifford (Stas Venglevski); Paula & David Kraemer (Lisa A. Frank); David Myers, in memory of Dan (Timothy Jones); Patricia Powers & Tom Wolfe; Miriam Simmons, in memory of James Cain (Axel Strauss); Sarah Siskind & Joel Rogers; Norma & Elliott Sober (Astor Piazzolla's "The Four Seasons of Buenos Aires"); Anne & Peter Wadsack (Timothy Jones).
Pyrotechnic Sponsors:
Larry Bechler (Chevalier de Saint-Georges; Sonata in E-flat Major); Michael Bridgeman & Jack Holzhueter (Margaret Bond's "Three Dream Portraits"); Ellen Brothers; Sue Cleary-Koch; Zorko Greblo & Linda Clauder; Mary & Carl Gulbrandsen (Zez Confrey's "Dizzy Fingers"); Barbara Johnson; Carla & Dick Love; Katherine Naherny & Roger Ganser (Astor Piazzolla's "Le grand tango"); Joan Daniels Pedro.