Description
This is the first annual craft and art making event to benefit the House of Hope of Green Bay, Wisconsin. This new event is open to anyone who would like to create a unique gift. Called Designers for Hope Presents: You Design for Hope, we'll have craft stations set up with instructors who will lead you through the process of creating an artful gift that you can give—Mothers' Day is just around the corner—or keep and enjoy.
When: Saturday, May 6 (the weekend before Mother's Day.) 9 am – 1 pm
Where: Rasmussen College 904 South Taylor Street, Green Bay
Ticket prices include all class materials and refreshments/food. You can choose from gift-making projects like: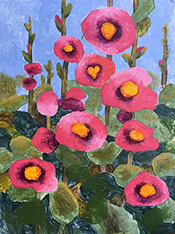 "Hollyhocks" Paint in Acrylics on canvas. Relax and enjoy painting step-by-step with instructor Amy Eliason. Each participant will complete an acrylic painting on canvas of hollyhocks. Open to all levels, beginners welcome! Presented by: Amy Eliason, "The Art of Amy Eliason." Mostly self-taught, Amy has been drawing since she was very young. She enjoyed taking art throughout high school, and then several college courses. In 1997, she attended a Robert Bateman workshop in Jackson Hole, Wyoming. She later attended workshops with master artists including John Seerey-Lester, Paco Young, Terry Isaac and Carl Brenders. She now teaches several art workshops in this area. www.amyeliason.com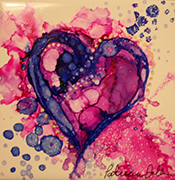 Fun with Alcohol Inks! (Create an Alcohol Ink Tile) Discover magic! Join the vibrant, prismatic world of luminous alcohol inks. Mercurial, versatile, inexpensive, and wildly colorful, alcohol inks are one of the newest mediums to hit the art community. This class will teach you how to work with alcohol inks and give you tips and techniques. Learn how with step-by-step demos by your presenter. Your imagination offers a broad insight into the expansive world of alcohol inks. Explore your artistic ingenuity and create a beautiful tile to take home. Presented by: Patricia Jelen. "Reunion Arts and More." Patricia is an artist that is fluent in numerous mediums. She studied with some of the top artists in their fields - from carved concrete, to epoxy and art resin, as well as alcohol inks and acrylics. She lives in Suamico and ships her works all over the USA. Patricia has been instructed in the technical aspects of alcohol inks by world famous artist Cathy Taylor. 920.660.0066. msp.reunion@gmail.com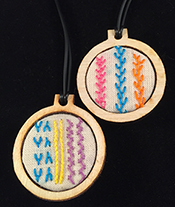 Mini-embroidered Pendant Workshop.Learn a few basic embroidery stitches and use your imagination to create a hand-embroidered 1" pendant in a mini-embroidery hoop to take home. Presented by: Beth Hudak. Beth has a passion for creating and loves to share this with others. Beth lives, works, and creates with her husband in Green Bay. https://www.bethhudak.com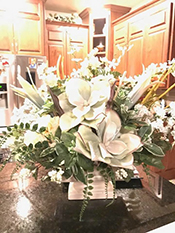 Silk Floral Arrangement. Learn to create a seasonal silk floral arrangement to take home for Mom. Presented by: Elizabeth Clark, Owner, "A Little Bit of This and a Little Bit of That." All homemade items consisting of baby items, refurbished furniture, silk floral arrangements, wreaths and holiday decorating. (920) 595-0816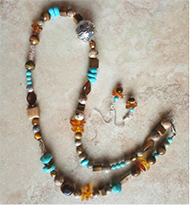 Creating a Beaded Collage Necklace Make a beautiful beaded necklace and earring set for yourself or Mom. Cheri Larson, founder of Azante Jewelry, will show you how to create this wonderful piece of jewelry made with semi-precious gemstones. Materials provided. Presented by: Cheri Larson, Founder, Azante Jewelry LLC. Cheri Larson is the founder of Azante Jewelry and has been designing jewelry for the past 20 years. She works with semi-precious gemstones to create one-of-a-kind pieces that she sells internationally. www.greengirlsmarket.com
While you're there, enjoy food and refreshments by The Marq.
This event is to gain awareness and raise funds for House of Hope, to support their mission of offering a safe, supportive place where young parents learn to become confident adults and independent, successful parents.