Description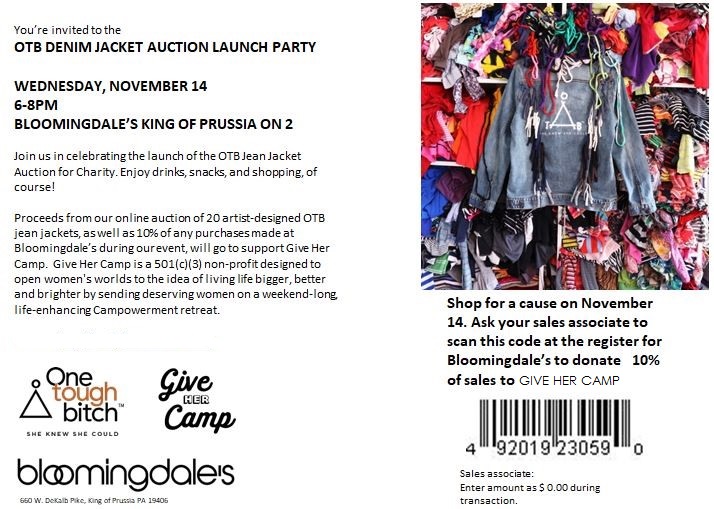 You are More Powerful Than You Ever Think Possible
Not all superheroes wear capes, which is why we launched our OTB jean jackets. We designed them with the hopes that when it's on your shoulders, you feel powerful and protected by what the symbols represent. And you're reminded of the hero you have inside you.
To celebrate our company's exciting launch, we've invited 20 local and nationally-known artists to design OTB jackets, all of which will be auctioned off in support of our giving partner, Give Her Camp.
When you bid on or purchase one of these exclusive artist-designed jean jackets, you're getting a completely one-of-a-kind masterpiece for yourself or someone very special. And you're helping send deserving women on a weekend-long life-enhancing Campowerment retreat.
Here's a little more about our amazing artists!
Philly's Finest:
Meg Saligman- For the past 25 years, Meg Saligman has produced over 40 permanent public artworks worldwide, including some of the world's largest public murals. Her practice stems from a deep desire to use public art to give a voice to those who have been marginalized. Saligman's work has been featured by the Smithsonian American Art Museum, the New York Times, Wall Street Journal, NPR, Public Art Review, the Today Show and numerous others.
Lynne Brownstein and Dorothy Wilson for Arrangements Unlimited-Co-owned by Lois Caplan and Lynne Brownstein, Arrangements Unlimited has been styling custom events for over 37 years. Their well-known designs talents produce events for the University of Penna, CHOP, JDRF to list a few.
Carole Powers Gordon- Began her career in dress design, moving on to all aspects of custom event planning and later designing and creating unique handpainted napkins, tablecloths, aisle runners and so much more. Her work has been featured in Vogue, Town and Country, New York Magazine to name just a few.
Bertha Leonard- At 90 years young and a graduate of Tyler School of Fine Arts and The Barnes Foundation, her style has been quoted as "10% realistic and 90% imaginary. Bertha has had too many art shows to count and has been featured in publications such as Art Matters, Inside Magazine and The Press of Atlantic.
Maureen Sexton-Philadelphia-based Maureen Sexton is a botanical artist whose work has been featured yearly at the Philadelphia Flower Show.
Quinlan Trask- Our youngest artist at 14 years of age. Quinlan just received the first ever art scholarship from The George School. She has already done commission work for IAmElemental- an empowering girls toy brand.
Trevor MacLeod- Originally from Warrington, Trevor is a well know stylist, floral designer, and "maker" of hard goods. His creative sweatshirt for Miley Cyrus graced her social media for days.
Nora Spillane- Graduated from Moore College of Art and Design. She earned her degree in Fine Arts with a focus in metalsmithing. While living and working in Philadelphia she has focused on custom order jewelry pieces.
Stephanie Hoffman- An artist based in the suburbs and a graduate of Phila. College of Art. Stephanie specialty is painting with oils. Because of her own personal challenges, she is passionate about the extraordinary strength of women.
Luce Carvalho- Luce has always been "crafty" since her childhood. Over the years, she has specialized her focus to custom beading pieces worn by many children at Philadelphia weddings.
Lynn Fisher and Dianne Blickle -A dream team from Paxon Hollow Middle School, Lynn Fisher an avid craftsperson and the former school librarian partnered with former art teacher Dianne Blickle. The duo have extraordinary combined talents of "arts and crafts".
Designers From Around The Country:
Peggy Li -Peggy is a San Francisco-based jewelry designer whose work has appeared in Oprah Magazine and Lucky, as well as on popular television shows like Riverdale and The Vampire Diaries.
Jaime Derringer-Jaime is probably best-known as the founder of Design Milk, an uber-popular design blog. Her art has a myriad of inspirations, including everything from Japanese calligraphy (Shodo) to electronic music.
Lori Portka -Based out of Asheville, North Carolina, Lori is a teacher turned visual artist, whose life challenges and hope for the future were the inspiration for her business, Happiness Through Art. Her work has been featured on greeting cards and in several meditation books.
Kerri Lee- Former bioengineer based in New York, Kerri Lee's Tree by Kerri Lee has been featured in People, New York Magazine and more. The wooden keepsakes are a juxtaposition of old and new, and are sold at retailers worldwide.
Kathleen Ballos for Handmade Charlotte: This uber-popular DIY blog's designs have been featured in Anthropologie and Pottery Barn Kids, as well as in collaboration with Michael's Craft Stores.
Courtney Chu- An industrial design major in college, Courtney worked in children's fashion before starting her own unique line of children's dresses all created from recycled t-shirts.
Vana Chupp- At Le Papier Studio, artist Vana Chupp creates one-of-a-kind silhouette pieces that she turns into beautiful gifts -- from jewelry to pillows, ornaments and more -- each is a gorgeous custom keepsake that is treasured by the recipient.
What's OTB? We're a Philly-local woman-owned lifestyle brand and community movement, whose mission is to support and remind women that they have the power within them to make it through another day.
FOLLOW US ON SOCIAL MEDIA - @OneToughB and join our private Facebook group "The OTB Sisterhood".